Covid-19
3.8

/

10

1

Votes

Alchetron

Rate This




Bill Corcoran





Kim Sinclair




United States






Action, Drama, Sci-Fi




English




Ron McGee




English






June 9, 2002 (USA)




Sharon Lawrence

(Corrine Maguire),

Mark-Paul Gosselaar

(Deputy Jake Hannah),

Carl Lewis

(Securityman Stu),

Jonathan Blick

(Potter (as Johnny Blick)),

Daniel Costello

(Campbell Maguire),

Charmaine Guest

(Ashley Bishop)


Disaster Film, Action Film




Blackhat

,

Jurassic World

,

San Andreas

,

Spy

,

Titanic

,

Independence Day




Count Down to Disaster!
Atomic Twister is an original television film starring Sharon Lawrence and Mark-Paul Gosselaar that was first aired in 2002 on TBS. The plot revolves around a series of tornadoes that damage a nuclear reactor in a small town in western Tennessee, in turn causing a near-meltdown at the plant. Although an F2 tornado did hit the Davis-Besse Nuclear Power Station in Ohio on 24 June 1998 resulting in the loss of off-site power, and this appears to be the inspiration for the film, the film bears no resemblance to the actual events at Davis-Besse.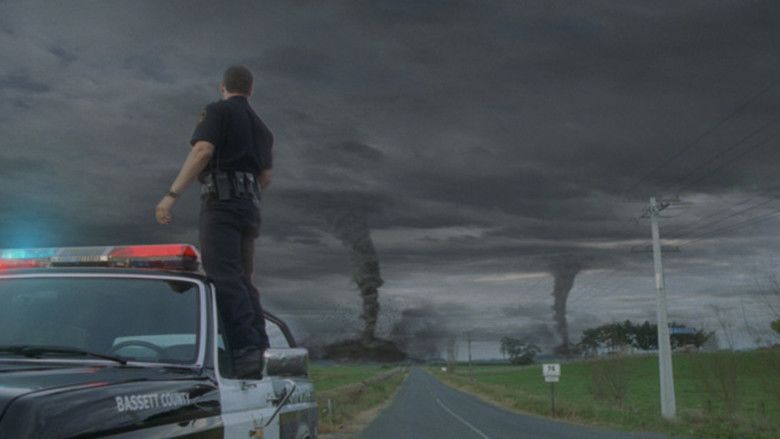 A series of tornadoes in West Tennessee cripple the Helman-Klein Nuclear Power Plant by damaging a power transformer and a generator. This leaves the plant with very little power to operate. As an operator shuts down non-vital systems, which include the electric pumps, a second tornado hits the plant, damaging the diesel pumps. Meanwhile Campbell Maguire (Daniel Costello), the plant supervisor's young son, is caught in the twisters. His babysitter is killed and he runs away towards the plant on his bike.
When the diesel pumps fail, the staff try to restart the electric pumps, but they won't respond. The nuclear reactor overheats, causing coolant to evaporate from the waste pool, threatening to expose radioactive material. The staff attempt to initiate SCRAM procedures to try to shut down the nuclear reactor, but the computer fails to respond. An operator named Neville goes in to manually shut down the reactor, but is exposed to large amounts of radiation. He is successful, though, and the reactor is shut down, although he is presumably fatally injured by the radiation. Coolant is still rapidly evaporating from the waste pool, meaning the radioactive material will be exposed in half an hour.
A local police officer named Jake (Mark-Paul Gosselaar), a friend of Corrine, searches for Campbell and finds him. Together they make their way to safety at Corinne's request. On the way they discover Jake's girlfriend, Ashley (Charmaine Guest), trapped on a steep hillside in her car. Jake goes down to rescue her. Both Jake and Ashley are nearly killed when her car slides over the cliff but Campbell saves their lives, risking his own to do it when he is given an option to escape. Jake lauds Campbell as a hero and lets a relieved Corrine know of her son's survival and heroism.
Firemen spraying water into the pool only slows the evaporation, however a disused diesel generator is found and they plan to hook it up to the electric pumps. They order some diesel fuel for it but the truck driver panics at the idea of driving in the adverse weather. Jake, a former truck driver, intercepts the fleeing truck driver and delivers the diesel to the plant himself. At the plant the heat is starting to prove too much for the firemen and they start to pass out while the water from the hoses is having very little effect. It is mere minutes before the waste pool will be completely exposed. Jake helps the firefighters while Corrine hooks up the fuel and attempts to start the generator. With the generator running the pumps restart and the waste pool starts to refill, and the crisis is averted. The plant is damaged, but stable. Campbell and Corrine are finally reunited as Jake and Ashley set a date to get married and Neville is led away, eventual fate uncertain although he likely dies of radiation poisoning as the characters said anyone who entered the reactor chamber would get a fatal dose.
Mark-Paul Gosselaar as Deputy Jake Hannah
Sharon Lawrence as Corinne Maguire
Carl Lewis as Securityman Stu
Jonathan Blick as Potter (as Johnny Blick)
Daniel Costello as Campbell Maguire
Charmaine Guest as Ashley Bishop
George Henare as Manuel Fluentez
John Leigh as Deputy Rollins
John Sumner as Neville
Corbin Bernsen as Sheriff C.B. Bishop
David Aston as Man at Cliff
Paul Barrett as Fuel Tanker Driver
Grant Bridger as Maguire's Neighbor
Katrina Devine as Gloria
Peter Feeney as Fireman
Scenes depicting the fictional power plant were filmed at Huntly Power Station and Meremere Power Station, both in New Zealand.
Although modern nuclear power plants do automate many functions, alternate control panels are never located in areas shown in the film not only due to access issues, but also due to humidity, heat and radiation degradation concerns. Backup power would be more rigidly installed and redundant. Control room staffing is more robust. Operator staffing is more robust. Supervisors play a larger role in decision making by operators. Communication systems have more redundancy. Security is a bit more stringent. Actual power plants are kept cleaner. Actual power plant control rooms have a lot more indications, buttons, lights, switches, alarms and so on.
Atomic Twister Wikipedia
Atomic Twister IMDb
Atomic Twister themoviedb.org