Height

1.52 m (5 ft 0 in)







Born

December 5, 1986 (age 34) (

1986-12-05

)

Niigata Prefecture, Japan
Asuka Hoshino : 星野飛鳥Japanese gravure idol ,Asuka Hoshino actress jav HD
Asuka Hoshino (Japanese: ほしのあすか, Hepburn: Hoshino Asuka) is a Japanese former gravure model, singer, actress and AV idol.
Contents
Life and career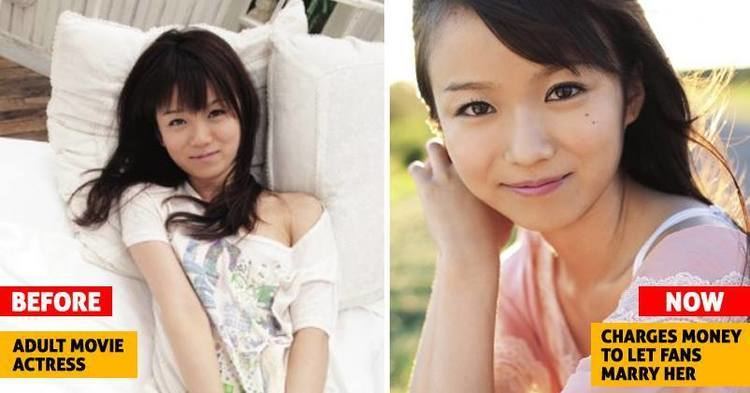 Hoshino was born on December 5, 1986 in Niigata Prefecture, Japan, but, while still in elementary school, she moved to the Kantō region. Her career started in 2004 when she was chosen as "Miss Weekly Shonen Magazine" in the annual Miss Magazine competition, and she subsequently appeared in the gravure video Asuka Hoshino Miss Magazine 2004 (ミスマガジン2004 星野飛鳥). Between October 2004 and March 2006, she appeared in eight gravure videos and two photo books.
In addition, she made her debut as an actress in the 2004 horror movie Shibuya Kaidan urban legends Chan Sasso (渋谷怪談 サッちゃんの都市伝説), and, in 2006, she starred in the V-Cinema release Industrial Bareboizu Lamentations (工業哀歌バレーボーイズ), a live-action version of the anime Sentimental Graffiti, which, coincidentally, features a teen idol character with the same name but different spelling for Asuka (明日香).
After a long pause, she resumed her activities in 2009, slightly changing the Japanese spelling of her name (which phonetically remained the same).
On 7 September 2010, the Soft On Demand (SOD) company announced that she would be making her debut as an AV actress for their label, and, on 16 September 2010, Hoshino appeared nude for the first time in a full-frontal photo published by the magazine "Friday". Later that month, on 24 September, a nude photobook, Asuka time (あすかの時間), was released.
Her AV debut video, Ex-Miss Magazine Celebrity Asuka Hoshino AV Debut, was released by SOD in November 2010, followed by another DVD published in December. The same month, it was announced that Hoshino had left SOD, and a final video was released by SOD in January 2011. Despite her small number of movies and her short time in the AV industry, the major Japanese video retailer DMM ranked her #23 in DVD sales for the entire year 2010, and she ranked #22 at DMM for the first half of 2011.
In February 2011, Asuka Hoshino debuted as singer with the single "Cassiopea", and, in April 2011, she appeared in a new gravure video, Erotic Cute.
On 21 October 2011, Asuka Hoshino announced, in her blog, her comeback to the AV Industry with the S1 company. On the same day, S1 confirmed this announcement, publishing Hoshino's profile on its official site and announcing the release of her new AV movie, Ban Idol, on December 7, 2011. Hoshino announced her retirement from adult videos in her official blog in December 2013 and the S1 studio released a retirement video, Asuka Hoshino Final - 4 Fucks x 4 Hours Special in January 2014.
On 21 November 2016, she posted on her official blog that she was forced to appear in the AV Industry.
Gravure Video
Asuka Hoshino Miss Magazine 2004 (ミスマガジン2004 星野飛鳥, October 2004, BOP)
Hoppi'n Asuka Hoshino (Hoppi'n 星野飛鳥, January 2005, Begafakutori)
Vivid Asuka Hoshino (Vivid 星野飛鳥, March 2005, Geneon)
DUO (id., March 2005, Fosaido dot), with Yuko Ogura
Asuka Hoshino QUTIE PISTOLS (星野飛鳥 QUTIE PISTOLS, July 2005, Jioti)
Petit Four (id., September 2005 Rainkomyunikeshonzu)
Perfect collection (id., November 2005, Gena film)
Asuka Diary. (あすか日記。, April 2006, Jioti)
Erotic Cute (エロキュート, April 2011, Ol stack Pictures)
AV Video
Ex-Miss Magazine Celebrity Asuka Hoshino AV Debut (元ミスマ○ジン ほしのあすかAV Debut, November 2010, SOD)
Asuka's first experience (元ミスマ○ジン 芸能人ほしのあすか あすかの初体験, December 2010, SOD)
Just My Idol Asuka Hoshino (元ミスマ○ジン ほしのあすか 僕だけのアイドル, January 2011, SOD)
Ban Idol (解禁アイドル, December 2011, S1)
Idol Star Asuka's Ingenuous and Innocent Sex (純真アイドルのうぶエッチ ほしのあすか, January 2012, S1)
Uniform Romance (制服ロマンス, February 2012, S1)
My sister is a spoiled child (妹はあまえんぼ, March 2012, S1)
Asuka Hoshino Final - 4 Fucks x 4 Hours Special (ほしのあすかFINAL 4本番×4時間スペシャル, January 2014, S1)
Movies
Shibuya Kaidan urban legends Chan Sasso (渋谷怪談 サッちゃんの都市伝説, 2004)
V-Cinema
Industrial Bareboizu Lamentations (工業哀歌バレーボーイズ, 2006)
Television
69 ★ TRIBE Tribe Rock (Fuji)
Babe of the gravure (Mondo21)
Cash cow tonight (June 2, 2009, TV Tokyo)
Photobooks
Asuka period (September 2004, Wani Books) ISBN 4-8470-2826-0 Photographer: Masayuki Kozuka Takashi
SYO-JO (November 2005, Aya Aya Publishing) ISBN 4-7756-0100-8 Photographer: Masayuki Kozuka Takashi
Asuka time (September 2010) Photographer: Yuji Fukushima
Girl posing Encyclopedia (July 2011, Cosmic Publishing) ISBN 978-4-7747-9065-7 Photographer: Aida Makoto
Dreams of Asuka (October 25, 2011, Futabasha) ISBN 978-4575303636 Photographer: Noriyuki Takeshi Kozuka
Discography
"Cassiopeia" (February 2011, Marx) debut single
"Hayaebeso" (November 2012, Milky Pop Generation)
Trading Cards
After school Asuka - Asuka Hoshino Official Copper Card Collection Sakura (·ほしのあすか オフィシャルカードコレクション あすかの放課後, December 2010)
References
Asuka Hoshino Wikipedia
(Text) CC BY-SA