Saint Asterius of Amasea (c. 350 – c. 410 AD) was made Bishop of Amasea between 380 and 390 AD, after having been a lawyer. He was born in Cappadocia and probably died in Amasea in modern Turkey, then in Pontus. Significant portions of his lively sermons survive, which are especially interesting from the point of view of art history, and social life in his day. Asterius, Bishop of Amasea is not to be confused with the Arian polemicist, Asterius the Sophist.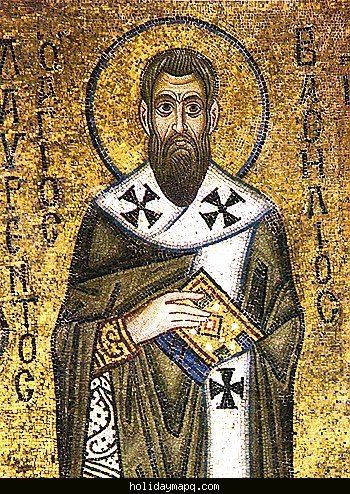 Asterius of Amasea was the younger contemporary of Amphilochius of Iconium and the three great Cappadocian Fathers. Little is known about his life, except that he was educated by a Scythian slave. Like Amphilochius, he had been a lawyer before becoming bishop between 380 and 390 AD, and he brought the skills of the professional rhetorician to his sermons. Sixteen homilies and panegyrics on the martyrs still exist, showing familiarity with the classics, and containing an unusual concentration of details of everyday life in his time. One of them, Oration 4: Adversus Kalendarum Festum attacks the pagan customs and abuses of the New Years feast, denying everything that Libanius had said supporting it - see Lord of Misrule for extensive quotations. That sermon was preached on January 1, 400 AD, which provides the main evidence, with a reference in another to his great age, to the dating of his career.
Of Asterius's work, 16 homilies survive, and Photios lists four more. Some of these speeches have survived in medieval Latin, Georgian, and Church Slavonic translations.
An English translation exists of five sermons by Asterius, which were published in 1904 in the US under the title "Ancient Sermons for Modern Times", and issued as a reprint in 2007. This is the main portion of his works to exist in English, and has been transcribed online. Oration 11 has also been translated.
Other sermons by Asterius of Amasea existed in the time of Photius, who referred to a further ten sermons not now known in Bibliotheca codex 271. One of these lost sermons indicates that Asterius lived to a great age.
Philip Rubens, brother of the painter, produced an edition of the homilies, published posthumously in a memorial volume after his death in 1611, together with a short biography of Philip, a selection of Latin poems that he had written, and Latin poems written in his memory by his friends.
Fourteen genuine sermons have been printed by Migne in the Patrologia Graeca 40, 155-480, with a Latin translation. along with other sermons "by Asterius" that were written by Asterius the Sophist. Another two genuine sermons were discovered in manuscript at Mount Athos by M. Bauer. Those two were first printed by A. Bretz (TU 40.1, 1914). Eleven sermons have also been translated into German.