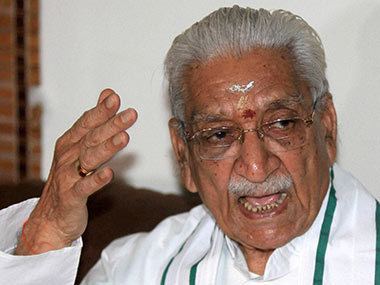 Singhal was born in Agra. His father was a government official. He was elder brother of BP Singhal, former DGP, UP Police and BJP Rajya Sabha MP. Singhal has a bachelor's degree in Metallurgical Engineering from the Benaras Hindu University Institute of Technology in 1950. Having been in Rashtriya Swayamsevak Sangh (RSS) since 1942, he became a full-time pracharak after graduation. He worked in various locations around Uttar Pradesh, becoming a prant pracharak for Delhi and Haryana. In 1980, he was deputed to the VHP, becoming its joint general secretary. In 1984, he became its general secretary and, later, the working president, a role in which he continued till 2011.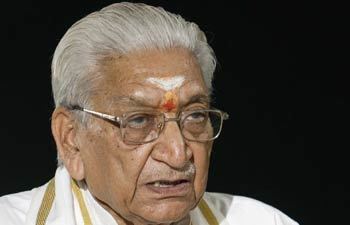 Singhal was a trained vocalist in Hindustani music. He studied under Pandit Omkarnath Thakur. He died on 17 November 2015 at Medanta Medicity hospital in Gurgaon, aged 89.
On 1 October 2015, the book Hindutva Ke Purodha was released and officially launched by the Home Minister of India, Shri Rajnath Singh. The book describes all dedications to his political party and India. This was written by Mahesh Bhagchandaka.
Ashok singhal joined RSS in 1942 under tutelage of deoras.
After the Meenakshipuram conversions in 1981, Singhal moved to the VHP as the joint general secretary. After noting the main greivance of the Dalit communities in the area as being access to temples, VHP built 200 temples specifically for Dalits. He says that the conversions stopped afterwards.
Singhal was a key organiser of the first VHP Dharma Sansad in 1984 held at Vigyan Bhavan in New Delhi, attracting hundreds of sadhus and Hindu notables to discuss the issues of rejuvenating Hinduism. The movement for reclaiming the Ramjanmabhoomi temple was born here. Singhal soon became the chief architect of the Ramjanmabhoomi movement.
Former Prime Minister Atal Bihari Vajpayee and VHP leader Ashok Singhal, were found, standing against each other, when Ashok Singhal felt that NDA Government is not taking any further steps in building Ram Mandir. He then said, "NDA government may be going ahead with the support of other parties, but people voted for BJP on the issue of "Ram Temple" only. So Vajpayee should take the initiative to build the temple.", which was not built then.
Ashok Singhal went on death strike demanding construction of Ram Mandir at Ayodhya, and to break his strike "Force Feeding" was done on the orders of Atal Bihari Vajpayee. This saddened Ashok Singhal and badly affected once good relations of Singhal and Vajpayee for lifetime.
Ashok Singhal was right wing Hindu and openly promoted his views. In every public meeting after 1989, wherever he gave speech, there was definitely talks of Hindu and of Hindu's interest."