Covid-19



Elangovan




3h 31m




Tamil




Raja Chandrasekhar





Elangovan






7 October 1941




Papanasam Sivan, Alattur V. Sivasubramanyam




M. K. Thyagaraja Bhagavathar

(Gunalan),

P. Kannamba

,

M. G. Ramachandran

,

N. S. Krishnan

,

T. A. Mathuram

,

Chittor V. Nagaiah

(King Ashoka)


Papanasam Sivan composed the music for Ashok Kumar and Haridas



Ashok Kumar was a 1941 Tamil-language film directed by Raja Chandrasekhar. It starred M. K. Thyagaraja Bhagavathar, Chittor V. Nagaiah, P. Kannamba, N. S. Krishnan, T. A. Madhuram, M. G. Ramachandran and Ranjan.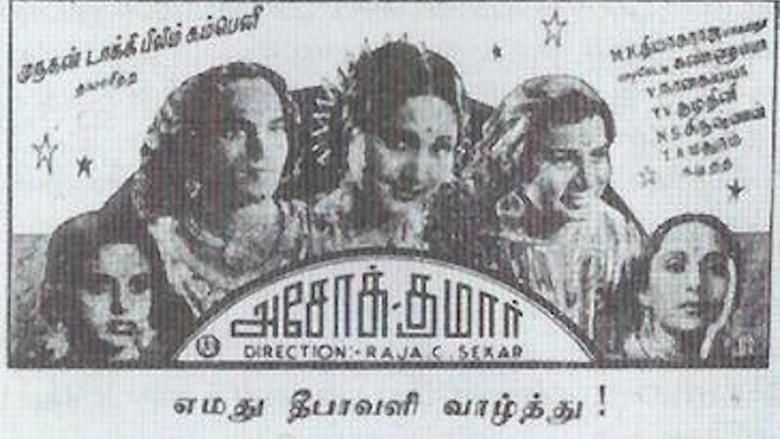 The film is based on an age-old Buddhist folktale connected with Mauryan Emperor Ashoka's son Kunal. The Mauryan prince Kunal was courted by Ashoka's younger queen Tishyarakshita and when he rejected her advances, was falsely accused by the queen of trying to seduce her and was thrown into prison and blinded. The story, however, comes to a happy end with his eyesight being restored by Lord Buddha and the king acquits of all the charges.
M. K. Thyagaraja Bhagavathar ... Prince Kunal
Chittor V. Nagaiah ... Emperor Ashoka
P. Kannamba ... Queen Tishyarakshita
T. V. Kumudhini ... Wife of Prince Kunal
M. G. Ramachandran ... Mahendran
Nagercoil Mahadevan ... Buddha bhikshu
Ranjan ... Gautama Buddha (credited as "R. Ramani")
Almost all of MKT's movies were great successes. And Ashok Kumar was no exception. Ashok Kumar premiered in 1941 and was a roaring success. A Tollywood actress Pasupuleti Kannamba played the role of Queen Tishyarakshita. Ashok Kumar was her second Tamil film and she did not know the language. She was provided with a script in which Tamil words have been transliterated into Telugu. However, despite these issues, Kannamba did a commendable job with her dialogue delivery.
Ashok Kumar was one of the first films for film actor and former Chief Minister of Tamil Nadu, M. G. Ramachandran. He played the role of Mahendran in the movie. Ashok Kumar also marked the debut of Ranjan who later starred in hit movies as Mangamma Sabatham and Chandralekha. The background music was provided by G. Ramanathan-Elangovan combine which later produced hits as Sivakavi and Haridas.
One of the highlights of the film was a song and dance sequence, Unnai kandu mayangaatha in which Kannamba dances to M. K. Thyagaraja Bhagavathar's singing. The song was shot in a single night at Newtone Studio.
Ashok Kumar (film) Wikipedia
(Text) CC BY-SA
Ashok Kumar (film) themoviedb.org
Ashok Kumar (film) IMDb