638 km2


Bihar




67.43 per cent



Arwal district is one of the thirty-eight districts of Bihar state, India, and Arwal town is the administrative headquarters of this district. It was earlier part of Jehanabad district.
As of 2011 it is the third least populous district of Bihar (out of 39), after Sheikhpura and Sheohar.
The district is infested with Naxalites, which is one factor that hampers growth of the area besides lack of infrastructure and power. Communism is yet another factor where there is always a tussle between high class and low class of society. There was a massacre of Dalit people at Laxmanpur Bathe in 1997. It is currently a part of the Red Corridor.
Arwal district occupies an area of 638 square kilometres (246 sq mi), comparatively equivalent to Canadas Foley Island.
Economy of the district is totally agriculture-based, and this area does not have any presence of any industry. Paddy, wheat and pulse are the main crops. Though most of the area of the district is well irrigated, due to lack of infrastructure and power, farmers are not benefitted.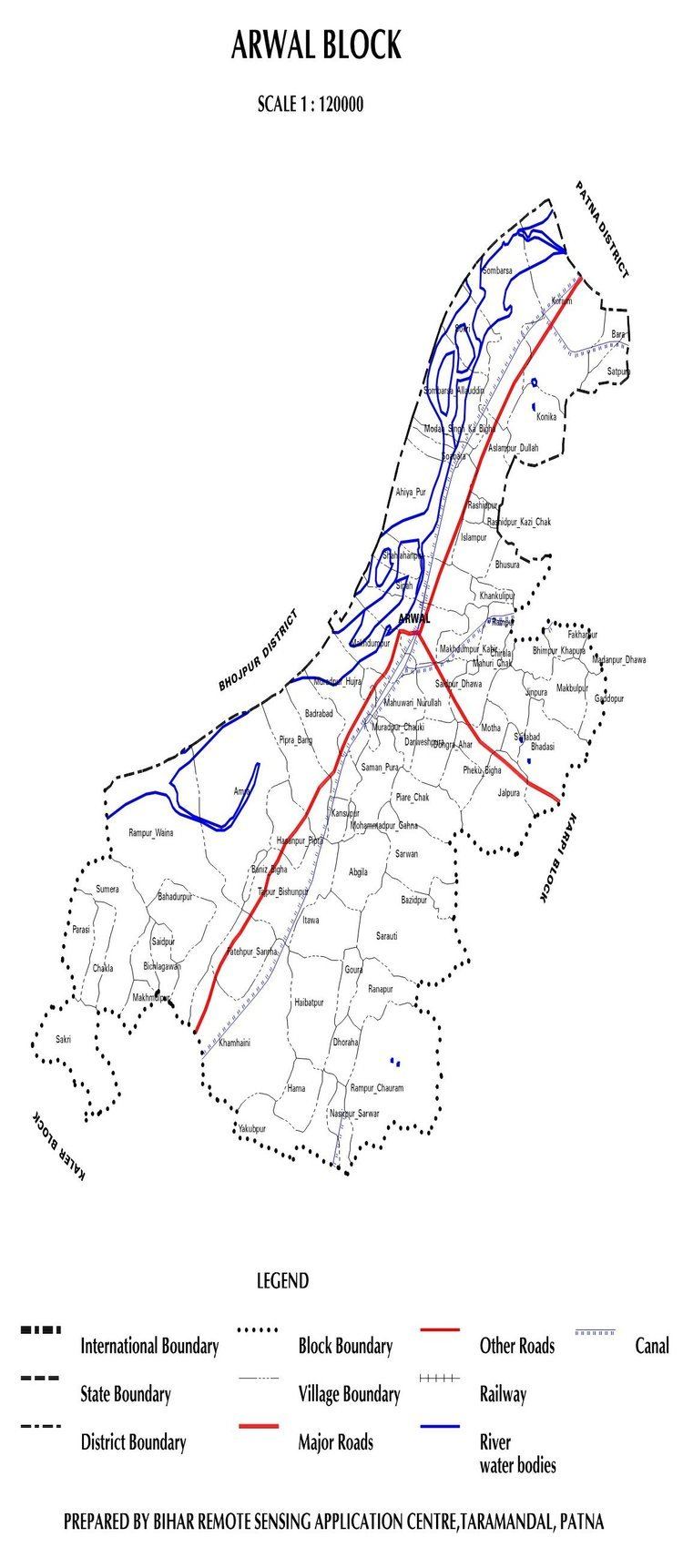 Being a small district, Arwal has lesser place of interest where you can drop and enjoy the monuments but it offers a scenic and true India in rainy season when paddy is cultivated and farms are full of greenery. Besides, a leisure walk can be taken for hours on the banks of river Son. One of the leading Sufi Makhdoom Hazreat Shamshuddin Arwalis Khanquah Khanqah e Shamsia Situated at banks of river Son.in Shahi Mohalla is well known spiritual centre of Bihar.
Arwal district Wikipedia
(,)http://1.bp.blogspot.com/_z939ZCZAGIo/R0n82ThcaoI/AAAAAAAAA7w/ORthnm5pARU/s1600-h/Alice%2BUnderground.jpg(,)http://2.bp.blogspot.com/-Wc86uRTZ5Z4/UlZICtk1H-I/AAAAAAAAHnI/CSa-JqLCuzs/s1600/shame.jpg(,)http://upload.wikimedia.org/wikipedia/commons/f/ff/Ancient_india.png(,)http://www.clas.ufl.edu/users/harlandj/pix/india_train.jpg(,)http://www.planetware.com/i/photo/bhojpur-bhojeshwar-temple-ind540.jpg(,)http://i.ytimg.com/vi/3j7DJRnJHkg/0.jpg(,)http://publishing.cdlib.org/ucpressebooks/data/13030/tq/ft4779n9tq/figures/ft4779n9tq_00006.gif(,)http://i.ytimg.com/vi/dCQYS1OzgzU/0.jpg(,)http://upload.wikimedia.org/wikipedia/commons/9/91/Cawnpore_1810.jpg
(,)http://www.indiamapssite.com/bihar/district/images/arwal-district-map.gif(,)http://www.mapsofindia.com/maps/bihar/districts/arwal-district-map.jpg(,)http://www.arwal.bih.nic.in/gallery/temple.jpg(,)http://www.arwal.bih.nic.in/data/images1/jawahar_navodaya_vidyalaya_arwal.jpg(,)http://image.slidesharecdn.com/sudhaprojectranjan-130902074807-phpapp01/95/sudha-projectadityaranjan-34-638.jpg%3Fcb%3D1378126138(,)http://image.slidesharecdn.com/sudhaprojectranjan-130902074807-phpapp01/95/sudha-projectadityaranjan-20-638.jpg%3Fcb%3D1378126138(,)http://static.ibnlive.in.com/ibnlive/pix/sitepix/08_2013/now-midday-meal-horror-strikes-jamui-arwal-110-children-taken-ill_010813090923.jpg(,)http://images.indiatvnews.com/mainnational/Maoists_assault19501.jpg(,)http://www.travelindia-guide.com/assembly-elections/bihar/constituency-images/Arwal/Arwal-district.jpg(,)http://image.slidesharecdn.com/sudhaprojectranjan-130902074807-phpapp01/95/sudha-projectadityaranjan-22-638.jpg%3Fcb%3D1378126138(,)http://i.ytimg.com/vi/P2zSEc5GAlY/0.jpg(,)http://i.ytimg.com/vi/IAc0f6ieB3o/maxresdefault.jpg
(,)http://image.slidesharecdn.com/arwaldp-140506001851-phpapp01/95/arwal-district-profile-8-638.jpg%3Fcb%3D1399354384(,)http://image.slidesharecdn.com/arwaldp-140506001851-phpapp01/95/arwal-district-profile-5-638.jpg%3Fcb%3D1399354384(,)http://image.slidesharecdn.com/arwaldp-140506001851-phpapp01/95/arwal-district-profile-1-638.jpg%3Fcb%3D1399354384(,)http://static.ibnlive.in.com/ibnlive/pix/sitepix/11_2013/51-persons-taken-ill-after-eating-prasad-in-arwal-village_191113114613.jpg(,)http://www.india.com/wp-content/uploads/2014/04/bihar2.jpg(,)http://images.indiatvnews.com/mainnational/Mid-Day-meal-ch25788.jpg(,)http://www.ikingindia.com/ISS_/Bihar/Arwal/image/Arwal-Madhusurva%2520Temple-2.jpg(,)http://www.arwal.bih.nic.in/BestPractice/images/jan_shikshan_sansthan-Arwal.jpg(,)http://www.morningcable.com/media/k2/items/cache/5acd571c59bb6a0559ae6db5b0a93970_L.jpg(,)http://i.ytimg.com/vi/llm_xge5V2A/0.jpg
(,)http://3.bp.blogspot.com/-tE6ohEXd3ig/Unt7s444MrI/AAAAAAAAJO4/gCwffj9iwQo/s640/chhath%2Bpooja.jpg(,)http://i.ytimg.com/vi/N57_114rVNQ/0.jpg(,)http://upload.wikimedia.org/wikipedia/commons/d/d5/People_Celebrating_Chhath_on_2nd_Day_Morning_Around_the_Pond.jpg(,)http://i.ytimg.com/vi/wIAP2vp2ZgM/0.jpg(,)http://i2.ytimg.com/vi/-5zQqbWaJxM/0.jpg(,)http://i.ytimg.com/vi/kSoJL6s5KAw/0.jpg(,)http://i.ytimg.com/vi/NPcVco75Hpo/0.jpg
(,)http://arwal.bih.nic.in/Map/Arwal.jpg(,)http://upload.wikimedia.org/wikipedia/en/archive/2/28/20081018074645!City_of_Patna_19th_century.jpg(,)http://upload.wikimedia.org/wikipedia/en/b/bd/Magahi_folk_singers.JPG(,)https://images.morebooks.de/fullcover/1000x700/9786131083785.jpg(,)http://arwal.bih.nic.in/Map/Kurtha.jpg(,)http://upload.wikimedia.org/wikipedia/commons/thumb/6/63/BiharDistricts.svg/500px-BiharDistricts.svg.png(,)http://i.ytimg.com/vi/BM1z1HdX810/0.jpg(,)http://arwal.bih.nic.in/Map/bansi.jpg
(,)http://www.mapsofindia.com/maps/bihar/tehsil/arwal-tehsil-map.jpg(,)http://www.mapsofindia.com/assemblypolls/bihar/arwal-assembly-constituency-map.jpg(,)http://www.mapsofindia.com/maps/bihar/roads/patna-road-map.jpg(,)http://image.slidesharecdn.com/arwaldp-140506001851-phpapp01/95/arwal-district-profile-2-638.jpg%3Fcb%3D1399354384(,)http://www.mapsofindia.com/maps/bihar/districts/purnia-district-map.jpg(,)http://4.bp.blogspot.com/-ko-oHz6ptXA/UsKs5yade0I/AAAAAAAAAJI/HNIqGDWq0ac/s1600/bihardistricts.gif