Arul (English: Grace) is a 2004 Indian Tamil action family drama film written and directed by Hari starring Vikram, Jyothika, Pasupathy, Vadivelu, Sarath Babu, Vinu Chakravarthy and Vaiyapuri. The music is composed by Harris Jayaraj. The story tells how a man is rejected by his family but then finds his way back. The film opened to mixed reviews from both critics as well as audience.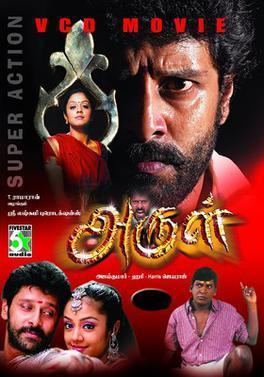 The film was dubbed in Telugu as Akhandudu and in Hindi as Main Balwaan.
Arul (Vikram), who works in a mill, is the third son of four brothers in a family of goldsmiths. Once, Arul's brother steals a chain due to financial circumstances. As Arul had taken the blame for it, he was labelled as a "thief" and seen as a black sheep by his father Bala Aasari (Vinu Chakravarthy). Thus, he vows never to make a gold ornament ever again, takes up a job and pays for his expenses. Kanmani (Jyothika), who moves into the opposite house, begins by playing tricks on him, but eventually falls for his character. Arul doesn't believe in love, and keeps his distance from her. One day, when Arul's father scolds him in the temple, Kanmani stands up for him. Arul's father insults her by telling her, "Arul's siblings are keeping quiet. Why are you making noise as though you have slept with him?" In a fit of anger, Arul marries Kanmani. Arul then realizes his love for her. The setting up of the party office of the ruling party forces Arul to lock horns with Gajapathy (Pasupathy), the local MLA, and his brother Sethupathy (Kollam Thulasi), the party leader. How Arul defeats the bad guys form the rest of the story.
Vikram as Arulkumaran "Arul"
Jyothika as Kanmani Arulkumaran
Pasupathy as MLA Gajapathy
Kollam Thulasi as Minister Sethupathy
Vadivelu as Thangam
Aarthi as Neelaveni
Manobala as Customer
Ponnambalam as Thirunelveli Kaasilingam
Vinu Chakravarthy as Bala Aasari (Arulkumaran's Father)
Sujatha as Arulkumaran's Mother
Saranya Ponvannan as Arulkumaran's sister
K. S. Ravikumar as Thiruppur Cotton Factory Society Leader
Thalaivasal Vijay
Besant Ravi
Sathyan as Senthil
Sarath Babu as Doctor
Charan Raj as Police Inspector
Rekha as Gajapathy's wife
"Minnal" Deepa
Chaya Singh as Ponni (Cameo)
Sivanarayana Moorthy as Textiles shop owner
After the success of Saamy, Hari decided to renew the collaboration with Vikram for second time with Arul. Jyothika was selected as heroine pairing with Vikram for second time after Dhool. Vivek was originally a part of the cast but fell out with the director and was subsequently replaced by Vadivelu in the film.
A 45 days' shooting schedule took place at Karaikudi, where Vikram, Jyotika and Vadivelu took part. A song sequence was also picturised on Vikram and Chaya Singh who's been roped in to do the single dance number. Fifty dancers took part in the dance number choreographed by Dinesh. The dance picturisation took six days to be completed.
The soundtrack album and background score were composed by Harris Jayaraj collaborating with Hari and Vikram for the third time. Lyrics were written by Vairamuthu , Na. Muthukumar and Snehan.
The film received mixed reviews. Nowrunning stated the film as "long, stale, tedious and drab". Sify wrote:"If you like Rambo style of films, Arul is worth investing".
Unexpected and untimely summer rains all over Tamil Nadu dampened the box office and opening of Arul. The second weekend too was disrupted by polling day (May 10) campaigns.