Religion

Church of Ireland


Spouse

Olivia Whit (m. 1761)




Known for

Founder of Guinness


Education

University of London




Role

Entrepreneur




Nationality

Kingdom of Ireland




Name

Arthur Guinness








Born

28 September 1725Celbridge, County Kildare, Ireland


Died

January 23, 1803, Mountjoy Square, Dublin, Republic of Ireland


Children

The Second Arthur Guinness, Hosea Guinness




Parents

Richard Guinness, Elizabeth Guinness




Similar People

Benjamin Guinness, Patrick Guinness, Edward Guinness - 1st Earl of, Os Guinness, Desmond Guinness




Resting place

Oughter Ard, Kildare


Occupation

Brewer and businessman



The arthur guinness fund awardees 2010
Arthur Guinness (28 September 1725 – 23 January 1803) was an Irish brewer and the founder of the Guinness brewery business and family. He was also an entrepreneur and philanthropist.
Contents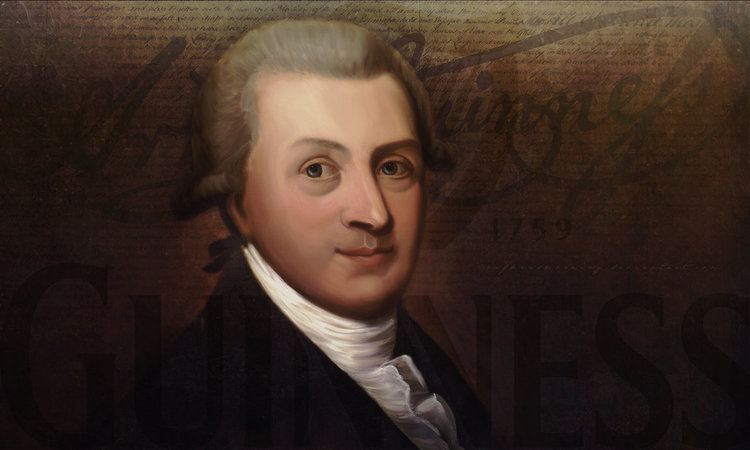 At 27, in 1752, Guinness's godfather Arthur Price, the Church of Ireland Archbishop of Cashel, bequeathed him £100 in his will. Guinness invested the money and in 1755 had a brewery at Leixlip, just 17 km from Dublin. In 1759, Guinness went to the city and set up his own business. He took a 9,000-year lease on the 4-acre (16,000 m2) brewery at St. James's Gate from the descendants of Sir Mark Rainsford for an annual rent of £45.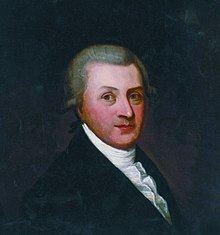 Guinness's flowery red signature is still copied on every label of bottled Guinness.
The arthur guinness fund supporting social entrepreneurs
Background
Arthur Guinness's parents Richard and Elizabeth were both the children of tenant farmers in Dublin and Kildare. Richard's family claimed a descent from the Gaelic Magennis clan of County Down. Recent DNA evidence however suggests descent from the McCartans, another County Down clan, whose spiritual home of Kinelarty included the townland of "Guiness" near Ballynahinch, County Down.
Guinness's place and date of birth are the subject of speculation. His gravestone in Oughterard, County Kildare says he died on 23 January 1803, "in his 78th year", i.e. aged 77, indicating that he was born in 1725. There is no proof of the date of 28 September 1725 chosen by the Guinness company in 1991, apparently to end speculation about his birthdate. The place of birth was perhaps his mother's home at Read homestead at Ardclough County Kildare. In 2009 it was claimed he was born in nearby Celbridge where his parents lived in 1725 and where his father worked as an agent for the cleric Dr. Arthur Price, and may (or may not) have brewed beer for the household.
In his will, Dr. Price left £100 each to "his servant" Arthur and his father in 1752. Starting his first brewery in Leixlip in 1755, Arthur then bought a long lease of an adjacent site from George Bryan "of Philadelphia in the Province of Pennsylvania" in 1756, that was developed as investment property.
In 1761 he married Olivia Whitmore in St. Mary's Church, Dublin, and they had 21 children, 10 of whom lived to adulthood. Olivia's father was William Whitmore, a grocer in Essex Street, Temple Bar, Dublin, and her mother was Mary Grattan from Drummin House, Carbury, County Kildare. Olivia also brought a dowry of £1,000.
From 1764 they lived at Beaumont House, which he had built on a 51-acre (21 ha) farm, which is now a part of Beaumont Convalescent Home, behind the main part of Beaumont Hospital, between Santry and Raheny in north County Dublin. His landlord was Charles Gardiner. The townland name of Kilmore was renamed by Arthur as Beaumont (meaning beautiful hill) and the later Beaumont parish copied the name. From March 1798 he lived at Mountjoy Square in Dublin, which was then in the process of being built in the style of elegant Georgian architecture, where his landlord was Gardiner's son Luke. Three of his sons were also brewers, and his other descendants eventually included missionaries, politicians, and authors (see: Guinness family).
He died in Dublin and was buried in his mother's family plot at Oughterard, County Kildare in January 1803.
Politics
Guinness supported Henry Grattan in the 1780s and 1790s, not least because Grattan wanted to reduce the tax on beer. He was one of the four brewers' guild representatives on Dublin Corporation from the 1760s until his death. Like Grattan, Guinness was publicly in favour of Catholic Emancipation from 1793, but he was not a supporter of the United Irishmen during the 1798 rebellion and was accused of spying for the British. and was against Irish home-rule. In general, the Guinness family became Irish Unionists and Arthur Guinness accepted the system, with Arthur "directly opposed to any movement toward Irish independence" and wanting "Ireland to remain under English control".
Brewer of porter
Guinness leased a brewery in Leixlip in 1755, brewing ale. Five years later he left his younger brother Richard in charge of that enterprise and moved on to another in St. James' Gate, Dublin, at the end of 1759. The 9,000-year lease he signed for the brewery is presently displayed in the floor at St. James' Gate, effective from 31 December 1759. By 1767 he was elected Master of the Dublin Corporation of Brewers. His first actual sales of porter were listed on tax (excise) data from 1778, and it seems that other Dublin brewers had experimented in brewing porter beer from the 1760s. From the 1780s his second son Arthur (1768–1855) worked at his side and eventually became the senior partner in the brewery from 1803. He commented on this in a letter of 1790:
"
..one of my sons is grown up to be able to assist me in this Business, or I wd not have attempted it, tho' prompted by a demand of providing for Ten Children now living out of one & twenty born to us, & more likely yet to come...
"
His major achievement was in expanding his brewery in 1797–99. Thereafter he brewed only porter and employed members of the Purser family, Moravians from Tewkesbury who had brewed porter in London until 1776. The Pursers became partners in the brewery for most of the 19th century. By his death in 1803 the annual brewery output was over 20,000 barrels. Subsequently, Arthur and/or his beer was nicknamed "Uncle Arthur" in Dublin.
Family
Arthur and Olivia had 21 children, of whom these 10 survived to maturity:
Elizabeth (1763–1847) m. Frederick Darley, builder and Lord Mayor of Dublin in 1809
Revd. Dr. Hosea (1765–1841), Rector of St. Werburgh's Church, Dublin
Arthur (1768–1855), brewer and banker
Edward (1772–1833), solicitor in Dublin
Olivia (1775–1809)
Benjamin (1777–1826), brewer
Louisa (1781–1809)
Mary (1787–1809)
William (1779–1842), brewer
John (1783–1850), Captain in the Madras Army
Arthur Guinness Fund
To further honour Arthur Guinness's legacy, in 2009 Guinness & Co. established the Arthur Guinness Fund (AGF). An internal fund set up by the Company, its aim is to enable and empower individuals with skills and opportunities to deliver a measured benefit to their communities. Guinness has donated more than €7 million to the Fund since its inception.
Arthur is one of a handful of Irish people commemorated twice on stamps, in 1959 and 2009.
In October 2013 a statue of him was erected in his birthplace Celbridge.
In 2014 a series of pathways were created beside places from his early life by Kildare County Council, known collectively as "Arthur's Way".
References
Arthur Guinness Wikipedia
(Text) CC BY-SA