Kingdom

Plantae




Family

Asteraceae




Tribe

Anthemideae




Higher classification

Anthemideae




Order

Asterales




Subfamily

Asteroideae




Scientific name

Artemisia




Rank

Genus






Lower classifications

Common wormwood, Mugwort, Sweet wormwood, Tarragon, Sagebrush
Artemisia /ˌɑːrtᵻˈmiːziə/ is a large, diverse genus of plants with between 200 and 400 species belonging to the daisy family Asteraceae. Common names for various species in the genus include mugwort, wormwood, and sagebrush.
Contents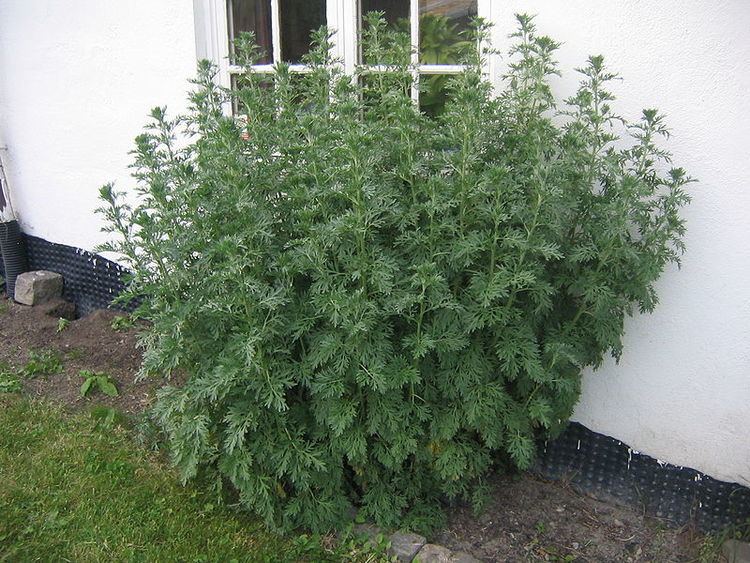 Artemisia comprises hardy herbaceous plants and shrubs, which are known for the powerful chemical constituents in their essential oils. Artemisia species grow in temperate climates of both hemispheres, usually in dry or semiarid habitats. Notable species include A. vulgaris (common mugwort), A. tridentata (big sagebrush), A. annua (sagewort), A. absinthium (wormwood), A. dracunculus (tarragon), and A. abrotanum (southernwood). The leaves of many species are covered with white hairs.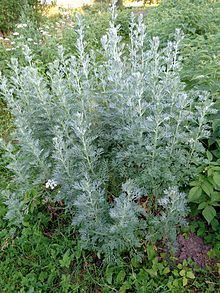 Most species have strong aromas and bitter tastes from terpenoids and sesquiterpene lactones, which discourage herbivory, and may have had a selective advantage. The small flowers are wind-pollinated. Artemisia species are used as food plants by the larvae of a number of Lepidoptera species.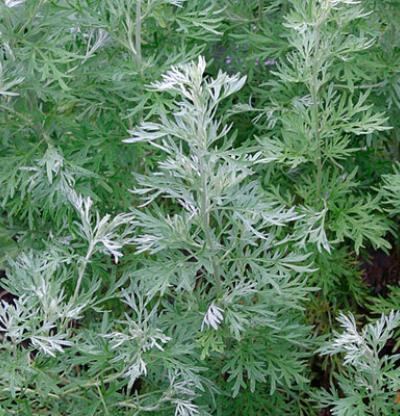 Some botanists split the genus into several genera, but DNA analysis does not support the maintenance of the genera Crossostephium, Filifolium, Neopallasia, Seriphidium, and Sphaeromeria; three other segregate genera Stilnolepis, Elachanthemum, and Kaschgaria, are maintained by this evidence. Occasionally, some of the species are called sages, causing confusion with the Salvia sages in the family Lamiaceae.
Name
The name "artemisia" ultimately derives from the Greek goddess Artemis (Roman Diana), the namesake of Greek Queens Artemisia I and II. A more specific reference may be to Artemisia II of Caria, a botanist and medical researcher who died in 350 BC.
Cultivation and uses
The aromatic leaves of some species are used for flavouring. Most species have an extremely bitter taste. A. dracunculus (tarragon) is widely used as a culinary herb, particularly important in French cuisine.
Artemisia absinthium (absinth wormwood) was used to repel fleas and moths, and in brewing (wormwood beer, wormwood wine). The aperitif vermouth (derived from the German word Wermut, "wormwood") is a wine flavored with aromatic herbs, but originally with wormwood. The highly potent spirits absinthe and Malört also contain wormwood.
Artemisia arborescens (tree wormwood, or sheeba in Arabic) is a very bitter herb indigenous to the Middle East used in tea, usually with mint.
A few species are grown as ornamental plants, the fine-textured ones used for clipped bordering. All grow best in free-draining sandy soil, unfertilized, and in full sun.
Artemisia stelleriana is known as Dusty Miller, but several other species bear that name, including Jacobaea maritima (syn. Senecio cineraria), Silene coronaria (syn. Lychnis coronaria), and Centaurea cineraria.
Medicinal
Artemisinin (from Artemisia annua) and derivatives are a group of compounds with the most rapid action of all current drugs used to treat malaria. Treatments containing an artemisinin derivative (artemisinin-combination therapies) are now standard treatment worldwide for malaria caused by Plasmodium falciparum.
Artemisia cina and other Old World species are the source of the antihelminthic drug, santonin.
Chinese mugwort, Artemisia argyi, is used in the traditional Chinese medicine.
Artemisia capillaris Thunberg (A. capillaris) has been found to have potent sedative-hypnotic effects, which are probably mediated through potentiation of the GABAA receptor- Cl− ion channel complex
Artemisia austriaca has beneficial effects in reducing the withdrawal syndrome of morphine.
Culture
Artemisia has been mentioned and used in popular culture for centuries. A few examples are:
Artemisia herba-alba is thought to be the plant translated as "wormwood" in English language versions of the Bible (apsinthos in the Greek text). Wormwood is mentioned seven times in the Jewish Bible, always with the implication of bitterness. It is mentioned once in the New Testament. Wormwood is the "name of the star" in the Book of Revelation 8:11 (kai to onoma tou asteros legetai ho Apsinthos) that John of Patmos envisions as cast by the angel and falling into the waters, making them undrinkably bitter. Further references in the Bible show wormwood was a common herb known for its bitter taste. (Deuteronomy 29:17, Proverbs 5:4, Jeremiah 9:14, 25:15, Lamentations 3:15,19, Amos 5:7)
In Shakespeare's Hamlet, the titular character says "Wormwood, wormwood" to comment on the bitter implications of what the Player Queen has just said.
Classification
Classification of Artemisia is difficult. Divisions of Artemisia prior to 2000 into subgenera or sections have not been backed up by molecular data, but much of the molecular data, as of 2006, are not especially strong. The following identified groups do not include all the species in the genus.
Section Tridentatae
Section Tridentatae consists of nine to eleven species of shrubs, which are very prominent parts of the flora in western North America. In some classifications, they are part of the genus or subgenus Seriphidium, although they do not seem to be closely related to the Asian Seriphidium species. To be monophyletic, section Tridentatae should exclude Artemisia bigelovii and Artemisia palmeri.
Section Tridentatae includes above species with exception of Artemisia longiloba, which is treated as a subspecies of Artemisia arbuscula. Section Nebulae includes Artemisia californica, Artemisia nesiotica, and Artemisia filifolia.
Old World Seriphidium
The Old World species which different classifications put into the genus or subgenus Seriphidium consist of about 125 species native to Europe and temperate Asia, with the largest number of species in Central Asia. Some classifications, such as that of the Flora of North America, exclude any New World plants from Seriphidium. They are herbaceous plants or small shrubs.
Subgenus Dracunculus
One group which is well-supported by molecular data is subgenus Dracunculus. It consists of 80 species found in both North America and Eurasia, of which the best-known is perhaps Artemisia dracunculus, the spice tarragon.
References
Artemisia (genus) Wikipedia
(Text) CC BY-SA