Area

280 km²




Founded

1839




Population

188,832 (2010)






Map of Armavir, Russia
Armavir (Russian: Армави́р) is a city in Krasnodar Krai, Russia, located on the left bank of the Kuban River. Population: 188,832 (2010 Census); 193,964 (2002 Census); 160,983 (1989 Census); 144,000 (1969). Armavir was formerly the second-largest industrial center of Krasnodar Krai, after Krasnodar.
Contents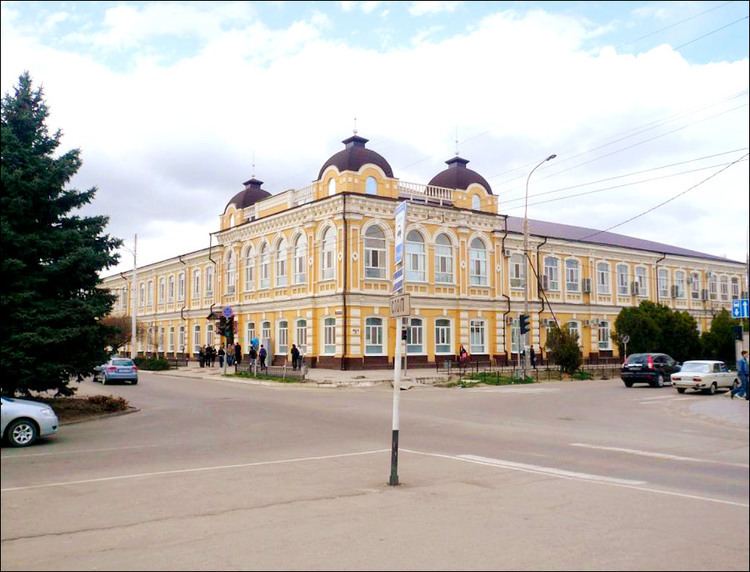 History
The area of today's Armavir was first inhabited by Abazins. Later Turkic Tatars from the Crimean Khanate also settled here. As a result of the Caucasian War the remaining Abazins were forced to emigrate from Southern Russia to the Ottoman Empire. Armavir is also claimed to be a part of the historical land of the Circassians.
The contemporary settlement was founded in 1839 by Cherkesogai Armenians as Armyansky aul (Армя́нский ау́л). In 1848 it was named Armavir, after the ancient capital of Armenia.
During the Russian Civil War of 1918–1920, a number of brutal battles took place near the city. The Taman army's military campaign ended in Armavir in 1918. The Soviet authority was established in Armavir in March 1920. During World War II, the city was occupied by the German Army. It was liberated by the Red Army in January 1943.
Administrative and municipal status
Within the framework of administrative divisions, it is, together with eleven rural localities, incorporated as the City of Armavir—an administrative unit with the status equal to that of the districts. As a municipal division, the City of Armavir is incorporated as Armavir Urban Okrug.
Climate
Armavir has a humid subtropical climate. In spite of this winters are cold and nearly fall into the continental category with a −2.2 °C (28.0 °F) January mean.
Military
Armavir Radar Station is on the site of Baronovsky Airfield, 12 kilometers (7.5 mi) southwest of the town.
Sister city
Armavir, Armenia
References
Armavir, Russia Wikipedia
(Text) CC BY-SA