Armaan is an Hindi Bollywood film direct by Anand Sagar, starring Raj Babbar, Shakti Kapoor, Shammi Kapoor, Ranjeeta Kaur, Dev Kumar, Deepak Parashar and as a guest star Kalpana Iyer and Prema Narayan in song "Mere Jaesi Haseena".
Contents
Plot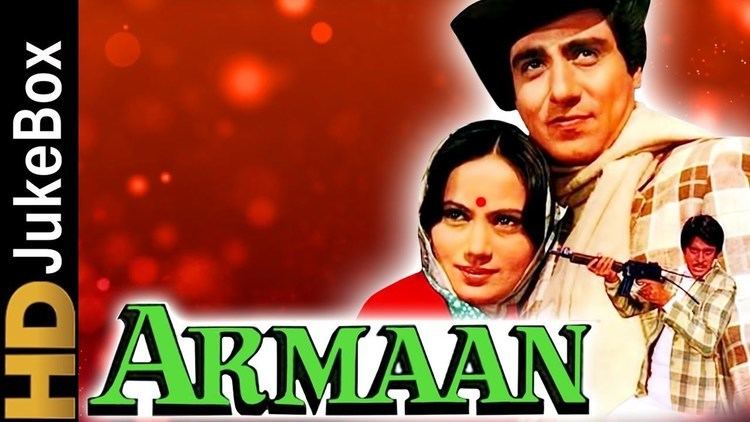 This film tells the story of the Indian freedom struggle against under Portuguese occupation in Goa.
Deepak Parashar plays a freedom fighter, Raj Babbar a bar owner, Ranjeeta Kaur the shared love interest, Shammi Kapoor the bar piano player and Shakti Kapoor the freeloading Portuguese Captain Gomes. Starts off in Dharampur, then migrates to Goa which is then under Portuguese occupation. The banter between Shammi Kapoor and Shakti Kapoor, referring to Captain Gomes as HK - Holy King to his face, Haram Khor (freeloader) behind his back, lends a comedic touch.
Reviews
DISCLAIMER The movie is based on a classic Hollywood Blockbuster. Names of people and places are changed to hide the identity of original (and possibly for avoiding payment of royalties).
PLOT Inspired by classic "Casablanca" (1942), the director Anand Sagar went on to make this movie. To Indianise the story was set in Goa and the world war backdrop becomes the freedom struggle for Goa and villains are Portuguese in place of the Germans. The role of Rick (Bogey) is revived by Raj Babbar, of Ilsa ([[Ingrid Bergman]]) by Ranjeeta Kaur, Deepak Parashar plays Victor (Paul Henried), Shammi Kapoor is Sam (Dooly Wilson) and Shakti Kapoor plays Renault (Claude Rains).
Deepak Parashar is a freedom fighter and Ranjeeta is his sweetheart who was earlier romantically involved with Raj Babbar. Raj Babbar runs a bar / hotel in Goa which is hub of all the action. Shammi Kapoor is his friend and bartender who also sings. Shakti Kapoor is a corrupt Portuguese officer with money in top of his priority.
SPOILERS Having started in parallel with Casablanca, the director builds-up the initial story well, but then he goofs up on what to do with the Indianised story. He follows the traditional Indian route (where in love triangle the third person - the one with one sided feelings or the one not in marriage - should die).
ACTING Talking of acting Raj Babbar, Shammi Kapoor and Shakti Kapoor are good. The supporting cast does well but not the lead pair - Parashar is too wooden and Ranjeeta lacks the intensity. But Raj Babbar's role overall is victim of directors confusion.
MUSIC No Indian movie is deemed complete with customary songs and dances, and this movie is no exception. The music is OK and song "Saare Jahan Ki Amanat hai yeh, yeh jeevan tumhara tumahara nahin, jeevan mitana hai deevanapan, koi pyar jeevan se pyara nahi...." goes well, but contradictory to spirit of the song the director actually erases the life. This is no classic, but it is better than about 60% movies made in India.
Soundtrack
All the songs in this film was composed by Bappi Lahiri and the lyrics were written by Indeewar and Anjaan.
Song "Ramba Ho Ho Ho Samba Ho Ho Ho" was listed at #21 on Binaca Geetmala annual list 1981.
Accolades
Nomination Filmfare Award for Best Music Director - Bappi Lahiri
Nomination Filmfare Award for Best Female Playback Singer - Usha Uthup for the song "Ramba Ho Ho Ho Samba Ho Ho Ho"
Nomination Filmfare Award for Best Female Playback Singer - Sharon Prabhakar for the song "Mere Jaesi Haseena"
References
Armaan (1981 film) Wikipedia
(Text) CC BY-SA
Armaan (1981 film) IMDb