Allegiance

British India India




Service/branch

Indian Air Force




Parents

Kishan Singh





Name

Arjan Singh




Children

Arvind Singh







Born

15 May 1919 (age 98)Lyallpur, Punjab, British India(now Faisalabad, Pakistan) (

1919-05-15

)


Died

16 September 2017, Army Hospital Research And Referral, New Delhi




Rank

Marshal of the Air Force




Commands held

No. 1 Squadron IAFAmbala Air Force StationWestern CommandVCAS




Battles/wars

World War IIIndo-Pakistani War of 1965




Awards

Padma VibhushanGeneral Service Medal 1947Samar Seva StarRaksha MedalSainya Seva MedalIndian Independence MedalDistinguished Flying Cross1939–1945 StarBurma StarWar Medal 1939–1945India Service Medal




Education

Royal Air Force College Cranwell




Battles and wars

World War II, Indo-Pakistani War of 1965




Similar People

Sam Manekshaw, Malik Nur Khan, Jayanto Nath Chaudhuri, Harbaksh Singh, Lal Bahadur Shastri




Years of service

1938–19692002–present



Marshal of the Indian Air Force Arjan Singh reminisces 1965 war victory
Marshal of the Indian Air Force Arjan Singh, DFC (16 April 1919 – 16 September 2017) was an Indian Air Force marshal who served as Chief of the Air Staff from 1964 to 1969. For his distinguished service in commanding the IAF during the Indo-Pakistani War of 1965, he was awarded the Padma Vibhushan and in 1966 became the first IAF officer to be promoted to air chief marshal. After retiring from the IAF, he served as a diplomat, politician and advisor to the Indian government. He was Lieutenant Governor of Delhi from 1989 to 1990. In 2002, he became the first and only officer of the Indian Air Force to be promoted to five-star rank as Marshal of the Indian Air Force, equal to the army rank of Field Marshal.
Contents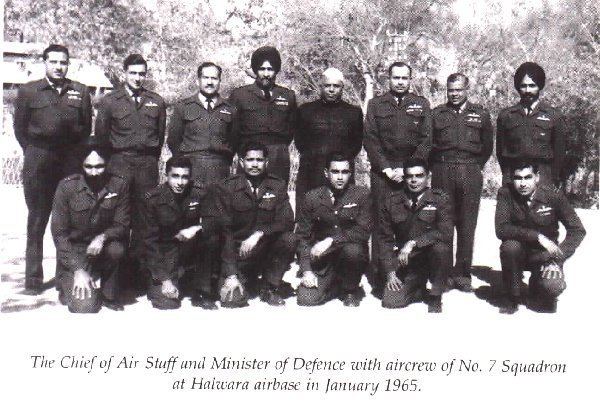 billy arjan singh tiger of dudhwa wmv
Early and personal life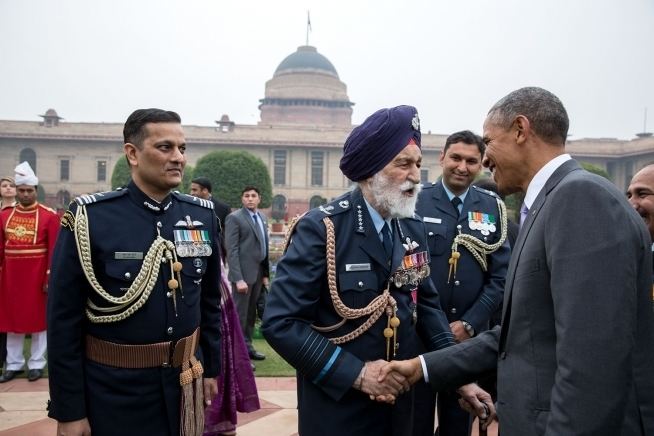 Singh was born on 15 Apr 1919 in Lyallpur, Punjab (now known as Faisalabad, Pakistan), in what was then British India, into a Jat Sikh family of the Aulakh gotra (clan). The British had built a network of canals across the Punjab in the latter half of the 19th century and early 20th century, and had encouraged farmers to settle there and cultivate the land. Arjan Singh's family had been among those which had settled there after being allotted agricultural land by the administration. They had also joined the armed forces, in keeping with community traditions, and Arjan Singh was the fourth generation of his family to join the British Indian armed forces.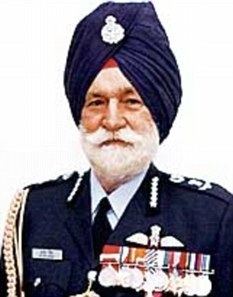 His father was a Lance Daffadar in the Hodson's Horse at the time of his birth, and retired as a full Risaldar in the Cavalry, serving for a time as ADC to a Division Commander. Arjan Singh's grandfather Risaldar Major Hukam Singh served in the Guides Cavalry between 1883 and 1917, and his great-grandfather, Naib Risaldar Sultana Singh, was among the first two generations of the Guides Cavalry enlisted in 1854; he was martyred during the Afghan campaign of 1879. Thus, after three generations of men serving in the lower and middle ranks of the army, Arjan Singh was to become the first member of his family to become a commissioned officer.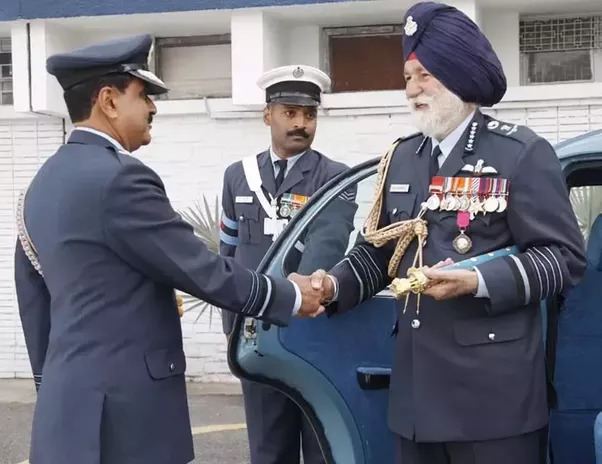 In 1948, Singh was married to Teji Singh, a lady of his own community and similar family background, in a match arranged by their families in the usual Indian manner. They were married for 63 years before her death in April 2011. The couple had a daughter, Asha, and a son, Arvind, who lives in the U.S. state of Arizona. A niece is actress Mandira Bedi; Teji Singh was her maternal aunt.
Early military career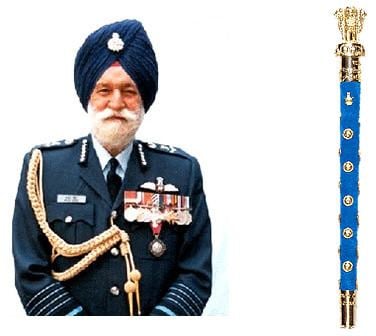 Singh was educated at Montgomery, British India (now in Pakistan) and later entered the RAF College Cranwell in 1938 and was commissioned as a pilot officer in December 1939. In 1943, he was promoted to acting squadron leader and became the commander of No. 1 Squadron.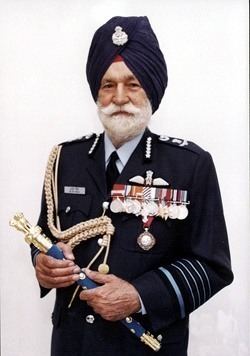 Singh led No. 1 Squadron, Indian Air Force into combat during the Arakan Campaign in 1944. He was awarded the Distinguished Flying Cross (DFC) in June 1944: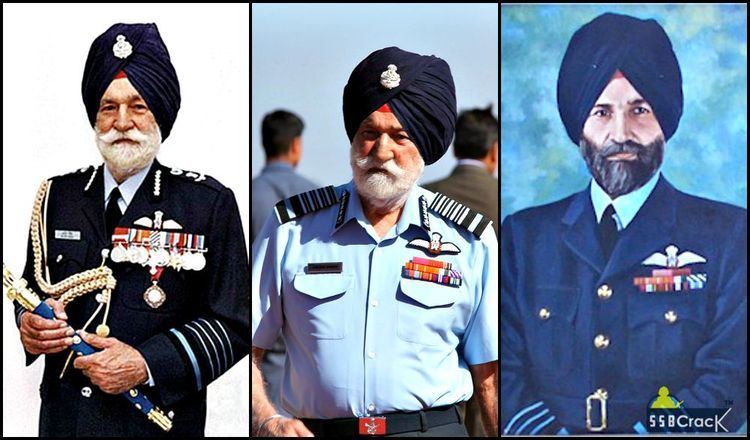 Acting Squadron Leader Arjan Singh (IND/1577), Indian Air Force, No. 1 (I. A. F) Squadron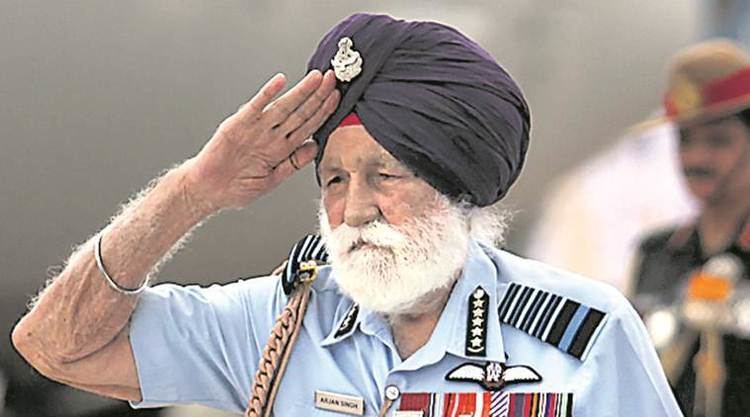 This officer has completed very (sic) many operational missions involving flights over difficult country, often in bad weather. He has displayed outstanding leadership, great skill and courage, qualities which have been reflected in the high morale and efficiency of the squadron which has won much success.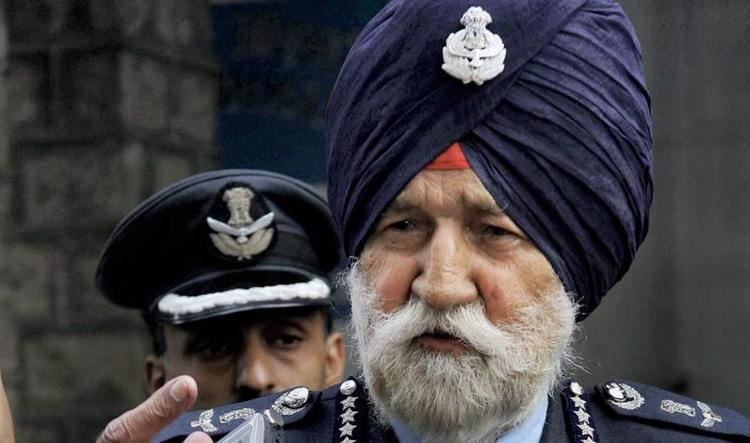 Singh almost faced a court-martial in February 1945 when he tried to raise the morale of a trainee pilot (later rumored to be the future Air Chief Marshal Dilbagh Singh) by conducting a low level air pass over a house in Kerala. In his defence, he insisted that such tricks were needed for every cadet to be a fighter pilot. Later that year, he commanded the Indian Air Force Exhibition Flight. As part of the celebrations for Independence Day on 15 August 1947, Singh, by then a wing commander and acting group captain, led the first fly-past of RIAF aircraft over the Red Fort in Delhi.
Commands held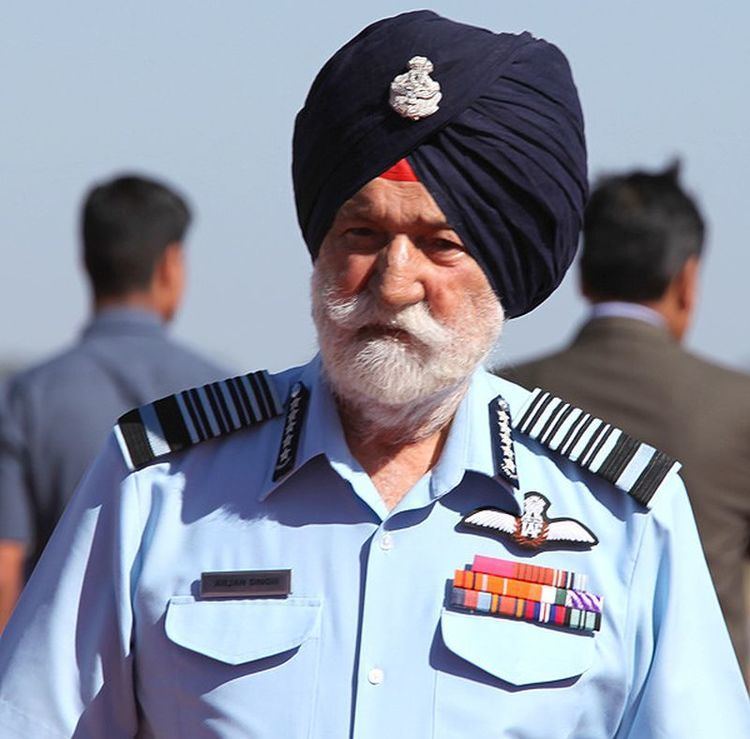 Singh was Chief of the Air Staff (CAS), from 1 August 1964 to 15 July 1969, and was awarded the Padma Vibhushan in 1965. When appointed as Chief of the Air Staff of the Indian Air Force, he was just about 45. He has been the only Chief of the Air Staff to have headed the Air Force for five years as opposed to the regular tenure of two and a half to three years.
Singh also became the first Chief of the Air Staff of the Indian Air Force to be upgraded to the rank of Air Chief Marshal from the rank of Air Marshal in recognition of his Air Force's contribution in the 1965 war. He took retirement from his services in 1970 at the age of 50.
Diplomatic and political career
In 1971, after his retirement, Singh was appointed as the Indian Ambassador to Switzerland and Vatican serving concurrently. He was also appointed as the High Commissioner to Kenya from 1974 to 1977. Subsequently, he served as a member of the National Commission for Minorities and The Government of India from 1975 to 1981. He was the Lt. Governor of Delhi from December 1989 to December 1990 and was made Marshal of the Air Force in January, 2002.
Later life and death
Singh's health declined in his final years, and he frequently made references to growing old and the passing away of many of his friends. In July 2015, then aged 96 and wheelchair bound due to a temporary indisposition, he was among the many dignitaries to lay a wreath at the base of the coffin carrying the mortal remains of former President A.P.J. Abdul Kalam at Palam Airport. He paid his last respects to President Kalam at Palam Airport on 28 July. He remained active even at 98, continuing to take tea and to play golf twice a week at the Delhi Golf Club.
Singh suffered a massive cardiac arrest at his New Delhi residence in the early morning of 16 September 2017 and was rushed to the Army Hospital, Research and Referral, in New Delhi, where his condition was stated to be critical. He died at 7:47 p.m. (IST) that evening. After his passing, his body was returned to his home at 7A Kautilya Marg in New Delhi, where numerous visitors and dignitaries offered their respects, including President Ram Nath Kovind, Prime Minister Narendra Modi, Defence Minister Nirmala Sitharaman and the three service chiefs of the Indian Armed Forces. Accorded a state funeral by the Indian government, he was cremated at Brar Square in New Delhi on 18 September with full military honours, including a military flypast by IAF fighter jets and helicopters.
Sources:
Sources:
Air Force Station Arjan Singh
On 14 April 2016 at an event to mark the Marshal's 97th birthday, the then Chief of Air Staff Air Chief Marshal Arup Raha announced that Indian Air Force base at Panagarh in West Bengal will be named after MIAF Arjan Singh in honor of his service, and will be called Air Force Station Arjan Singh from then.
References
Arjan Singh Wikipedia
(Text) CC BY-SA