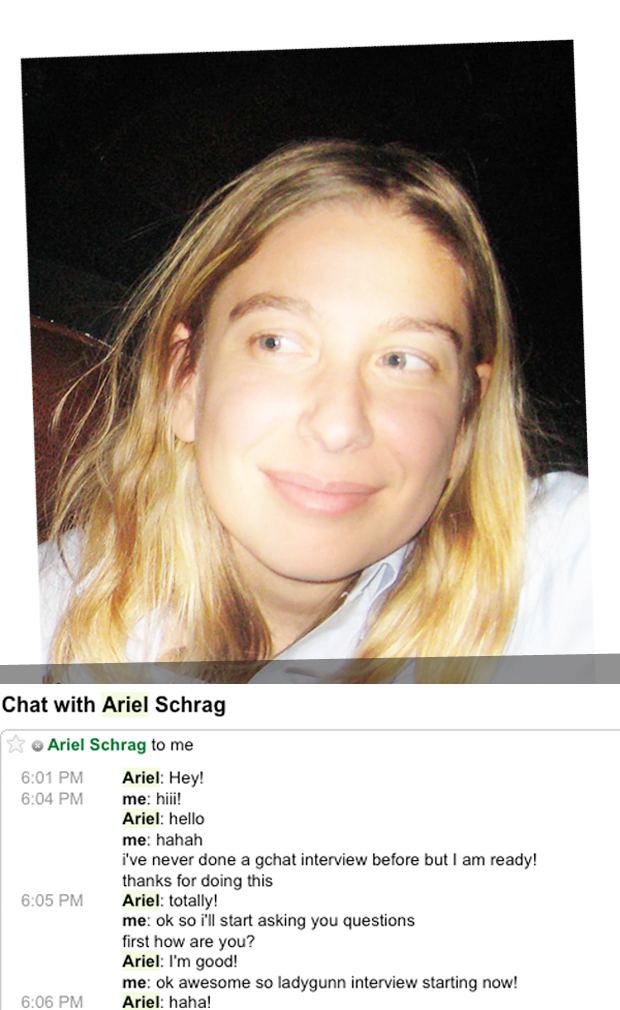 While attending Berkeley High School in Berkeley, California, Schrag self-published her first comic series, Awkward, depicting events from her freshman year, originally selling copies to friends and family. Slave Labor Graphics subsequently reprinted Awkward as a graphic novel, followed by three more books based on her next three years of school: Definition, Potential, and Likewise. The books were republished by Touchstone/Simon & Schuster in 2008 and 2009. The books tell stories of family life, going to concerts, experimenting with drugs, high school crushes, and coming out as bisexual and later as lesbian.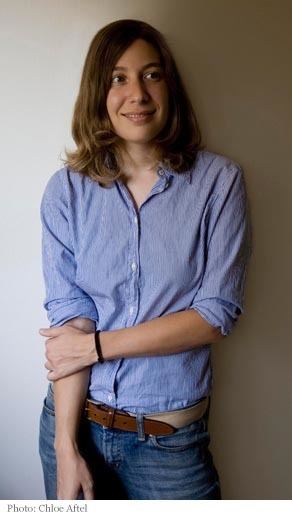 Killer Films is producing a movie adaptation of Potential; Schrag has written the screenplay.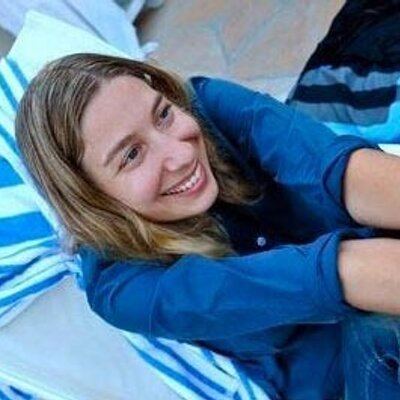 Schrag graduated from high school in 1998. She graduated from Columbia University with a bachelor's degree in English in 2003, and has continued to work as a cartoonist.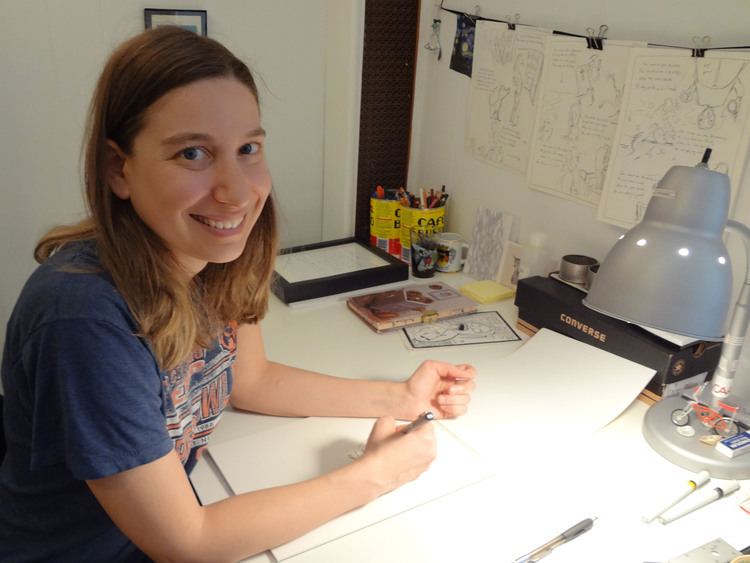 The documentary Confession: A Film About Ariel Schrag was released in 2004. It explores the then-23-year-old Schrag's world in which she "negotiates fame, obsesses about disease, and discusses the way she sees as a dyke comic book artist."
Schrag was a writer for the third and fourth seasons of the Showtime series The L Word, and for the second season of the HBO series How To Make It In America.
Schrag was listed in The Advocate's list of "Forty under Forty" out media professionals in its June–July 2009 issue.
Schrag is a part-time faculty member at The New School and has been teaching Creative Thesis & Lit. Project and Graphic Novel in the writing program.
Schrag participates in both Yaddo and Radar Lab as a writing artist.
In 2014, Schrag published her new novel, Adam.
The book Adam is a story following a sixteen years old straight boy (white cisgender) growing up. In the story, the boy comes to New York City to live with his older sister for the summer. Because of his sister being a LGBTQ advocate, he gets the chance to experience what the LGBTQ community is like. During his stay, he finds himself liking an older woman he met. He claims to be female to male transgender just to be able to date the woman.
The experience of the queer community in New York City, surrounded by friends that are going through female to male transitions, and even personally dated a transgender woman influence Ariel Schrag significantly on why she wrote the book, Adam. When first creating the character Adam, Schrag imagined him as an older man. The inspiration behind it came from Schrag's co-worker Adam Rapp when she was writing for the show, The L Word. Rapp was the only man in the writing group while the rest were lesbians. Rapp is a straight cisgender man, Shrag wondered what he had to bring to a writing group on a Lesbian TV series. Shrag found herself imagining Rapp as a cis gender man going to gay bars trying to blend in as a trans man to collect data for writing. She found this thought funny and interesting and thought she should write a novel about it. The more Shrag thought about the idea she realized an adult man should know that doing something as such would be in poor taste. Shrag then decided the character should be a teenager whose intentions for such actions would come from love. Schrag's personal experience with friends is one of the inspirations that make her want to write the novel in Adam's perspective. A straight friend of Schrag's envy about how amazing it is to have the LGBTQ community there for you inspired her. Schrag thinks about how people would misunderstand things by looking at a situation only in either a good or bad way without considering a gray area. Her friend focuses on how great it is to have a community supporting you but not the issues queer people face on a daily basis is just one example. It has surprised Schrag how a lot of people only read the introduction of the book and stop reading further because they felt offended and uncomfortable by the topics the book talks about. Responding to people's reaction, Schrag explains that she wants to write something unique and different. Something that people get to explore the unfamiliar because that is what makes things alluring. In the book, Schrag shows a lot of topics that happens in the LGBTQ community but have not been included much in books, comics and so on. For example, in a scene where different groups of people are talking about their opinions on legalizing same sex marriage, Schrag includes a group of queer people disagreeing with the idea of gay marriage. Schrag decides to present the sex scenes in the book explicitly and intimately with descriptions of body parts rather than quickly passing through in most of the novels. Novels have the power to make it intimate to the readers. She thinks cutting out or not addressing enough of these important moments is incomplete, especially for her book considering that the topics are about gender, sex, and sexuality.
An intriguing thing Schrag finds in writing novels differing to comics and TV shows is that every reader will visualize descriptions in the book differently. Schrag believes the environments and characters one pictures connect with their personal experiences in real life and that's how readers can feel more intimate with the story. Schrag hopes to provide a story that is realistic and as genuine as possible. Schrag uses conversations she personally heard or experienced, to achieve the authenticity she desires but also provides different opinions on the problems she touches in the book. Schrag shares that one of the character in the book, Gillan is inspired by Constance McMillen. McMillen is a teenager who was prohibited to have a girl as her date to prom in Mississippi. Schrag finds the story of the girl intriguing and wonders what the future will be like for McMillen considering she came out as a lesbian at an early age.