Ariane de Rothschild (born Ariane Langner; 1965) is a French banker, businesswoman and philanthropist. She is the vice-president of Edmond de Rothschild Holding SA since 1999. She is the wife of Baron Benjamin de Rothschild with whom she has four daughters. In early 2015 Benjamin made the decision to further consolidate his family's position at the head of the Edmond de Rothschild Group. He proposed Ariane be the Chairwoman of the Group Executive Committee. In January, the Board of Directors of the Group's holding company appointed his wife, Ariane, as Chairwoman of the Group Executive Committee.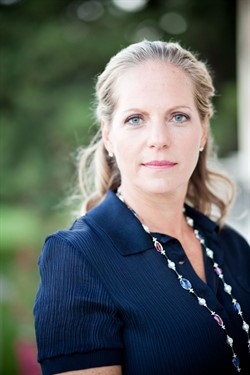 Ariane de Rothschild was born in El Salvador to a father who was a senior executive at an international pharmaceutical firm. By the time she was 18 she had lived in Zaire (now the Democratic Republic of Congo), Colombia and Bangladesh. Spending her formative years outside Europe left a deep imprint: "Life in very poor countries, in which most of the people are waging a daily struggle to survive and in which there is often nothing to eat, creates a different set of values, even if you yourself are white and live relatively well. You learn to appreciate what you have."
Although her husband is from the Rothschild family (a family of Jewish origin), Ariane de Rothschild is not Jewish and decided not to convert, saying: "If every conversion were fully accepted by all streams of Judaism, I might consider it, but as long as that is not the case I find it sheer hypocrisy... Whenever the question of Jewishness comes up I say that to be a Jew is what you do, not what you pretend to be.". The baroness declares that she does not believe in God: "I have no problem with any religion but I do not belong to any of them." Her daughters are being raised to choose what religion that they see fit: "We are a home in which there are many possibilities, from celebrating Christmas to observing Shabbat. I constantly tell Benjamin that the girls will be able to choose their religion as they wish, because they are familiar with the possibilities."
However, she remains deeply committed to Israel: "Israel is very precious to me. It is totally ingrained in the family, part of the legacy, part of the DNA. We are all particularly committed to Israel."
Ariane de Rothschild holds an MBA from Pace University in New York.
First broker at Societe Generale in New York, she joined the U.S. insurance group AIG, to make it enter the French and European markets. As effet from 30th January 2015, Ariane de Rothschild, as CEO, provides oversight of the Edmond de Rothschild Group.
She takes care of the Edmond de Rothschild Foundations, dedicated to arts and culture, health and research, environment, social entrepreneurship and intercultural dialogue. She supports university projects in Israel. She chairs the Ariane de Rothschild Foundation, based in Madrid, which sponsors the annual Ariane de Rothschild Art Prize, a contemporary art prize.
Ariane de Rothschild has also launched a unique training program for social entrepreneurship with the University of Cambridge and in partnership with Cornell University (USA), which seeks to promote intercultural dialogue, especially between Jewish and Muslim communities. This program carries her name: Ariane de Rothschild Fellowship Program and has a hundred Fellows who all mounted the social entrepreneurship projects. The selection to participate in this program starts in the beginning of each year, in January. She affirms the commitment of the Edmond de Rothschild Group towards the responsible and sustainable investment in private equity, an SRI approach of listed shares, a willingness to manage the environmental impact and ethical behavior vis-a-vis the public and its employees. She especially encouraged investment in a "social obligation".First of its kind launched in Israel, it aims to reduce the number of students who drop out along the way studies and is guaranteed by the Edmond de Rothschild Foundation.
She is in charge of non-financial activities of the Edmond de Rothschild Group, among other wine properties in Bordeaux (Chateau Clarke, Chateau Malmaison, Chateau des Laurets), Spain (Vega Sicilia Rothschild), South Africa (Rupert Rothschild) and Argentina (Dassault Rothschild). She manages Le Domaine du Mont d'Arbois, a resort in Megeve.