After the disappearance of her brother on an isolated island, pilot Mercer (Alex Reid) readily accepts an offer to fly a team of ex-Marines and scientists to the same remote isle so they can investigate a strange series of deadly animal bites. Unfortunately, Mercer is forced to make a crash landing there. Soon, one of her colleagues suffers a lethal bite, and insect expert Henry Capri (Ravil Isyanov) makes a startling revelation: They are stranded on an island overrun with huge mutant spiders.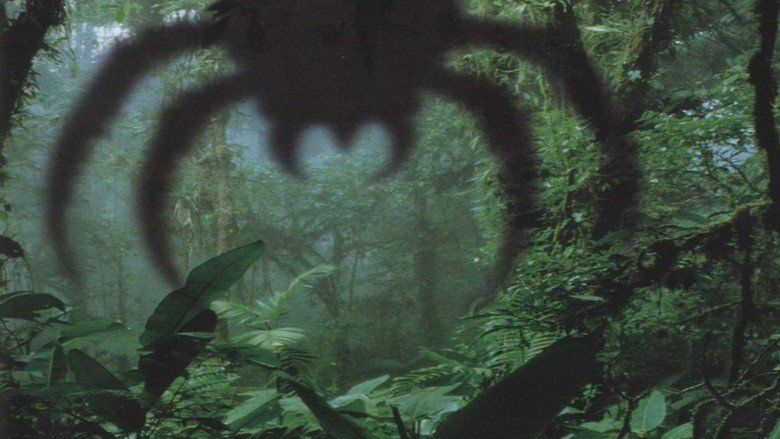 Arachnid is a 2001 horror film directed by Jack Sholder. In this film, giant killer spiders menace survivors of a plane crash. The film stars Alex Reid, Chris Potter, Rocqueford Allen, Robert Vicencio and Jose Sancho.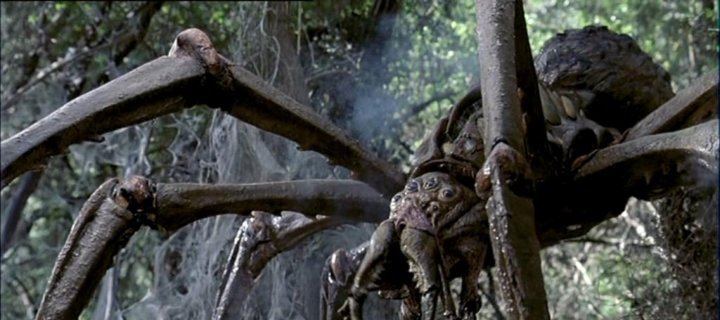 Arachnid is a 2001 film directed by Jack Sholder. In this movie, giant killer spiders menace survivors of a plane crash.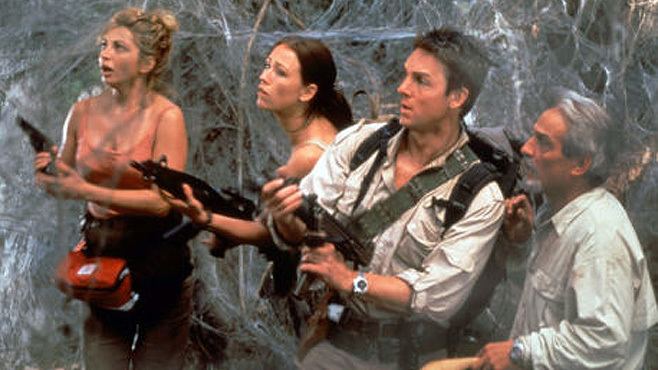 A plane crashes on an island, and the pilot comes across a giant spider, which kills both him and an alien. One year later, Mercer (Alex Reid), the sister of the pilot, accompanies Valentine (Chris Potter) to the same island to locate her brother. On the way to a native village to examine several natives who are dying of spider bites, ticks burrow into Reyes (Luis Lorenzo Crespo). Upon reaching the village, they discover that the village has moved on. Reyes begins to cough up the ticks and Bear (Rocqueford Allen) decides to shoot him to end his suffering.
That night, Mercer wanders off and is attacked by a mutated spider, but is saved by a native, who ends up getting bitten and dying the next morning. The group moves on, and are attacked by a giant spider, which kills Henry (an "arachnologist") and Samuel (the groups doctor). A smaller spider attacks Bear, and another native is killed. Valentine, Mercer and Susana (Neus Asensi), Samuels assistant, hole up in a military bunker. While Mercer keeps watching, the spiders attack and force the survivors into a closet. Susana panics when she sees the spider is gone and is killed when she tries to escape. Mercer and Valentine escape through a bomb tunnel into the forest, where Valentine slips into unconsciousness from a bite he sustained.
In the morning, Valentine awakes to discover that Bear and "Toe Boy" (Robert Vicencio) are the only surviving natives. The four head into the cave, where they find the spider in a cocoon. Mercer attempts to cut the cocoon down so Bear can shoot it, but it wakes up before she can cut it down and Bear is killed. The spider sets chase after Mercer and she ends up wrapped in its silk, which she uses to pull the spider from the ceiling and it falls onto a stalagmite, killing it. As Mercer, Valentine and Toe Boy leave, another spider watches them from an overhead cliff.
Alex Reid ... Mercer
Chris Potter ... Valentine
Rocqueford Allen ... Bear
Robert Vicencio ... Toe Boy (as Robert Gabriel Vicencio)
Jose Sancho ... Dr. Samuel Leon
Neus Asensi ... Susana Gabriel
Ravil Isyanov ... Henry Capri
Luis Lorenzo Crespo ... Reyes (as Luis Lorenzo)
Jesus Cabrero ... Lightfoot
Hector Chiquin ... Native 1
Conejo Wilson ... Native 2
Fausto Gualsaqui ... Native 3
This film had a limited release. For its low budget, it did well at the box office, scoring $1.123 million. It opened #9 opening weekend. On its second weekend, it fell to #26, and went downhill from there. It made 81% of its gross on its opening weekend.
This film received mixed to negative reviews, mainly negative. One reviewer said "This film was so bad, I went to the doctor to get my eyeballs cleaned." However, some people have shown some kindness towards the movie. Movie actor Richard Dreyfuss claims to have seen it at a local theater, saying in one of his blogs "It was better than expected, by far."
During his interview for the documentary, "Behind the Curtain Part II" (2012), director Jack Sholder, had this to say about this film:
I basically did it for the money and it was a stupid script . . . I got to live in Barcelona for six months and, you know, they paid me well. Everything was good except I had to go to work everyday and shoot a dumb script. I havent seen that one since, you know, I made it. And some people say Oh well, its actually better than you think, but I basically tell people to avoid that one".