Name

Antony Sheriff





Role

Businessman





Antony Sheriff (born 1963 in Switzerland) is an American and Italian businessman and was until mid-2013 the Managing Director and a member of the board of directors of McLaren Automotive.
Contents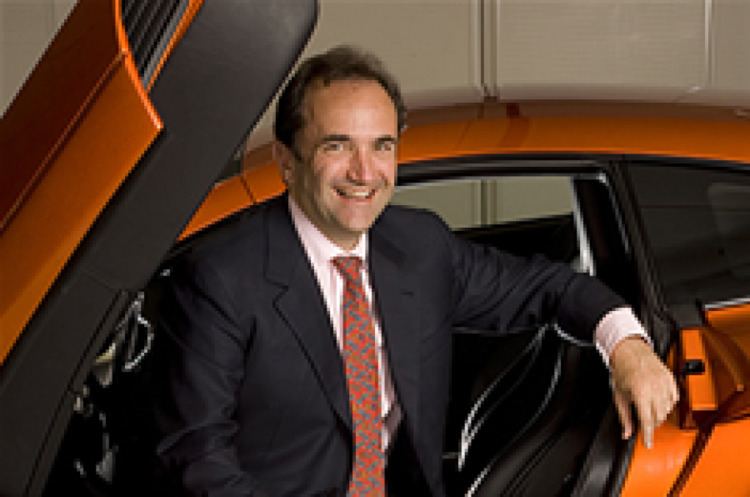 Antony sheriff on the mclaren p1
Early life and education
Sheriff attended Swarthmore College in Pennsylvania after high school, obtaining both a B.A. in Economics and a B.S. in Engineering before going on to work at Chrysler. He then obtained his M.S. in Management from the MIT Sloan School of Management while contributing to "The Machine that Changed the World" (Financial Times "Book of the Year" in 1990).
Early career
Following his graduation from M.I.T., Sheriff worked for McKinsey and Company as a strategic management consultant . In 1995 he joined Fiat Auto in Italy and soon after became Executive Director of Product Development for all Fiat, Lancia and Alfa Romeo cars and commercial vehicles.
Sheriff was promoted to the position of Vice President of Marketing for Fiat in 2002, shortly before moving to McLaren Automotive in Britain as Managing Director in January 2003.
McLaren Automotive
McLaren hired Sheriff to build McLaren into a road car brand and Sheriff was responsible for managing all aspects of the company's road car business. Initially, he launched the SLR into production in partnership with Mercedes-Benz and turned McLaren Automotive into a profitable company after developing and launching the SLR Roadster and SLR Stirling Moss.
After the launch of the SLR, Sheriff built McLaren into a standalone luxury sports car company with three core products: P11 (MP4-12C and 650S), P12 (P1) and P13 (Sports Series). Under his leadership, McLaren Automotive also built a dedicated production facility and a global distribution network with 51 dealers in 26 countries.
Launch of the MP4-12C and P1
During Sheriff's tenure, McLaren successfully launched two road car models and began the development of a third. The first car, the MP4-12C, was launched to critical acclaim and had1700 orders before it went on display at dealerships. In its first full year in production, McLaren Automotive sold 1,587 MP4-12C's with a turnover of £267 million and near breakeven profitability.
At the end of 2012, McLaren launched the MP4-12C Spider and Sheriff announced McLaren would be releasing the P1, a $1 million hybrid supercar, in 2013. The car was launched the car at the Paris motorshow in September 2012 and sold out its limited 375 car production run.
Two other cars were conceived under Sheriff's leadership, but launched after his departure: 650S (an evolution of the MP4-12C) in 2014 and Sports Series (P13) due to be launched in 2015.
Sheriff resigned as Managing Director of McLaren in 2013 and is now advising and investing in a number of projects in the international automotive industry.
Awards and recognition
The MP4-12C obtained several honors, including "GT Car of the Year" and "Cabrio of the Year" from Top Gear, and the P1 won the "Hypercar of the Year" also from Top Gear. In addition, McLaren Automotive was awarded the Walpole award for the "Best British Luxury Brand" in 2011.
While at Fiat Auto, cars Sheriff conceived won "Car of the Year" (Alfa Romeo 147 and Fiat Panda).
References
Antony Sheriff Wikipedia
(Text) CC BY-SA