Alma mater

Juilliard School


Name

Antony Alda




Occupation

Actor




Role

Actor





Years active

1967–2004




Spouse(s)

Lori Carrell




Siblings

Alan Alda





Full Name

Antonio Joseph D'Abruzzo




Born

December 9, 1956 (

1956-12-09

) St. Julien, France


Children

Ian Alda Alexander "Zan" Alda




Relatives

Alan Alda (paternal half-brother)Beatrice Alda (niece)Elizabeth Alda (niece)


Died

July 3, 2009, Los Angeles, California, United States


Nieces

Beatrice Alda, Elizabeth Alda, Eve Alda




Movies

National Treasure, Sweet Liberty, Hot Child in the City, Role of a Lifetime, Killing Device


Similar People

Robert Alda, Alan Alda, Beatrice Alda, Jon Turteltaub, Scott Bakula



Parents

Flora Marino, Robert Alda

Antony Alda (December 9, 1956 – July 3, 2009) was an American actor who grew up in a famous acting family. The son of Robert Alda, he was born in France, his early studies were in Rome and he finished at The Juilliard School in New York City. An active actor, he appeared on stage, and in film, and on television, including his role as Johnny Corelli in Days of Our Lives. His career culminated in writing, directing, and performing in Role of a Lifetime. He died at age 52.
Contents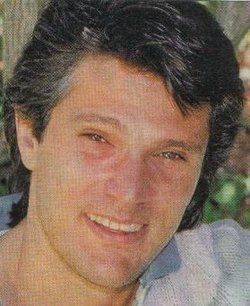 Antony Alda Memorial Rehearsal
Early life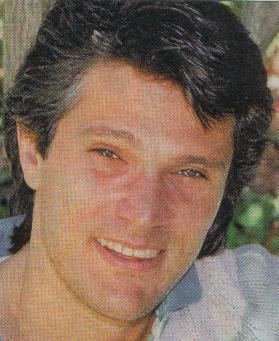 Alda was born Antonio Joseph D'Abruzzo in St. Julien, France, into what would later be called an acting dynasty. His father was well known in the United States both in film and on Broadway, where he earned a Tony. Alda's mother, Flora Martino, was an Italian actress. His half-brother, Alan Alda, graduated from Fordham University in the year of Alda's birth. Antony's sons, Ian and Alexander (Zan), as well as his nieces, Beatrice and Elizabeth, have continued the family tradition.
Alda described growing up within the dynasty, "The theater has always been a comfortable place for me. I spent all my summers on Broadway. Dad would be in one play and Alan would be in another. I used to hang out with the lighting guys." He found that being an Alda had its professional ups and downs. "People figure you know what you're doing because you grew up around acting. Other people think you got the part because of your name."
Antony Alda finished his high school studies at Notre Dame International in Rome and completed his academic career studying musical composition at The Juilliard School in New York City. Alda was married twice, first in 1975 to Leslie Clark at Saint Thomas Episcopal Church in New York City at Fifth Avenue. Their reception was held at the old Biltmore Hotel. The marriage lasted until 1977. His sons were born during his marriage to actress Lori Carrell, to whom he was married from 1981-1992. During this time, his mother commented, "Marriage was good for Tony. It changed him and made him more mature."
Career
Throughout his career, Alda played in seven films including Melvin and Howard, which won an Oscar, and Homeboy. He also appeared in three movies including Hot Child in the City and two TV "shorts" including Bungle Abbey. He was cast in several television series and appeared in more than 200 episodes including two on Knots Landing as Rick Elliot. Alda later played Johnny Corelli during two years (1990–1991) on NBC's Days of Our Lives.
Like Johnny Corelli, Alda saw himself as something of a jokester. He said, "I always played practical jokes on people." One prank involved his putting on a wig and passing himself off as one of his mother's church friends to a visiting aunt.
Role of a Lifetime
His most notable accomplishment is the film, Role of a Lifetime, released in 2001. Alda wrote, directed, and acted in, the film. The film is about a formerly successful actor, Bobby. Bobby seems to be egotistical at first, but is rendered into a sympathetic persona by the starring actor, Scott Bakula. Bobby has lost his wife in the Hollywood rat race and is on his way to becoming a "has been." He has an accident that results in a disappearance long enough for Hollywood to assume he is dead and to begin to cast a movie based on his life. Bobby takes on a different identity, that of Texan Buck Steele, in order to audition for and, eventually, play himself in the movie. In the persona of Buck Steele, Bobby interacts with his ex-wife, his best friend and a mysterious old Hispanic gentleman. These experiences, while disturbing, enable Bobby to reexamine many aspects of his life. (Alda both credited and quoted Socrates. He inconspicuously placed Socrates' quote: "An unexamined life is not worth living" in several scenes.)
Death
Antony Alda died July 3, 2009, in Los Angeles at age 52. The cause of death was cirrhosis of the liver.
Filmography
Actor
2004
National Treasure
as
Guard Ferguson
2002
Role of a Lifetime
as
Joey (as Tony Alda)
1997
The Naked Truth (TV Series)
as
Antony Alda
- He Ain't Famous, He's My Brother (1997) - Antony Alda
1994
The Bold and the Beautiful (TV Series)
as
Photographer Claudio
- Episode #1.1834 (1994) - Photographer Claudio
1993
Renegade (TV Series)
as
Barry Mellman
- The Rabbit and the Fox (1993) - Barry Mellman
1990
Days of Our Lives (TV Series)
as
Johnny Corelli
1987
Hot Child in the City
as
Charon
1987
Hunter (TV Series)
as
Dino
- Double Exposure (1987) - Dino
1986
Too Close for Comfort (TV Series)
as
Derrick Bond
- Rock Around Henry (1986) - Derrick Bond
1986
Throb (TV Series)
as
Zeus
- Pilot (1986) - Zeus
1986
Sweet Liberty
as
Film Crew Member
1985
Knots Landing (TV Series)
as
Rick Elliot
- Rise and Fall (1985) - Rick Elliot
- A Question of Trust (1985) - Rick Elliot
1983
Quincy M.E. (TV Series)
as
Paramedic #1
- Women of Valor (1983) - Paramedic #1
1982
Code Red (TV Series)
- No Escape (1982)
1981
CHiPs (TV Series)
as
Robby Burstad
- The Killer Indy (1981) - Robby Burstad
1981
Homeroom (TV Movie)
as
Crazy Willie
1981
Bungle Abbey (TV Movie)
as
Brother Antony
1980
Melvin and Howard
as
Terry
1980
M*A*S*H (TV Series)
as
Cpl. Jarvis
- Lend a Hand (1980) - Cpl. Jarvis
1978
Fame (TV Movie)
as
Italian Street Cop
1978
Columbo (TV Series)
as
Mario DeLuca
- Murder Under Glass (1978) - Mario DeLuca
1978
Nowhere to Run (TV Movie)
as
Neft
1976
Switch (TV Series)
as
Terry
- Pirates of Tin Pan Alley (1976) - Terry
1970
Three Coins in the Fountain (TV Movie)
as
Gino
1968
The Magical World of Disney (TV Series)
as
Gus Donato
- The Treasure of San Bosco Reef: Part 2 (1968) - Gus Donato
- The Treasure of San Bosco Reef: Part 1 (1968) - Gus Donato
1968
Daniel Boone (TV Series)
as
Rudi
- Orlando, the Prophet (1968) - Rudi (as Anthony Alda)
Director
Writer
Archive Footage
1997
Biography (TV Series documentary)
as
Self - Brother
- Alan Alda: More Than Mr. Nice Guy (1997) - Self - Brother
Soundtrack
1987
Hot Child in the City (performer: "Move") / (writer: "Move")
References
Antony Alda Wikipedia
(Text) CC BY-SA