Name

Antonio Nebrija





Role

Poet







Died

July 5, 1522, Alcala de Henares, Spain




Education

University of Salamanca, University of Bologna


Books

Gramatica de la lengua castellana, Vocabulario trilingue, Introductiones Latinae




Parents

Catalina de Xarana y Ojo, Juan Martinez de Cala
Orla 2011 ies antonio de nebrija mp4
Antonio de Nebrija (1441 – 5 July 1522), also known as Antonio de Lebrija, Elio Antonio de Lebrija, Antonius Nebrissensis, and Antonio of Lebrixa, was a Spanish Renaissance scholar. He was a teacher, historian, poet and astronomer, best known for writing a grammar of the Castilian language. His grammar is often credited as the first published grammar of a Romance language and set the standard for subsequent modern Spanish language grammars.
Contents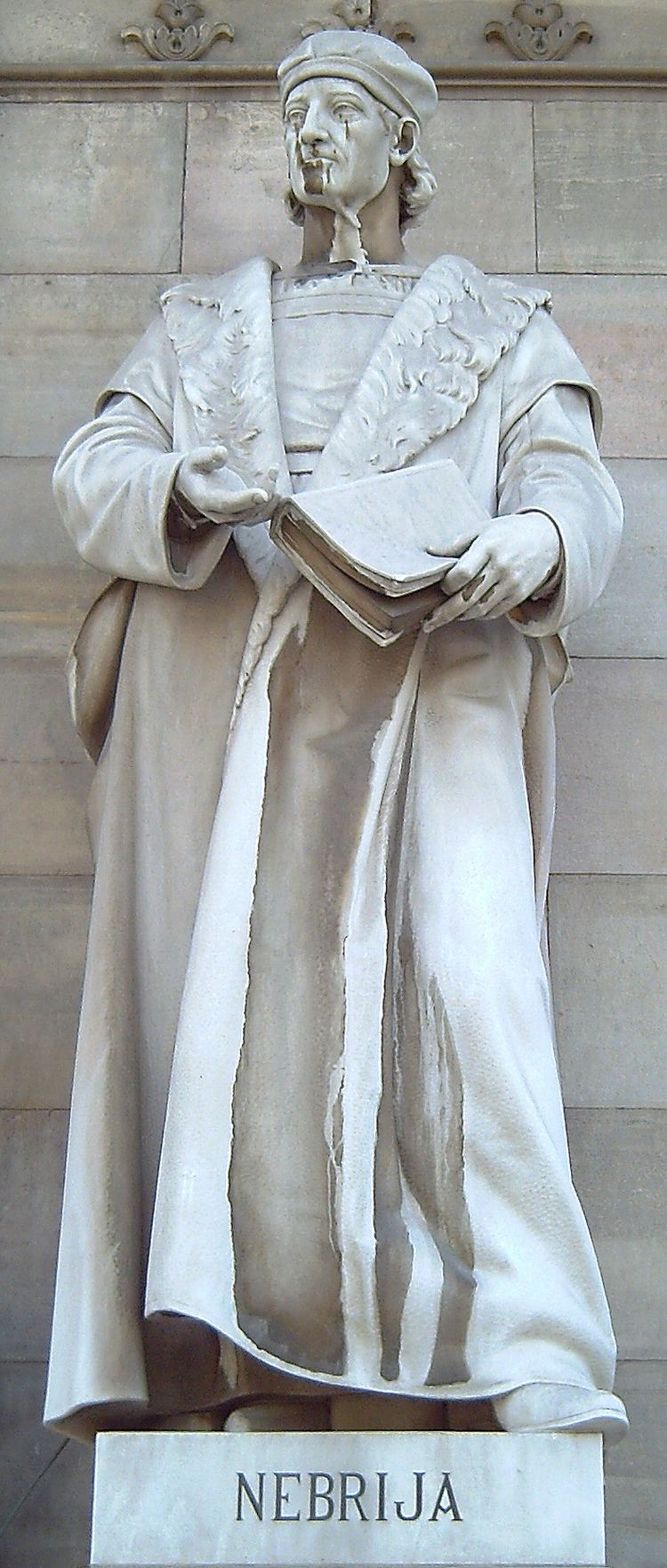 Name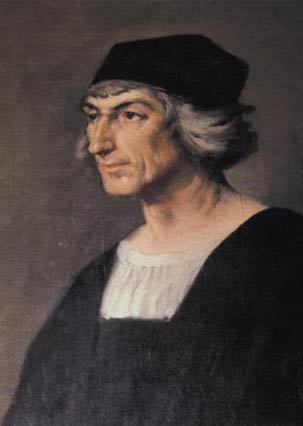 De Nebrija's given name was Antonio Martínez de Cala. In typical Renaissance humanist fashion, he latinized his name as Aelius Antonius Nebrissensis by taking Aelius from the Roman inscriptions of his native Lebrija, the Roman Nebrissa Veneria. He also signed his books as Antonius Lebrixen (1481) and Antonius Nebrissen (1501).
Biography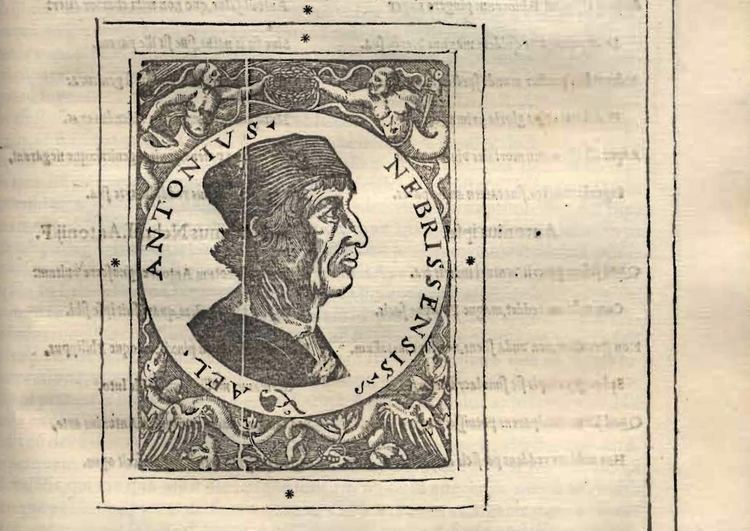 He was born in the former Nebrissa Veneria, known today as Lebrija, in the Province of Seville, almost bordering the Province of Cádiz. His father was Antonio de Cala e Hinojosa and his mother was Catalina de Xarava y Ojo, or Catalina de Jaraba y Ojo. Her father was of marrano origin and his mother was Jewish converted to Catholicism. He was the second of five children.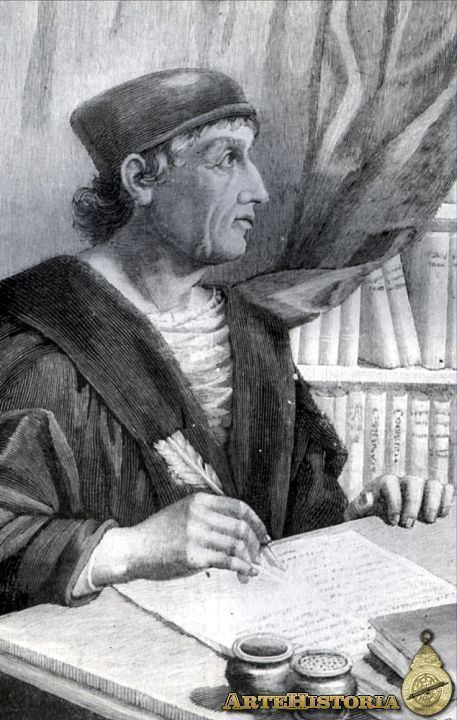 After studying at Salamanca, Nebrija resided for ten years in Italy, having received a scholarship from the diocese of Córdoba to study theology at the Colegio de San Clemente in Bologna. He completed his education at Bologna University. On his return to Spain (1473), he devoted himself to the advancement of classical learning among his fellow countrymen. After obtaining the professorship of poetry and grammar at Salamanca, he was transferred to the University of Alcalá de Henares.
Nebrija wrote about a variety of subjects including cosmography, botany and theology. In 1481 he published a grammar entitled, Introductiones latinae.
Nebrija's services to the cause of classical literature in Spain have been compared with those rendered by Valla, Erasmus and Scidaeus to Italy, the Netherlands, and France, respectively. In 1492, he published the first grammar of the Spanish language. He dedicated this book to Isabella I of Castile, the catholic queen. When the book was presented to her, she asked: "Why would I want a work like this? I already know the language." He answered:
"Majesty, the language is the instrument of the empire." Moreover, he said of his intentions: "Presently, they [the people] waste their leisure on novels and fancy stories full of lies. I have decided, therefore, that my most urgent task is to transform Castilian speech into an artifact so that whatever henceforth shall be written in this language may be of one standard tenor, one coinage that can outlast the times. Greek and Latin have been governed by art, and thus have kept their uniformity throughout the ages. Unless the like of this be done for our language, in vain Your Majesty's chroniclers ... shall praise your deeds. Your labor will not last more than a few years, and we shall continue to feed on Castilian translations of foreign tales about our own kings. Either your feats will fade with the language or they will roam among aliens abroad, homeless, without a dwelling in which they can settle... Your Majesty, I want to lay the foundations for the dwelling in which your fame can settle... Now, Your Majesty, let me come to the last advantage that you shall gain from my grammar. For the purpose, recall the time when I presented you with a draft of this book earlier this year in Salamanca. At this time, you asked me what end such a grammar could possibly serve. Upon this, the Bishop of Avila interrupted to answer in my stead. What he said was this: "Soon Your Majesty will have placed her yoke upon many barbarians who speak outlandish tongues. By this, your victory, these people shall stand in a new need; the need for the laws the victor owes to the vanquished, and the need for the language we shall bring with us. My grammar shall serve to impart to them the Castilian tongue, as we have used grammar to teach Latin to our young."
Nebrija produced a large number of works on a variety of subjects, including a Latin–Spanish dictionary, and commentaries on Sedulius and Persius. He was also in charge of correcting the Latin text of the Complutensian Polyglot Bible.
He died in Alcalá de Henares. His possible grandson Antonio de Lebrija was conquistador in Colombia and treasurer of the Spanish conquest of the Muisca expedition.
Grammatical ideas
De Nebrija's work on grammar was mainly based on the classical Latin authors Priscian, Diomedes Grammaticus and Aelius Donatus but he also introduced new concepts to the field. He considered grammar to be the highest science. He subdivided it into Orthography, Prose, Etymology and Syntax. He was the first author to make claims of intellectual property.
Works
Introductiones latinae, 1481
Axel Schönberger (ed.): Die Gramática de la lengua castellana des Antonio de Nebrija: kastilischer Text und kommentierte deutsche Übersetzung der ersten spanischen Grammatik aus dem Jahre 1492, Teil 1: 1. Buch: Lautlehre und Orthographie; 2. Buch: Prosodie und Metrik, Valentia, Frankfurt am Main 2016 (German translation).
Latin–Spanish (1492) and Spanish–Latin (1495) dictionaries.
Reglas de ortografía española (1517)
Posthumously published Reglas de ortografía en la lengua castellana (1523).
De Nebrija also wrote minor works on pedagogy, weights, measurements, numberation, etc.
References
Antonio de Nebrija Wikipedia
(Text) CC BY-SA