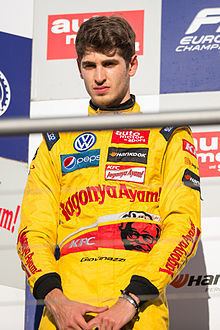 He raced in karting from 2006 to 2012 and became the champion in the Italian National Trophy 60cc and Euro Trophy 60, both in 2006.
Giovinazzi began his single seater career by competing in Formula Pilota China in 2012. He finished as the overall champion in his debut season with a total of six wins. He also raced for the BVM team in the last round of the 2012 Formula Abarth season at Monza. Despite winning two races and finishing in second place in one, he did not receive any points since he was a guest driver.
In 2013, he participated in the FIA European Formula 3 Championship with the Double R Racing team. He scored his first points at Brands Hatch after finishing 11th and 9th in two out of three races. In 2014, he signed with Carlin to compete in the 2014 FIA European Formula 3 Championship season.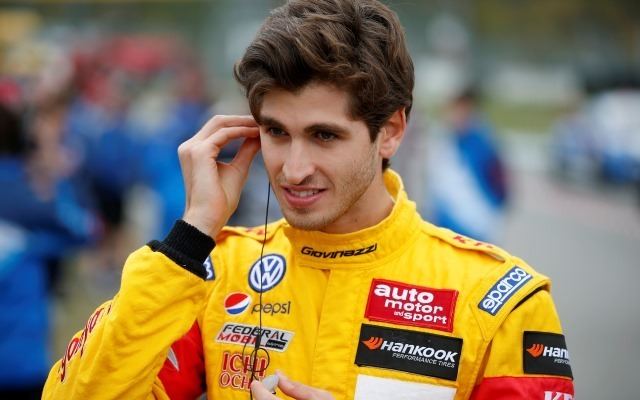 He also competed in the 2013 British Formula 3 season alongside Sean Gelael. He claimed his maiden win in F3 at Silverstone.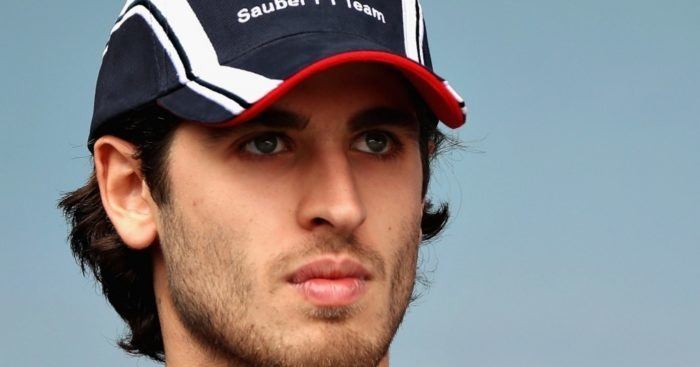 He made his debut in the 2013 Masters of Formula 3 on 7 July 2013, finishing in the 10th position.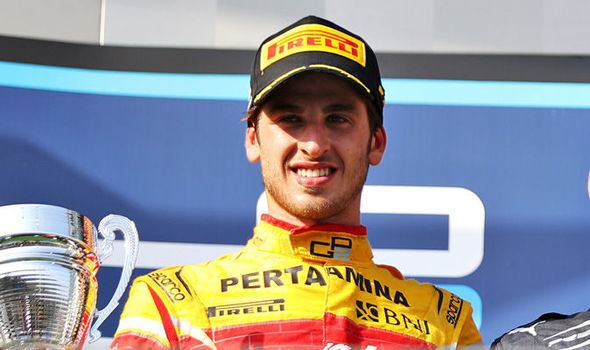 Giovinazzi joined the series with Prema Powerteam for the 2016 season alongside Red Bull Junior and 2014 Formula Renault 3.5 runner-up Pierre Gasly.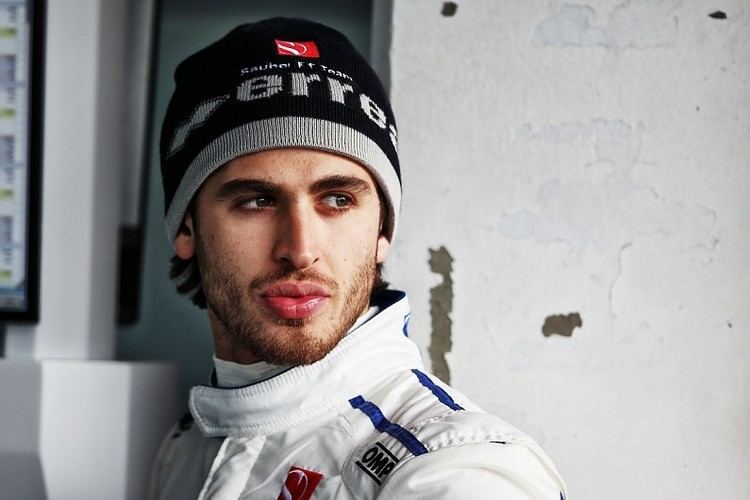 After a poor start by finishing outside the points and losing reverse grid pole in the first two rounds, Giovinazzi scored victories in both the feature and sprint races in Baku, becoming the first driver to do 'the double' since Davide Valsecchi in 2012.
Giovinazzi took pole position from his teammate Gasly at Spa, and won the Sprint Race after Gasly had won the feature race on saturday. At Monza, he took pole position, but was disqualified from the session due to a technical infringement. Despite starting from the back of the grid, he won in the Feature Race after a mix up involving the safety car that worked in his favour.
Giovinazzi took the lead of the championship at Sepang by overtaking Sergey Sirotkin late on for his 5th win of the season. However, Pierre Gasly's victory in the Abu Dhabi feature race meant that Gasly led by 12 points into the final race. Giovinazzi finished the final race ahead of Gasly as Alex Lynn won the race, however, after making a poor start, he was unable to overturn the 12 point gap, and Gasly won the championship by 8 points.
Had Giovinazzi won the championship, he would have been the first rookie champion since Nico Hülkenberg in 2009. He would also have been the last ever GP2 champion as the series would become FIA Formula 2 Championship for 2017.
In September 2016, it was announced that Giovinazzi would perform simulator work for Scuderia Ferrari. In December, Giovinazzi was confirmed as Ferrari's third driver. He participated in pre-season testing for the 2017 season with Sauber. During the Australian Grand Prix, Giovinazzi substituted for Pascal Wehrlein, who did not feel fit enough for a complete race distance due to his training deficit as a result of a crash at the 2017 Race of Champions. Giovinazzi finished 12th on his debut. Sauber announced Wehrlein would again be replaced by Giovinazzi for the 2017 Chinese Grand Prix, but he crashed out during the race.
† As Giovinazzi was a guest driver, he was ineligible for points.
* Season still in progress.
(key)
† Driver did not finish the race, but was classified as he completed over 90% of the race distance.
(key) (races in bold indicate pole position) (races in italics indicate fastest lap)
(key) (races in bold indicate pole position) (races in italics indicate fastest lap)
(key) (Races in bold indicate pole position; races in italics indicate fastest lap)
* Season still in progress.