Years active

2009–present




Full Name

Antonia Laura Thomas

Siblings

Chloe Lucy Thomas, Emma Jay Thomas

Movies and TV shows




Similar People

Lauren Socha, Iwan Rheon, Nathan Stewart‑Jarrett, Robert Sheehan, Joe Gilgun
Antonia Laura Thomas (born 3 November 1986) is an English actress. She is best known for starring as Alisha Daniels in the E4 comedy-drama series Misfits and Evie in the Channel 4/Netflix comedy series Lovesick.
Contents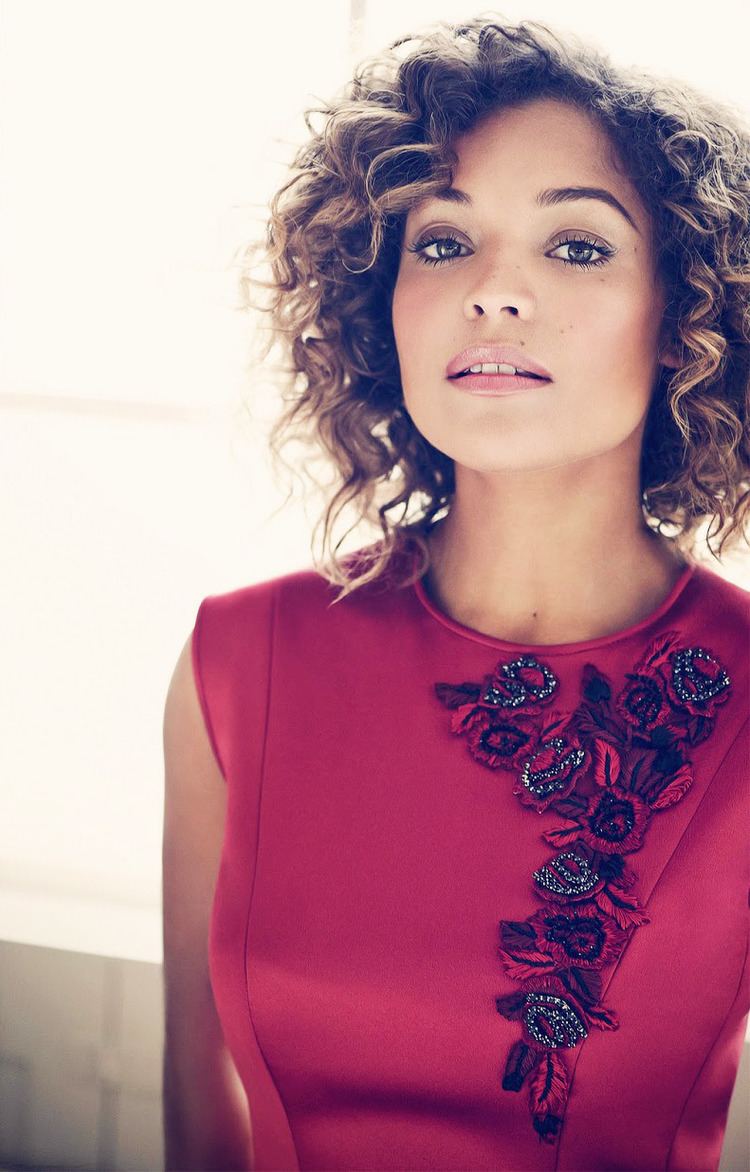 Hunger tv hungry antonia thomas
Early life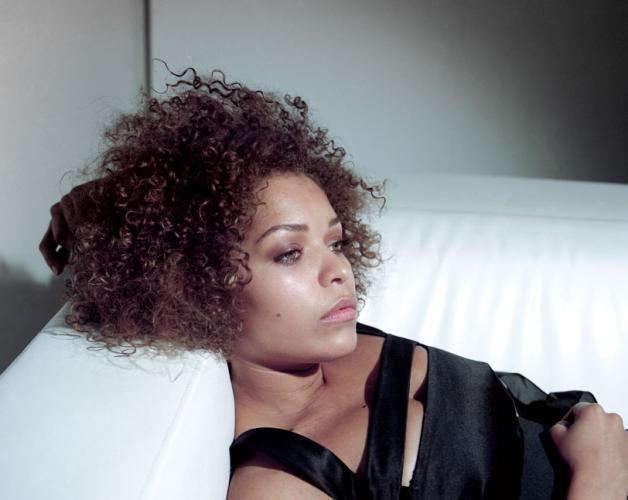 Antonia Laura Thomas was born on 3 November 1986 in London, the daughter of a Jamaican mother and an English father. Her father is a classical bass singer. She studied for a Bachelor of Arts in acting at the Bristol Old Vic Theatre School, graduating in 2009, and then joined the National Youth Theatre.
Career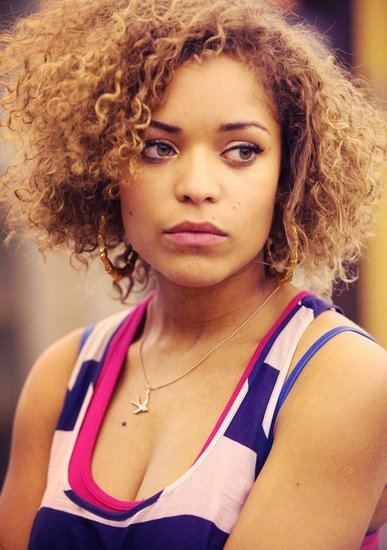 Thomas was cast as Alisha Daniels in 2009, one day after leaving Bristol Old Vic Theatre School. She confirmed her exit from Misfits in late 2011, stating that she had an "amazing time" on the show. In 2012, she starred in the music video for the Coldplay song "Charlie Brown".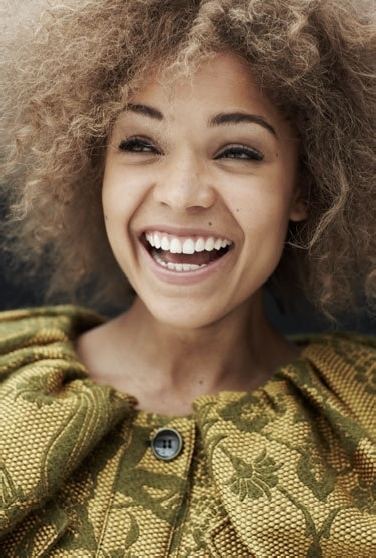 In 2013, Thomas was in the film Sunshine on Leith. In 2014, she played the role of Evie in the British rom-com TV series Scrotal Recall which aired on Channel 4. After finding success on Netflix, the streaming network went on to commission a second series of 8 episodes, without Channel 4's involvement, which was made available globally on the streaming network in November 2016 under the new name Lovesick.
In 2015, Thomas was featured in the Stereophonics song "C'est La Vie" and narrated the opening and closing lines to the reboot of the British children's television series Teletubbies.
Filmography
Actress
-
Past Life (pre-production)
-
The Bagman (post-production)
as
Karina
2024
Carry the Wind (Short) (post-production)
as
Miriam
2023
Still Up (TV Series)
as
Lisa
- Episode #1.8 (2023) - Lisa
- Episode #1.7 (2023) - Lisa
- Episode #1.6 (2023) - Lisa
- Episode #1.5 (2023) - Lisa
- Episode #1.4 (2023) - Lisa
- Episode #1.3 (2023)
- The Late Night Chemist (2023) - Lisa
- Episode #1.2 (2023) - Lisa
2022
Firebuds (TV Series short)
as
Ms. Coolidge
- The Super Safety Show/Job-O-Rama Day (2023) - Ms. Coolidge
- Marsh Mayhem/The Art of Friendship (2022) - Ms. Coolidge (voice)
2022
Tuca & Bertie (TV Series)
- Somebirdy's Getting Married (2022) - (voice)
2022
Suspect (TV Series)
as
Maia
- Danny (2022) - Maia
- Susannah (2022) - Maia
- Harry (2022) - Maia
- Ryan (2022) - Maia (credit only)
- Jaisal (2022) - Maia
- Maia (2022) - Maia
- Nicola (2022) - Maia
- Jackie (2022) - Maia
2017
The Good Doctor (TV Series)
as
Dr. Claire Browne
- The Lea Show (2022) - Dr. Claire Browne
- The Shaun Show (2022) - Dr. Claire Browne
- Vamos (2021) - Dr. Claire Browne
- Venga (2021) - Dr. Claire Browne
- Forgive or Forget (2021) - Dr. Claire Browne
- Letting Go (2021) - Dr. Claire Browne
- Dr. Ted (2021) - Dr. Claire Browne
- Waiting (2021) - Dr. Claire Browne
- Gender Reveal (2021) - Dr. Claire Browne
- Spilled Milk (2021) - Dr. Claire Browne
- Teeny Blue Eyes (2021) - Dr. Claire Browne
- We're All Crazy Sometimes (2021) - Dr. Claire Browne
- Decrypt (2021) - Dr. Claire Browne
- Irresponsible Salad Bar Practices (2021) - Dr. Claire Browne
- Parenting (2021) - Dr. Claire Browne
- The Uncertainty Principle (2021) - Dr. Claire Browne
- Lim (2021) - Dr. Claire Browne
- Fault (2020) - Dr. Claire Browne
- Not the Same (2020) - Dr. Claire Browne
- Newbies (2020) - Dr. Claire Browne
- Frontline, Part 2 (2020) - Dr. Claire Browne
- Frontline, Part 1 (2020) - Dr. Claire Browne
- I Love You (2020) - Dr. Claire Browne
- Hurt (2020) - Dr. Claire Browne
- Heartbreak (2020) - Dr. Claire Browne
- Fixation (2020) - Dr. Claire Browne
- Autopsy (2020) - Dr. Claire Browne
- Unsaid (2020) - Dr. Claire Browne
- Influence (2020) - Dr. Claire Browne
- Sex and Death (2020) - Dr. Claire Browne
- Mutations (2020) - Dr. Claire Browne
- Fractured (2020) - Dr. Claire Browne
- Friends and Family (2019) - Dr. Claire Browne
- Incomplete (2019) - Dr. Claire Browne
- Moonshot (2019) - Dr. Claire Browne
- SFAD (2019) - Dr. Claire Browne
- 45-Degree Angle (2019) - Dr. Claire Browne
- First Case, Second Base (2019) - Dr. Claire Browne
- Take My Hand (2019) - Dr. Claire Browne
- Claire (2019) - Dr. Claire Browne
- Debts (2019) - Dr. Claire Browne
- Disaster (2019) - Dr. Claire Browne
- Trampoline (2019) - Dr. Claire Browne
- Breakdown (2019) - Dr. Claire Browne
- Believe (2019) - Dr. Claire Browne
- Risk and Reward (2019) - Dr. Claire Browne
- Faces (2019) - Dr. Claire Browne
- Xin (2019) - Dr. Claire Browne
- Aftermath (2019) - Dr. Claire Browne
- Quarantine Part Two (2019) - Dr. Claire Browne
- Quarantine (2018) - Dr. Claire Browne
- Empathy (2018) - Dr. Claire Browne
- Stories (2018) - Dr. Claire Browne
- Hubert (2018) - Dr. Claire Browne
- Two-Ply (or Not Two-Ply) (2018) - Dr. Claire Browne
- Carrots (2018) - Dr. Claire Browne
- Tough Titmouse (2018) - Dr. Claire Browne
- 36 Hours (2018) - Dr. Claire Browne
- Middle Ground (2018) - Dr. Claire Browne
- Hello (2018) - Dr. Claire Browne
- More (2018) - Dr. Claire Browne
- Smile (2018) - Dr. Claire Browne
- Pain (2018) - Dr. Claire Browne
- Heartfelt (2018) - Dr. Claire Browne
- She (2018) - Dr. Claire Browne
- Seven Reasons (2018) - Dr. Claire Browne
- Islands: Part Two (2018) - Dr. Claire Browne
- Islands: Part One (2018) - Dr. Claire Browne
- Sacrifice (2017) - Dr. Claire Browne
- Intangibles (2017) - Dr. Claire Browne
- Apple (2017) - Dr. Claire Browne
- 22 Steps (2017) - Dr. Claire Browne
- Not Fake (2017) - Dr. Claire Browne
- Point Three Percent (2017) - Dr. Claire Browne
- Pipes (2017) - Dr. Claire Browne
- Oliver (2017) - Dr. Claire Browne
- Mount Rushmore (2017) - Dr. Claire Browne
- Burnt Food (2017) - Dr. Claire Browne
2022
The Wonderful World of Mickey Mouse (TV Series short)
as
Narrator
- The Wonderful Winter of Mickey Mouse (2022) - Narrator (voice)
2020
All on a Summer's Day
as
Nicky
2020
Small Axe (TV Mini Series)
as
Gretl
- Red, White and Blue (2020) - Gretl
2020
Freedoms Name Is Mighty Sweet (Short)
as
Lucille Hunter
2018
Snatches: Moments from Women's Lives (TV Mini Series short)
as
Leonie
- Tipping Point (2018) - Leonie
2015
Teletubbies (TV Series)
as
Narrator / Voice Trumpet
- Bottom Bump (2018) - Narrator / Voice Trumpet (voice)
- Lights Out (2017) - Narrator / Voice Trumpet (voice)
- Noise (2017) - Narrator / Voice Trumpet (voice)
- Swap Places! (2017) - Narrator / Voice Trumpet (voice)
- Listen (2017) - Narrator / Voice Trumpet (voice)
- Lullaby (2017) - Narrator / Voice Trumpet (voice)
- This Way That Way (2017) - Narrator / Voice Trumpet (voice)
- I Spy (2017) - Narrator / Voice Trumpet (voice)
- What's Your Name (2017) - Narrator / Voice Trumpet (voice)
- Stuck (2017) - Narrator / Voice Trumpet (voice)
- Give It Back (2017) - Narrator / Voice Trumpet (voice)
- Fast Slow, Fast Slow (2017) - Narrator / Voice Trumpet (voice)
- Yellow (2017) - Narrator / Voice Trumpet (voice)
- Up Down, Down Up (2017) - Narrator / Voice Trumpet (voice)
- Sleepybyes (2017) - Narrator / Voice Trumpet (voice)
- Backwards and Forwards (2017) - Narrator / Voice Trumpet (voice)
- Sliding Down (2017) - Narrator / Voice Trumpet (voice)
- Blow (2017) - Narrator / Voice Trumpet (voice)
- Teddy Bear (2017) - Narrator / Voice Trumpet (voice)
- Didgeridoo (2017) - Narrator / Voice Trumpet (voice)
- Bouncing (2017) - Narrator / Voice Trumpet (voice)
- Toast (2017) - Narrator / Voice Trumpet (voice)
- Honk Honk (2017) - Narrator / Voice Trumpet (voice)
- Picnic (2017) - Narrator / Voice Trumpet (voice)
- Say Hello (2017) - Narrator / Voice Trumpet (voice)
- Trailer (2017) - Narrator / Voice Trumpet (voice)
- Close the Gate (2017) - Narrator / Voice Trumpet (voice)
- Making Sounds (2016) - Narrator / Voice Trumpet (voice)
- Party! (2016) - Narrator / Voice Trumpet (voice)
- Inside Outside (2016) - Narrator / Voice Trumpet (voice)
- Tall Tower (2016) - Narrator / Voice Trumpet (voice)
- Again Again (2016) - Narrator / Voice Trumpet (voice)
- Football (2016) - Narrator / Voice Trumpet (voice)
- Twinkle Twinkle (2016) - Narrator / Voice Trumpet (voice)
- Rainbow (2016) - Narrator / Voice Trumpet (voice)
- Music (2016) - Narrator / Voice Trumpet (voice)
- Being Quiet (2016) - Narrator / Voice Trumpet (voice)
- Fixing Things (2016) - Narrator / Voice Trumpet (voice)
- Running Race (2016) - Narrator / Voice Trumpet (voice)
- Horses (2016) - Narrator / Voice Trumpet (voice)
- Taking Turns (2016) - Narrator / Voice Trumpet (voice)
- Party Invitation (2016) - Narrator / Voice Trumpet (voice)
- Keep Fit (2016) - Narrator / Voice Trumpet (voice)
- Breakfast (2016) - Narrator / Voice Trumpet (voice)
- Things (2016) - Narrator / Voice Trumpet (voice)
- Knock Knock (2016) - Narrator / Voice Trumpet (voice)
- Photos (2016) - Narrator / Voice Trumpet (voice)
- Taking a Ride (2016) - Narrator / Voice Trumpet (voice)
- Ballet (2016) - Narrator / Voice Trumpet (voice)
- Purple (2016) - Narrator / Voice Trumpet (voice)
- Follow the Leader (2016) - Narrator / Voice Trumpet (voice)
- Loop the Loop (2016) - Narrator / Voice Trumpet (voice)
- Catch the Ball (2016) - Narrator / Voice Trumpet (voice)
- Waving (2016) - Narrator / Voice Trumpet (voice)
- Conga (2016) - Narrator / Voice Trumpet (voice)
- Rolling (2016) - Narrator / Voice Trumpet (voice)
- Tallest Shortest (2016) - Narrator / Voice Trumpet (voice)
- Custard Chaos (2016) - Narrator / Voice Trumpet (voice)
- Greens (2016) - Narrator / Voice Trumpet (voice)
- Taps (2016) - Narrator / Voice Trumpet (voice)
- Flying (2016) - Narrator / Voice Trumpet (voice)
- Packing (2016) - Narrator / Voice Trumpet (voice)
- Snowball (2016) - Narrator / Voice Trumpet (voice)
- Wait for It (2016) - Narrator / Voice Trumpet (voice)
- Train Ride (2016) - Narrator / Voice Trumpet (voice)
- Big Dance (2016) - Narrator / Voice Trumpet (voice)
- Reflections (2016) - Narrator / Voice Trumpet (voice)
- Red (2016) - Narrator / Voice Trumpet (voice)
- Silly Sausages (2016) - Narrator / Voice Trumpet (voice)
- Messy Fun (2016) - Narrator / Voice Trumpet (voice)
- Sing Song (2016) - Narrator / Voice Trumpet (voice)
- New Toy (2016) - Narrator / Voice Trumpet (voice)
- Roundy Round (2015) - Narrator / Voice Trumpet (voice)
- Bouncy Ball (2015) - Narrator / Voice Trumpet (voice)
- Muddy Footprint (2015) - Narrator / Voice Trumpet (voice)
- Bumps! (2015) - Narrator / Voice Trumpet (voice)
- Windy Day (2015) - Narrator / Voice Trumpet (voice)
- Wake Up Time (2015) - Narrator / Voice Trumpet (voice)
- Puddles (2015) - Narrator / Voice Trumpet (voice)
- Musical Box (2015) - Narrator / Voice Trumpet (voice)
- Bubbles (2015) - Narrator / Voice Trumpet (voice)
- Hiding (2015) - Narrator / Voice Trumpet (voice)
- Babies (2015) - Narrator / Voice Trumpet (voice)
- Favourite Things (2015) - Narrator / Voice Trumpet (voice)
- Up and Down (2015) - Narrator / Voice Trumpet (voice)
- Watering Can (2015) - Narrator / Voice Trumpet (voice)
- Making Friends (2015) - Narrator / Voice Trumpet (voice)
- Musical Statues (2015) - Narrator / Voice Trumpet (voice)
- Number Four (2015) - Narrator / Voice Trumpet (voice)
- Spinning - Narrator / Voice Trumpet (voice)
- Tickly - Narrator / Voice Trumpet (voice)
- Not Enough Room - Narrator / Voice Trumpet (voice)
- Three - Narrator / Voice Trumpet (voice)
- Together - Narrator / Voice Trumpet (voice)
- Washing - Narrator / Voice Trumpet (voice)
- Songtime - Narrator / Voice Trumpet (voice)
- Join In - Narrator / Voice Trumpet (voice)
- Flamenco - Narrator / Voice Trumpet (voice)
- Bunny Rabbits - Narrator / Voice Trumpet (voice)
- Staws - Narrator / Voice Trumpet (voice)
- Mixed Up - Narrator / Voice Trumpet (voice)
- Dizzy - Narrator / Voice Trumpet (voice)
- Crazy Golf - Narrator / Voice Trumpet (voice)
- Rain - Narrator / Voice Trumpet (voice)
- Where? There! - Narrator / Voice Trumpet (voice)
- King - Narrator / Voice Trumpet (voice)
- Go Outside - Narrator / Voice Trumpet (voice)
- Stairs - Narrator / Voice Trumpet (voice)
- Circus - Narrator / Voice Trumpet (voice)
- Hidey Hup - Narrator / Voice Trumpet (voice)
- Tiddly Phone - Narrator / Voice Trumpet (voice)
- Running Around in Circles - Narrator / Voice Trumpet (voice)
- Up High - Narrator / Voice Trumpet (voice)
- Treasure Trail - Narrator / Voice Trumpet (voice)
- Take Off - Narrator / Voice Trumpet (voice)
- Tiddytubby Party - Narrator / Voice Trumpet (voice)
- Day Trip - Narrator / Voice Trumpet (voice)
- Cold - Narrator / Voice Trumpet (voice)
- Feeling Better - Narrator / Voice Trumpet (voice)
- Footprints - Narrator / Voice Trumpet (voice)
2014
Lovesick (TV Series)
as
Evie
- Evie (Part Two) (2018) - Evie
- Tasha (2018) - Evie
- Queen of Cups (2018) - Evie
- Martha (2018) - Evie
- Evie (2018) - Evie
- Abigail (2018) - Evie
- Bonnie (2018) - Evie
- Andi and Olivia (2018) - Evie
- Abigail (Again) (2016) - Evie
- Jonesy? (2016) - Evie
- Emma (2016) - Evie
- Isabel (2016) - Evie
- Liv (2016) - Evie
- Amy (2016) - Evie
- Agata (2016) - Evie
- Frankie (2016) - Evie
- Phoebe (2014) - Evie
- Bethany (2014) - Evie
- Jane (2014) - Evie
- Cressida (2014) - Evie
- Anna (2014) - Evie
- Abigail (2014) - Evie
2016
Spark (TV Series)
as
Pin Jones
2016
The Works (Short)
as
Juliet
2016
The Nightmare Worlds of H.G. Wells (TV Mini Series)
as
Isabel Harringay
- The Devotee of Art (2016) - Isabel Harringay
2015
Survivor
as
Naomi Rosenbaum
2015
The Ark (TV Movie)
as
Sabba
2015
The Musketeers (TV Series)
as
Samara
- The Good Traitor (2015) - Samara
- An Ordinary Man (2015) - Samara (uncredited)
2014
The Transporter (TV Series)
as
Ferrara Mcintyre
- The Diva (2014) - Ferrara Mcintyre
2014
Fleming (TV Mini Series)
as
Jazz Singer
- Episode #1.4 (2014) - Jazz Singer
- Episode #1.1 (2014) - Jazz Singer
2013
Sunshine on Leith
as
Yvonne
2012
Homefront (TV Series)
as
Tasha Raveley
- Episode #1.6 (2012) - Tasha Raveley
- Episode #1.5 (2012) - Tasha Raveley
- Episode #1.4 (2012) - Tasha Raveley
- Episode #1.3 (2012) - Tasha Raveley
- Episode #1.2 (2012) - Tasha Raveley
- Episode #1.1 (2012) - Tasha Raveley
2012
8 Minutes Idle
as
Adrienne
2012
Coldplay: Charlie Brown (Music Video)
as
Antonia Thomas
2009
Misfits (TV Series)
as
Alisha Daniels
- Christmas Special (2010) - Alisha Daniels
2011
Misfits: Erazer (Video short)
as
Alisha Daniels
2010
The Deep (TV Mini Series)
as
Maddy
- The Last Breath (2010) - Maddy
- Into the Belly of the Beast (2010) - Maddy
- To the Furthest Place (2010) - Maddy
2010
Stanley Park (TV Movie)
as
Sadie
Producer
2020
Freedoms Name Is Mighty Sweet (Short) (executive producer)
Writer
2020
Freedoms Name Is Mighty Sweet (Short)
Soundtrack
2014
Fleming (TV Mini Series) (performer - 2 episodes)
- Episode #1.4 (2014) - (performer: "If I Didn't Care" - uncredited)
- Episode #1.1 (2014) - (performer: "I'll Be Glad When You're Dead, You Rascal You" - uncredited)
2013
Sunshine on Leith (performer: "Over And Done With", "Misty Blue", "Make My Heart Fly", "Then I Met You", "I'm Gonna Be (500 Miles)")
Self
2021
Life in Film (Podcast Series documentary)
as
Self
- Antonia Thomas (2021) - Self
2018
Sunday Brunch (TV Series)
as
Self - Guest
- Episode #7.40 (2018) - Self - Guest
2018
Last Call with Carson Daly (TV Series)
as
Self
- Chris Jericho/Makeness/Antonia Thomas (2018) - Self
2018
Jimmy Kimmel Live! (TV Series)
as
Self
- Zach Galifianakis/Antonia Thomas/Tune-Yards (2018) - Self
2011
The Big Fat Quiz of the Year (TV Special)
as
Self (uncredited)
2010
Friday Night with Jonathan Ross (TV Series)
as
Self - Guest
- Episode #18.3 (2010) - Self - Guest
References
Antonia Thomas Wikipedia
(Text) CC BY-SA