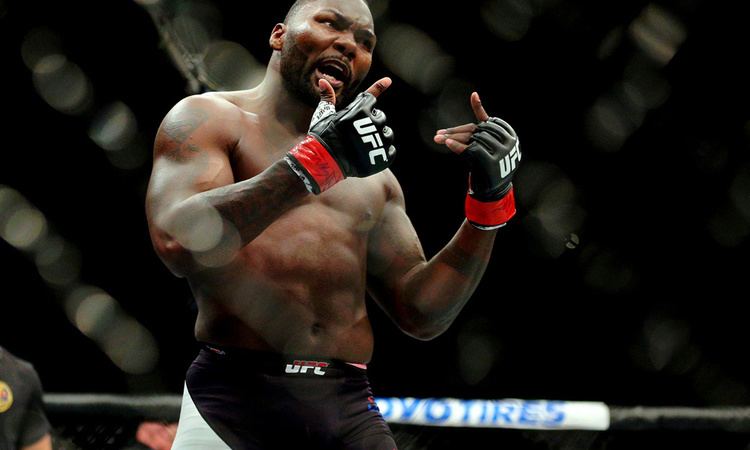 Anthony Kewoa Johnson was born in Dublin, Georgia. Early in life, his heroes were his grandfather and the football player Walter Payton. He went to West Laurens High School and then attended Lassen College in Susanville, California on a wrestling scholarship, and became a junior college national wrestling champion. After college he worked as a bouncer and entered mixed martial arts at age 20, after a friend suggested it due to his wrestling background.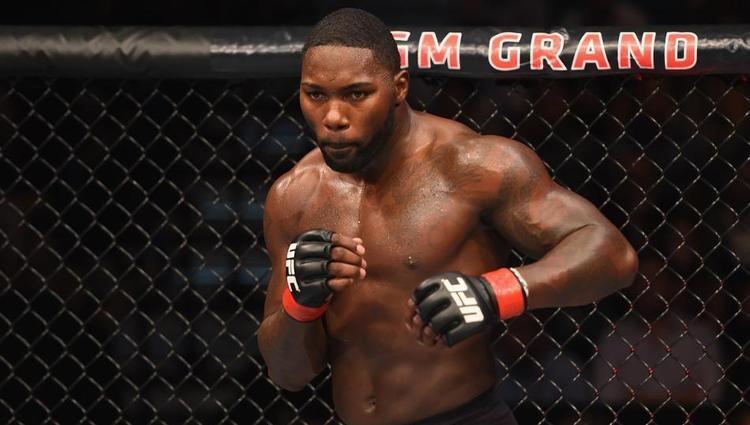 He made his UFC debut at UFC Fight Night 10, knocking out Chad Reiner just thirteen seconds into the first round. He had taken the fight on less than a week's notice, replacing an injured Steve Bruno, who tore his rotator cuff. He was also seen in a previous video for The Ultimate Fighter trying out for season six, however for undisclosed reasons he was not on the show.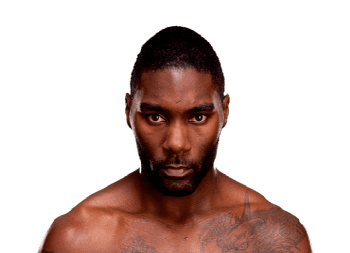 In his next bout, he was submitted by Rich Clementi. The fight saw Clementi execute a flawless game plan of taunting Johnson, only to secure back mount and choke Johnson out. He bounced back with an impressive victory over Tom Speer.
Johnson's next fight, against Kevin Burns, aired live on Spike TV on July 19, 2008, ended in a loss due to eye pokes, at 3:35 of the third round. Johnson could not continue after being poked in the eye multiple times. Many believe that Johnson should have won the fight via disqualification.He received a significant eye poke earlier in the bout and was possibly fouled in this fashion three other times. Johnson lost his appeal due to a 'lack of remedy'.
Johnson fought Kevin Burns again in a rematch on The Ultimate Fighter 8 finale. This time the outcome was different, with Johnson winning the match by knocking Burns out via head kick. The knockout was awarded "Knockout of The Night" and a $25,000 bonus.
Johnson was scheduled to fight Matt Brown at the TUF 9 Finale, but had to pull out after suffering a knee injury. Johnson instead fought Japanese Judoka Yoshiyuki Yoshida at UFC 104. Johnson weighed in at 176 pounds, five pounds over the welterweight non-title bout limit of 171, and was forced to forfeit 20% of his fight purse. Johnson knocked out the much smaller Yoshida 41 seconds into the first round, but was not eligible for the Knockout of the Night bonus due to missing weight.
Since he had taken very little damage during his fight with Yoshida, Johnson made a quick turnaround and faced Josh Koscheck on November 21, 2009, at UFC 106. Both Johnson and Koscheck were awarded Fight of the Night honors for the contest, which saw Koscheck win via rear naked choke.
Johnson was expected to face John Howard on March 21, 2010 at UFC LIVE: Vera vs. Jones, but had to pull out due to suffering a knee injury in training.
Because of the knee injury, Johnson considered a move to the middleweight division of the UFC. Johnson indicated on the June 4, 2010, episode of Inside MMA that he must typically lose 55 pounds to make 170. Despite this, Johnson said that although he may take a fight at 185, he does not plan to remain there and intends to stay at 170.
Johnson returned to the octagon in early 2011. He faced Dan Hardy on March 26, 2011 at UFC Fight Night 24. Johnson used superior wrestling and controlled Hardy to a unanimous decision victory, dropping him with a left head kick in the first round.
Johnson was expected to face Nate Marquardt in what would have been his first main event on June 26, 2011 at UFC on Versus 4 but was forced out of the bout with an injury and replaced by Rick Story.
Johnson went on to face Charlie Brenneman at UFC on Versus 6. He won the fight via first-round KO, earning Knockout of the Night honors.
For his next fight, Johnson attempted to move up to middleweight to face Vitor Belfort on January 14, 2012 at UFC 142. Leading up to the UFC 142 weigh-ins, doctors advised Johnson to terminate his weight cut and rehydrate. Johnson came in at 197 lb, 11 pounds over the middleweight division limit. The fight remained scheduled under the stipulation that Johnson would not weigh over 205 lb on fight day and would forfeit 20% of his purse to Belfort. On fight day, Johnson officially weighed in at 204.2 lb, and Belfort won via first round submission. Following the loss, Johnson was released from the promotion.
After being released from the UFC, Johnson fought fellow UFC veteran David Branch at Titan Fighting Championships 22. On the day of the weigh ins for the fight, Johnson once again missed making the 186 lb limit for the middleweight division, as he weighed in at 194.2 lb, 8.2 lb overweight. Branch was notified the morning of the weight in that Johnson was not going to make weight, so as a result he weighed in at 189 lb. The bout was then agreed upon as a catchweight bout at 195 lb. This marked the fourth time in Johnson's professional career that he had weighed in over the assigned weight limit. Johnson won the fight via unanimous decision (30–27 on all cards).
Johnson made his light heavyweight debut at Titan Fighting Championships 24 against former King of the Cage Super Heavyweight Champion Esteves Jones, Johnson won via TKO in just 51 seconds of the second round.
Johnson fought Jake Rosholt at Xtreme Fight Night 9. Johnson won the fight by TKO due to a head kick in the second round.
Johnson faced Bellator veteran D.J. Linderman at WSOF 1 on November 3, 2012. He won the fight via KO in the first round.
Johnson fought at heavyweight against Andrei Arlovski on March 23, 2013 at WSOF 2, and won via unanimous decision.
Johnson was scheduled to face Strikeforce vet Mike Kyle on September 14, 2013 at WSOF 5. However Johnson was forced out of the bout due to an injury.
Johnson vs. Mike Kyle eventually took place on January 18, 2014 at WSOF 8 in Hollywood, Florida. Johnson won the fight via knockout in the first round.
On February 4, 2014, it was announced that Johnson signed a four-fight deal to return to the UFC.
In his return bout, he faced top ranked light heavyweight Phil Davis in the co-main event at UFC 172. Instead of cutting weight and fighting at the 170 lbs welterweight division, Johnson fought at 205 lbs in the light heavyweight division. Despite being a nearly 3-to-1 underdog, Johnson was successful in his return, defeating Davis via unanimous decision after dominating all three rounds of the fight.
Johnson next faced Antônio Rogério Nogueira in the co-main event on July 26, 2014 at UFC on Fox 12. He won the fight via KO at just 44 seconds into the first round. The win also earned Johnson his first Performance of the Night bonus award.
On September 19, 2014 news surfaced about Johnson being suspected of domestic violence against the mother of his two children. Soon after, Johnson claimed to be innocent. Due to the suspicion, UFC released a statement that Johnson was being indefinitely suspended until the case was investigated. On November 6, 2014 the UFC lifted Johnson's suspension after the civil case was dismissed clearing him to fight.
Johnson fought Alexander Gustafsson on January 24, 2015 at UFC on Fox 14 with the promise that the winner would earn a title shot against Jon Jones. Johnson won the one-sided bout via TKO in the first round, becoming the first to stop Gustafsson due to strikes. The win also earned Johnson his second Performance of the Night bonus award.
Johnson was expected to face Jon Jones on May 23, 2015 at UFC 187. However, on April 28, it was announced that Jones had been stripped of the UFC Light Heavyweight title and suspended indefinitely . Johnson faced Daniel Cormier for the vacant UFC Light Heavyweight Championship. In the early opening of the first round, Johnson became the first man to knock Cormier down in a MMA fight, however Johnson would go on to lose the next two rounds and eventually be submitted by a rear naked choke.
Johnson was expected to face Jan Błachowicz on September 5, 2015 at UFC 191. However, Johnson was pulled from the bout on July 30 in favor of a fight with Jimi Manuwa at the event. After dominating the first round with his wrestling, Johnson won via knockout early in the second round.
Johnson next faced Ryan Bader on January 30, 2016 at UFC on Fox 18. Bader went for a takedown almost immediately, which Johnson defended. Bader then threatened a kimura off his back, but Johnson again defended it before moving to mount and winning via knockout. The win also earned Johnson his fourth Performance of the Night bonus award.
Johnson was expected to face Glover Teixeira on July 23, 2016 at UFC on Fox 20, but pulled from the card due to undisclosed reasons. The bout was rescheduled and eventually took place at UFC 202. Johnson defeated Teixeira by knockout 13 seconds into the first round and was awarded his fifth Performance of the Night bonus. This resulted in Johnson's fastest knockout victory since he fought Chad Reiner back in June of 2007.
A rematch with current champion Daniel Cormier was expected to take place on December 10, 2016 at UFC 206. However, Cormier pulled out of the fight on November 25 citing an injury and as a result, Johnson was removed from the card. The pairing was rescheduled again and is expected to take place on April 8, 2017 at UFC 210.
National Junior College Athletic Association
Junior College National Champion 174 lb – out of Lassen Community College (2004)
Ultimate Fighting Championship
Fight of the Night (One time) vs. Josh Koscheck
Knockout of the Night (Two times) vs. Kevin Burns and Charlie Brenneman
Performance of the Night (Five times) vs. Antônio Rogério Nogueira, Alexander Gustafsson, Jimi Manuwa, Ryan Bader and Glover Teixeira