Covid-19
Annie Smith








1937, London, United Kingdom




A Monograph of Lichens Found in Britain: Being a Descriptive Catalogue of the Species in the Herbarium of the British Museum
Annie Lorrain Smith (23 October 1854 – 7 September 1937) was a British lichenologist whose Lichens (1921) was an essential textbook for several decades. She was also a mycologist and founder member of the British Mycological Society, where she served as president for two terms.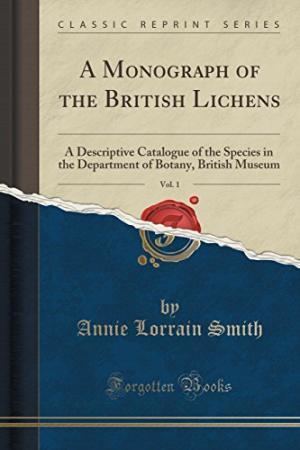 Though born in Liverpool, her family lived in rural Dumfriessshire where her father Walter was Free Church of Scotland minister in Half Morton parish, a few miles north of Gretna Green. She had several talented siblings, including the pathologist, Professor James Lorrain Smith.
After school in Edinburgh she went abroad to study French and German, and then worked as a governess. She moved to London, started studying botany in about 1888 and went to classes at the Royal College of Science taught by D. H. Scott. He found work for her at the British Museum, but she had to be paid from a special fund because women could not be employed there officially. She identified and reported on newly collected fungi, arriving from abroad as well as from the UK, and worked in the museum's cryptogamic herbarium.
In 1905 she was one of the first women admitted to be Fellows of the Linnaean Society after a change in the society's bye-laws.
Smith led a lichen survey of Clare Island, which was outside Clew Bay in Ireland, in 1910 and 1911. The Clare Island Survey involved not only Irish but also several European scientists who were all looking at different aspect's of the island's natural history. The team were creditted with the first project aimed at characterising a particular biogeographic area. In 1921 Smith wrote the illustrated Handbook of British Lichens which was a key to all known British lichens. In the same year Lichens was published and was quickly established as a classic text.
She was committed to the cause of women's suffrage and women's rights. She went on working for many years and in 1931, when she was nearly seventy-seven, was awarded a civil list pension "in recognition of her services to botanical science". In 1934 came an OBE: "Miss Annie Lorrain-Smith, F. L. S. For contributions to mycology and lichenology."
She died in London in 1937.
Is Pelvetia Canaliculata a Lichen?
Annie Lorrain Smith Wikipedia