Name

Anneke Lucas




Role

Writer








Born

1963 (age 58), Belgium
Anneke Lucas Talks About Her Mom, Society And Emotional Maturity
Anneke Lucas (born 1963) is the Executive Director of Liberation Prison Yoga, a non-profit she founded in 2014 with the purpose of addressing the physical and psychological traumas of incarcerated people through yoga and meditation. Lucas is also a writer and speaker. She covers topics such as surviving child sex trafficking, the psychological effects of sexual abuse, and the importance of service as a personal and global tool for healing. Her background, including her path of recovery have provided Lucas with skills and perspective for working with the traumatized populations inside jails and prisons.
Contents
Early life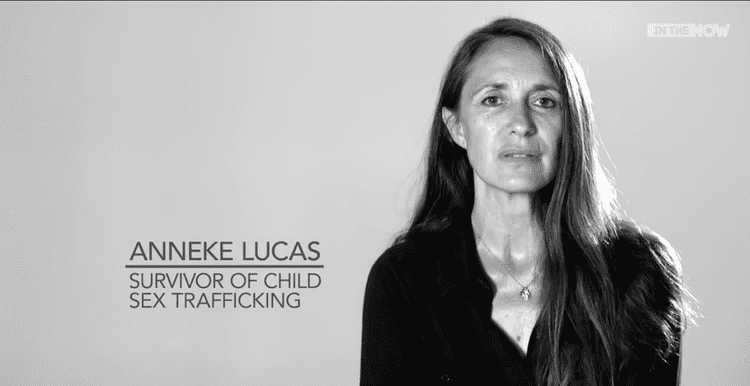 Lucas was born in Belgium where she was sold into a sex trafficking ring at the age of six. This ring reached news headlines in 2004 during the pedophile scandal involving Mark Dutroux, who claimed to be part of "a ring that included high ranking members of the police force and government." From 1969 on, Lucas was abused in the ring, made to commit violence, and was tortured before being released in 1974 at age eleven. Lucas claims to have been given survival instructions by her rescuer which included relocating to London, Paris and New York. After living in all three cities as a young adult, she moved to Los Angeles in 1986 where she began therapy, yoga and meditation. In 1991, Lucas entered the MFA screenwriting program at the American Film Institute Conservatory where she graduated in 1993. Her acceptance at AFI was based on her writings on the subject of sexual abuse.
Yoga and Mindfulness
Lucas began practicing yoga in Los Angeles. The same year she began meditating with the Self-Realization Fellowship, an organization founded by Paramahansa Yogananda. Lucas approached physical activity as necessary in order to avoid becoming disabled from injuries sustained in the sex trafficking ring. Yoga, especially Ashtanga yoga, appealed to her as "perfect physical therapy." Meditation and the SRF taught her to see her past from a spiritual perspective, of which psychotherapy was a part. Lucas returned to New York City in 1997 where she focused on self-healing for the following decade. In 2007, Lucas began teaching at Red Hook Yoga Workshop, a small studio in Brooklyn, where she developed a 500-RYT program in 2008. In 2009, she opened Nava Yoga, and began to focus on working with traumatized students. The house where the studio was located was sold in 2011, and rather than moving the business, Lucas began teaching inside prisons, developing further her mindful, trauma-informed teaching style. From 2011 to 2014, Lucas was Director of Prison Yoga Project in New York. During this time she created eighteen prison yoga programs. Lucas provided training for the application of a trauma-conscious approach proven effective in prison and jail environments. Lucas organized and co-facilitated Teacher Training Workshops with PYP Founder James Fox. She coordinated programs between six facilities and 25 volunteer yoga instructors and began adapting yoga programs to fit specific needs of different populations, adding guided group discussions and different healing modalities. Many of the yoga teachers she oversaw also have backgrounds in social work and psychology. The physical yoga portion of the classes was taught mindfully with the purpose of allowing students to get in touch with their bodies through experiencing sensations in the postures, encouraging choice of how much or how little sensation is experienced, and embracing whatever choice is made. In 2013, Lucas launched two groups at the Rose M. Singer Center, the Woman's Jail at Riker's Island, for survivors of sex trafficking.
Liberation Prison Yoga
Lucas founded Liberation Prison Yoga in 2014. LPY's Board of Directors includes two members who were formerly incarcerated, Michael Huggins and Ivy Woolf Turk, both of whom taught yoga during their incarceration. Besides other duties as Executive Director, Lucas teaches or trains new volunteers at Bedford Hills Maximum Security Correctional Facility for Women and Taconic Correctional Medium Security Facility for Women, in several jails at Rikers Island, and on the Rikers Island Mental Health Ward at Elmhurst Hospital. She continues to lead the groups for Survivors of Sex Trafficking at the Rose M. Singer Center on Rikers Island, New York. Lucas also develops programs and conducts workshops for yoga instructors interested in serving traumatized populations in and out of prisons and for professionals working with those populations. She bases her teachings entirely on the understanding of trauma through her own experiences and the insights she received on her journey towards health. For LPY teacher trainings, Lucas draws from current trauma science which supports her empirical findings. Lucas claims that connecting with the needy, and bringing empathy and kindness to a place where there is little of both connects her to the needy child inside herself. For Lucas, providing service to inmates in itself is a cornerstone of healing, and connection with underserved populations creates a mutual unconditional love, which brings happiness to both parties while giving prisoners skills to avoid recidivism.
Writing
In 1997, Lucas published a novel in Belgium, The Deaf Musician, about an eighteen-year-old woman who meets her father, a famous composer of classical music, for the first time. The relationship immediately turns sexual. The protagonist struggles to leave the relationship and let go of the dream that helped her survive childhood sexual abuse, in which her real father would rescue and care for her. Though published as a novel, the story was autobiographical, referring to Lucas' relationship with her biological father, the composer Frederic Devreese.
Lucas has written many articles about yoga and trauma. Currently, Lucas is writing a book about her childhood in the sex trafficking ring, focusing on her message of love, understanding and forgiveness for all, and calling on women to liberate themselves to allow maternal strength and patience to replace a paradigm of punishment and power abuse.
References
Anneke Lucas Wikipedia
(Text) CC BY-SA