Name

Anne Feeney





Role

Musician · annefeeney.com






Albums

Look to the Left, Union Maid, Heartland, Enchanted Way




Education

University of Pittsburgh School of Law, University of Pittsburgh, Fontbonne Academy




People also search for

Dana Lyons, Chris Chandler, Linton Kwesi Johnson
have you been to jail for justice by anne feeney 1999
Anne Feeney (born July 1, 1951) is a political activist, folk musician and singer-songwriter.
Contents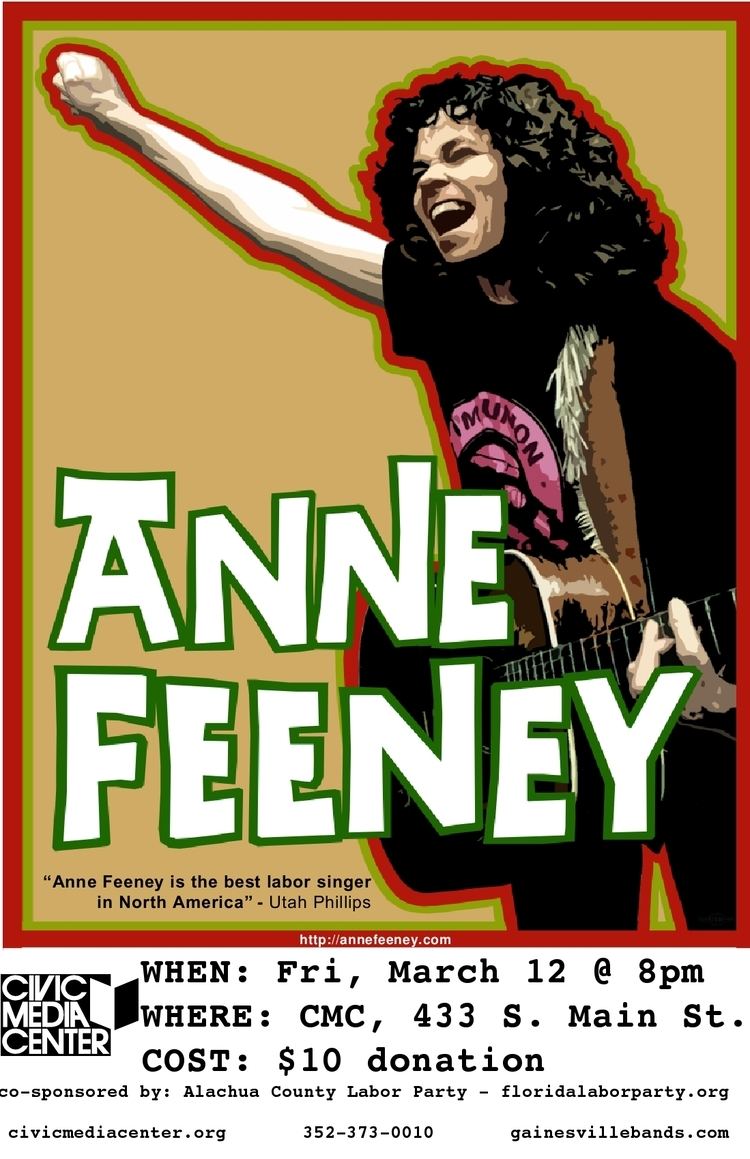 Anne feeney the man i voted for folk acoustic music with michael stock
Life and career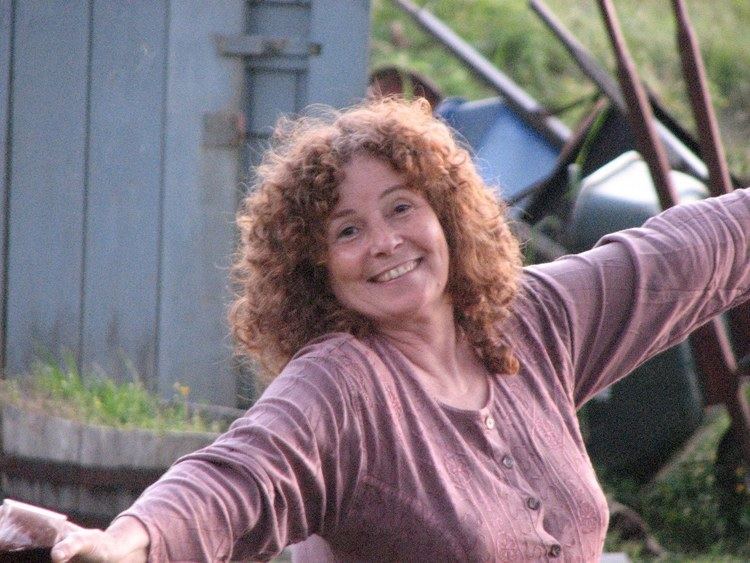 Feeney was born in Charleroi, Pennsylvania to Annabelle (née Runner) and Edward J. Feeney. She has a younger sister, Kathleen. The family moved to the nearby Brookline neighborhood of the city of Pittsburgh in 1954. She graduated from Resurrection Elementary School in 1964.
Feeney graduated from Fontbonne Academy, a Catholic girls' high school, in 1968.
After saving for one year, she purchased a Martin D-28 guitar that she retired from service after 40 years. The Vietnam War and Civil Rights Movement were influential events that shaped her politics and songwriting. Feeney was also influenced by her grandfather, William Patrick Feeney, who was a mineworkers' organizer and violinist who also used his music in the service of political and labor causes.
In 1972 she was arrested in Miami at the Republican National Convention where she was protesting Richard Nixon's re-nomination for President of the United States. The charges were subsequently dismissed. That same year Feeney attended the 2nd Annual Conference on Women and the Law. Inspired by the group that founded "Women Organized Against Rape" in Philadelphia, Feeney began a campaign for a rape crisis center in Pittsburgh. The work begun by her committee evolved into Pittsburgh Action Against Rape, which still provides services to rape victims in the Pittsburgh area. She graduated from the University of Pittsburgh in 1974 with a Liberal Studies degree.
In 1976 she joined a bluegrass band - Cucumber Rapids. Feeney played rhythm guitar and acoustic double bass. The other members of the band were John Wiley Nelson (guitar), Paul Boas (harmonica), Gary Mohler (guitar and dobro) and Bill Vandivier (banjo, bass and trumpet). Later on, Larry Zierath (mandolin) replaced Gary Mohler, and violinist John Mattes joined the band shortly thereafter. The group disbanded in 1977.
On November 19, 1977, she married labor attorney Ron Berlin. She graduated from the University of Pittsburgh School of Law in 1978. Feeney is the mother of two children, Dan (1979) and Amy (1981) Berlin. She worked for 12 years as a trial attorney and served as president of the Pittsburgh Musicians' Union (the only woman ever elected to this position) from 1997-1998.
Feeney's marriage to Ron Berlin ended in divorce in 1995 but she has remained involved in community activism and regional performances at political and labor rallies. She is a member of the Industrial Workers of the World as well as the American Federation of Musicians.
Since 1991, Feeney has toured North America and the world to perform and participate in political and labor rallies and events. Her first recording, Look to the Left, was released in 1992. Since then she has released several more albums, including "Union Maid," "If I Can't Dance," "Have you Been to Jail for Justice?", Dump the Bosses Off Your Back. and, most recently "Enchanted Way" (2010). Feeney and her daughter Amy Berlin performed Feeney's song "Ain't I a Woman" at the "March for Women's Lives" in Washington, DC, on April 25, 2004.
Feeney's music has been recorded by Peter, Paul and Mary and played in concert as well. Political cartoonist Mike Konopacki included her recording of "Union Maid" in a flash animation in 2003. Feeney's music is frequently featured on the broadcast radio program Democracy Now! and her anthem "Have You Been to Jail for Justice?" is featured in the documentaries This is What Democracy Looks Like, Isn't This a Time: A Tribute to Harold Leventhal and Get Up/Stand Up: The History of Pop and Protest.
In 2002, she married Swedish political artist Julie Leonardsson.
In August 2010, while touring in Sweden, Feeney was diagnosed with small cell lung cancer. She is currently undergoing treatment for that, as well as a MAC infection in her lungs. Her friends around North America have been holding benefit events to provide her living expenses since she will be unable to work for some time. In 2013, the cancer was determined to be in complete remission.
Compilations
As part of Wild Wimmin for Peace: The Great Peace March, 1986
Vote in November - Election 2004 by: Anti-Theft Device, 2004
Hail to the Thief: Songs for the Bush Years
Hail to the Thieves, Volume III
Farewell to the Thief
Hold Me Up to the Light: (with Chris Chandler)
Stoking the Fires of Resistance
Solo albums
Look to the Left, 1992
Heartland (Live), 1994
Have You Been to Jail for Justice?, 2001
Union Maid, 2003
Original Recordings, 2004
If I Can't Dance, 2006
Dump the Bosses Off Your Back, 2008
Enchanted Way, 2010
With Chris Chandler
Flying Poetry Circus, 2001
Live from the Wholly Stolen Empire, 2003
References
Anne Feeney Wikipedia
(Text) CC BY-SA