Occupation

Actress, singer

Years active

2005–present







Full Name

Anna Ragsdale Camp

Born

September 27, 1982 (age 33) (

1982-09-27

)

Aiken, South Carolina, U.S.

Parents

Dee Camp, Thomas Sewell Camp

Movies and TV shows




Similar People




Profiles



Actress singer anna camp chats with lindalee btm the webseries ep 72
Anna Ragsdale Camp (born September 27, 1982) is an American actress and singer. She is known for her role as Sarah Newlin in True Blood, and her recurring roles in Mad Men, The Good Wife, and The Mindy Project. She is also known for her role as Aubrey Posen in Pitch Perfect (2012), Pitch Perfect 2 (2015), and the upcoming Pitch Perfect 3 (2017). She made her Broadway debut in the 2008 production of A Country House and played Jill Mason in the 2008 Broadway revival of Equus. In 2012, she was nominated for a Drama Desk Award for her performance in the Off-Broadway play All New People. Camp played Jane Hollander, a researcher for the fictitious News of the Week magazine in the Amazon series Good Girls Revolt. She also had a role in the 2011 film The Help.
Contents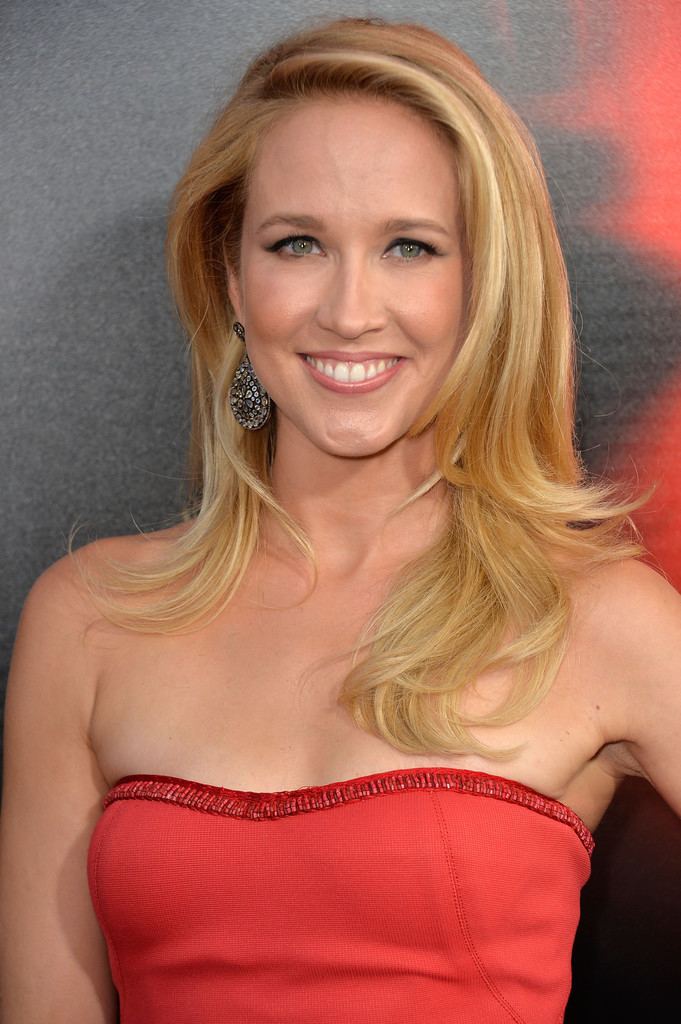 Pitch perfect interviews anna kendrick brittany snow anna camp skylar astin and more
Early life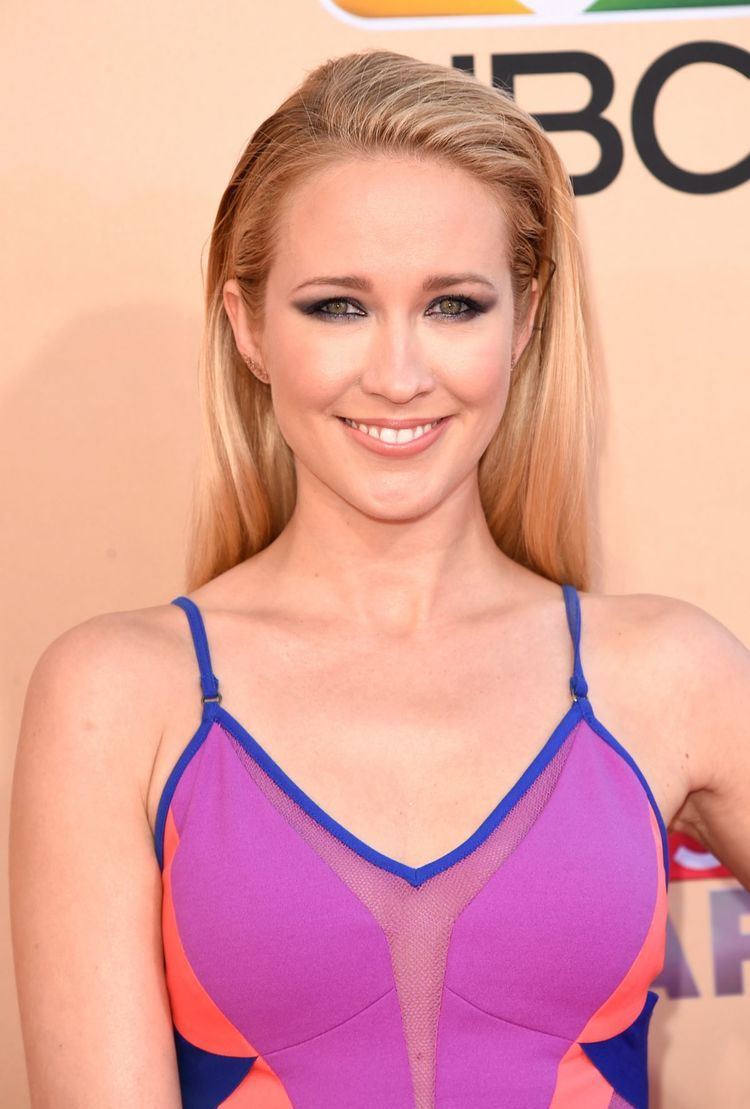 Camp was born in Aiken, South Carolina. Her mother, Dee (née Kornegay), is a Democratic Party volunteer, and her father, Thomas Sewell Camp, is a bank executive. Her elder sister, Saluda, is also an actress.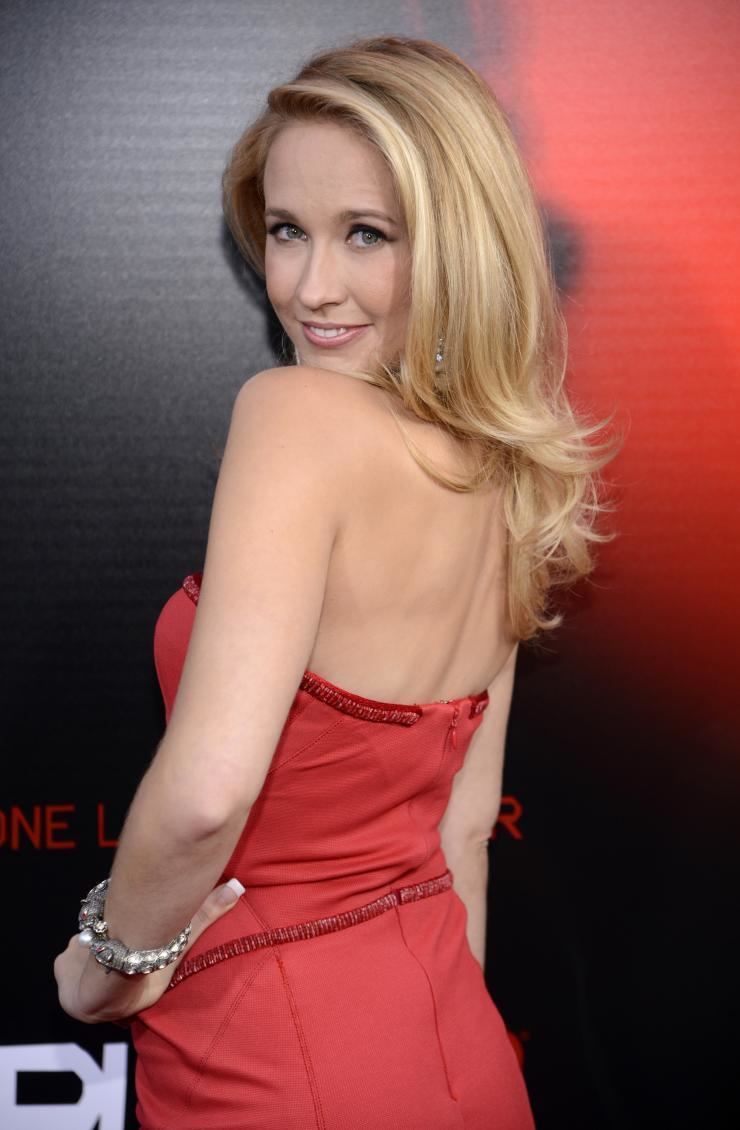 She grew up in Columbia, South Carolina. She attended Meadowfield Elementary School and was cast in a Drug Abuse Resistance Education production in the second grade, introducing her to acting. She graduated from the University of North Carolina School of the Arts with a Bachelor of Fine Arts degree in 2004. She moved to New York City shortly thereafter.
Career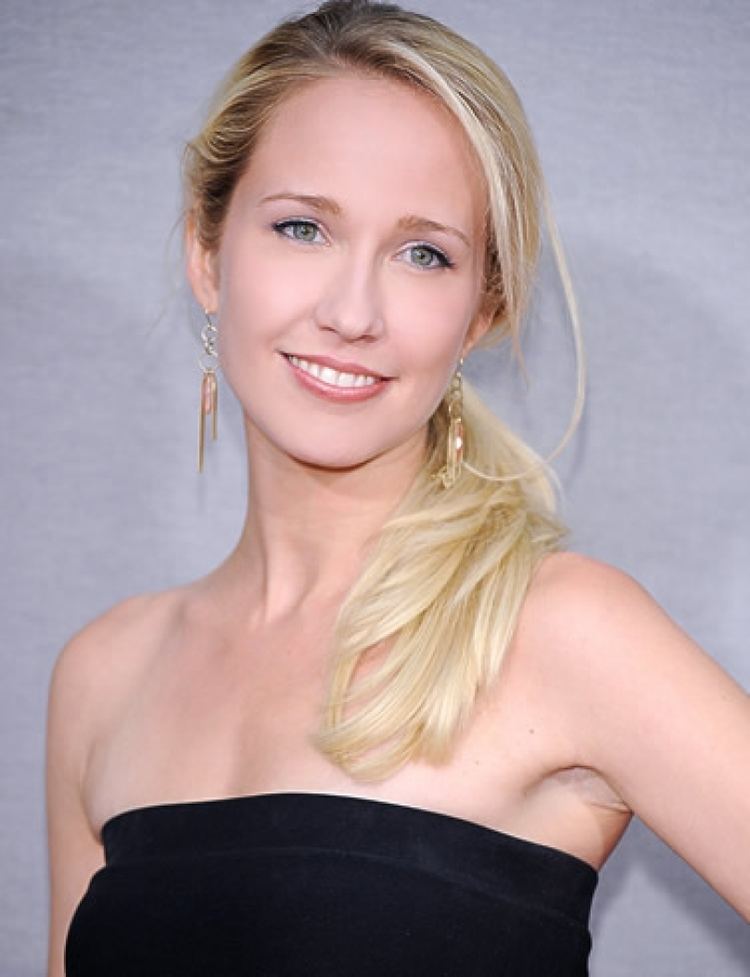 Camp played the role of Perfect in columbinus in 2005. In 2007, she was nominated for a Lucille Lortel Award for her performance in the Off-Broadway play The Scene. She played Jill Mason in the 2008 Broadway revival of Equus at the Broadhurst Theatre, which starred Daniel Radcliffe as Alan Strang. Speaking about the role, Camp said, "I had a lot of thought; I didn't even know if I was going to do Equus because of the nudity and because of the high profile [aspect] of it. But you only live once and you have to take those risks because you'll only be a better person or actor because of it."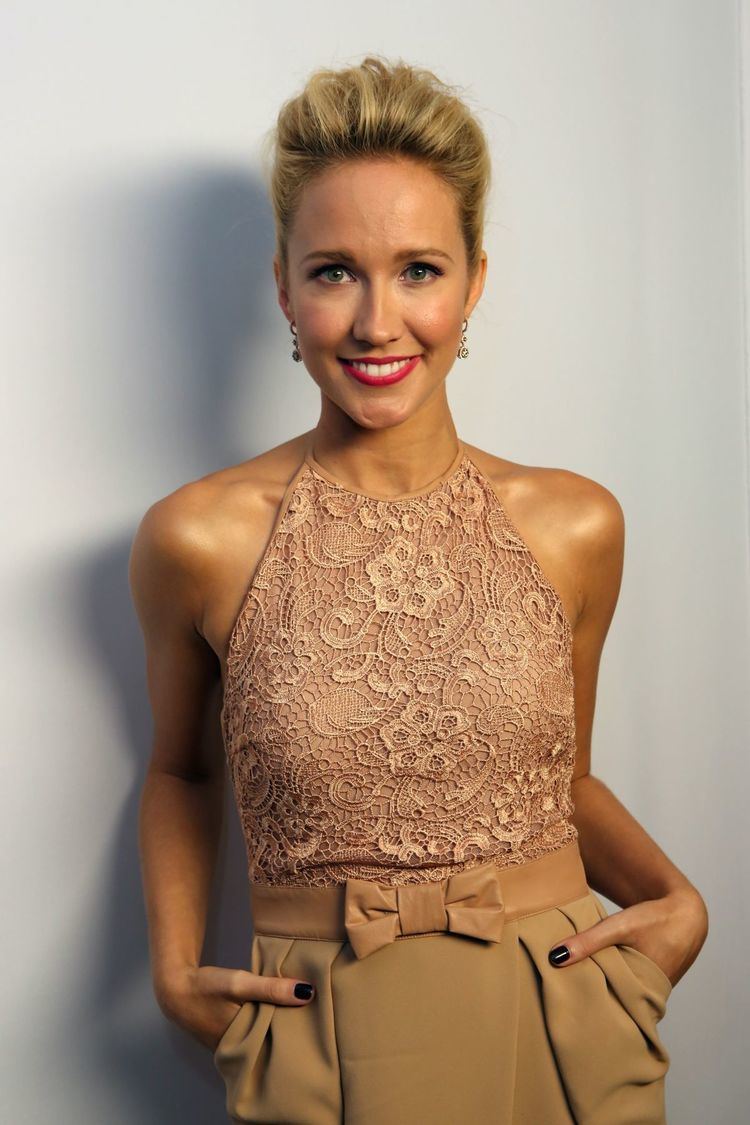 She appeared in Reinventing the Wheelers, a 2007 television pilot which was not ordered to series by ABC. In 2008, she had a role in the pilot of the ABC television dramedy Cashmere Mafia. She had a starring role as Sarah Newlin in the second season of the HBO supernatural drama series True Blood, which earned her a nomination for a SAG Award for Outstanding Performance by an Ensemble in a Drama Series; Camp had earlier auditioned for the role of Sookie Stackhouse.
Camp has made guest appearances on The Office (2009), Glee (2009), Numb3rs (2010), and Covert Affairs (2010). She has had recurring roles in the fourth season of the AMC drama series Mad Men (2010) and the third season of the CBS legal drama series The Good Wife (2011–2012) and How I Met Your Mother (2013).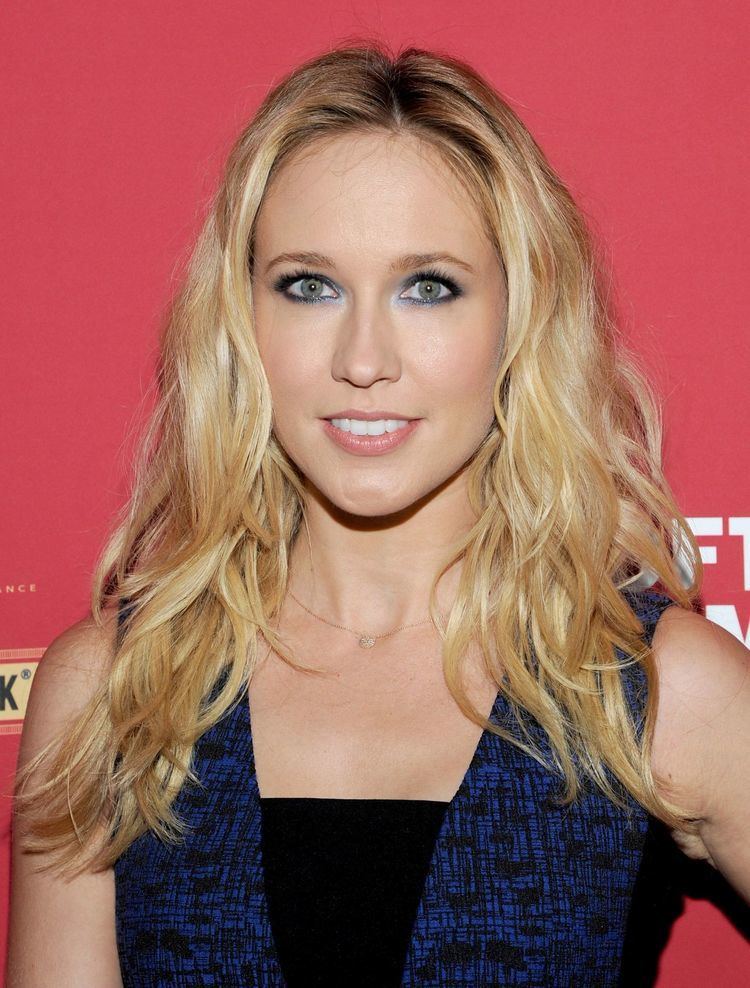 In 2011, Camp starred in the premiere of All New People, a play written by Zach Braff and staged at Second Stage Theatre; the production was directed by Peter DuBois and also starred Justin Bartha, David Wilson Barnes and Krysten Ritter.
Camp had a starring role in the first season of Fox sitcom The Mindy Project, and played Aubrey Posen in the 2012 musical comedy film Pitch Perfect and reprised her role in Pitch Perfect 2.
Most recently, she has a recurring role in Netflix's Unbreakable Kimmy Schmidt as Deirdre Robespierre.
Personal life
Camp was engaged to actor Michael Mosley by September 2008; they married in 2010 and filed for divorce in 2013. Camp began dating Pitch Perfect co-star Skylar Astin in 2013. The couple were reported to be engaged in January 2016. They married on September 10, 2016. Camp appeared in an episode of Astin's series, Ground Floor, as his character's ex-girlfriend.
Discography
"Pitch Perfect [Soundtrack Album]" Released: September 25, 2012
"Starships" ft. Pitch Perfect Cast and Mike Tompkins Released: October 2012
Filmography
Actress
-
Hysteria! (TV Series) (pre-production)
as
Tracy Whitehead
- Episode #1.1 - Tracy Whitehead
-
Bride Hard (post-production)
2022
5000 Blankets
as
Cyndi Saunders
2022
Murder at Yellowstone City
as
Alice Murphy
2022
Jerry and Marge Go Large
as
Dawn
2022
Mr. Mayor (TV Series)
as
Natalie Bremer
- Venus on the Moon (2022) - Natalie Bremer
2022
Tab Time (TV Series)
as
Lenny
- Lending A Helping Hand (2022) - Lenny
- From Mistakes To Oops-ortunities! (2022) - Lenny
2021
Unwanted (Podcast Series)
as
Carol
- Filthy Animals (2021) - Carol
2020
Creepshow (TV Series)
as
Irena Reid
- A Creepshow Holiday Special: Shapeshifters Anonymous (2020) - Irena Reid
2020
GraceLand (Short)
as
Prissy
2019
Puppy Dog Pals (TV Series)
as
Donna
- Firefighter Pups/Hike Paw (2020) - Donna (voice)
- No Bones About It/Bob's Sock Debacle (2019) - Donna (voice)
2019
Perfect Harmony (TV Series)
as
Ginny
- Regionals (2020) - Ginny
- Hymn-a-Thon (2020) - Ginny
- Know When to Walk Away (2020) - Ginny
- Merry Jaxmas (2019) - Ginny
- Thanks-taking (2019) - Ginny
- Any Given Monday (2019) - Ginny
- Rivalry Week (2019) - Ginny
- Halle-Boo-Yah (2019) - Ginny
- It's Electric (2019) - Ginny
- Hunting Season (2019) - Ginny
- No Time for Losers (2019) - Ginny
- Fork Fest (2019) - Ginny
- Pilot (2019) - Ginny
2018
Harvey Girls Forever! (TV Series short)
as
Chevron
- Harvey Endings, Part 1/Harvey Endings, Part 2 (2020) - Chevron (voice)
- Chevronica Mars/The Boy with the Dragon that Flew (2020) - Chevron (voice)
- That Thing You Dot!/Where the Streets Have No Games (2019) - Chevron (voice)
- Elder Skelter/A More Perfect Reunion (2018) - Chevron
- Clinging in the Rain/Raccoon Harder Picture Show (2018) - Chevron (voice)
2019
Robot Chicken (TV Series short)
as
Hatchimals Mom
- Hermie Nursery in: Seafood Sensation (2019) - Hatchimals Mom (voice)
2019
The Wedding Year
as
Ellie
2019
Milkshake (Short)
as
Donna
2019
Vampirina (TV Series)
as
Bride Of Frankenstein
- Franken-Wedding/Bat Hair Day (2019) - Bride Of Frankenstein
2018
The Stinky & Dirty Show (TV Series)
as
Sender
- Love Notes/Love is in the Air (2018) - Sender (voice)
2017
Three Women (Short)
as
Veronica
2017
Pitch Perfect 3
as
Aubrey
2014
Sofia the First (TV Series)
as
Princess Ivy
- Ivy's True Colors (2017) - Princess Ivy (voice)
- The Curse of Princess Ivy (2014) - Princess Ivy (voice)
2016
Unbreakable Kimmy Schmidt (TV Series)
as
Deirdre Robespierre
- Kimmy Goes to Church! (2017) - Deirdre Robespierre
- Kimmy Walks Into a Bar! (2016) - Deirdre Robespierre
- Kimmy Goes on a Playdate! (2016) - Deirdre Robespierre
2017
The Most Hated Woman in America
as
Mrs. Lutz
2015
Good Girls Revolt (TV Series)
as
Jane Hollander
- The Newser (2016) - Jane Hollander
- Dateline (2016) - Jane Hollander
- Exposé (2016) - Jane Hollander
- Puff Piece (2016) - Jane Hollander
- The Year-Ender (2016) - Jane Hollander
- The Folo (2016) - Jane Hollander
- Out of Pocket (2016) - Jane Hollander
- Strikethrough (2016) - Jane Hollander
- The Futures (2016) - Jane Hollander
- Pilot (2015) - Jane Hollander
2016
Brave New Jersey
as
Peg Prickett
2011
The Good Wife (TV Series)
as
Caitlin D'arcy
- Unmanned (2016) - Caitlin D'arcy
- Long Way Home (2012) - Caitlin D'arcy
- After the Fall (2012) - Caitlin D'arcy
- Live from Damascus (2012) - Caitlin D'arcy
- Another Ham Sandwich (2012) - Caitlin D'arcy
- Parenting Made Easy (2011) - Caitlin D'arcy
- Executive Order 13224 (2011) - Caitlin D'arcy
- Affairs of State (2011) - Caitlin D'arcy
- Marthas and Caitlins (2011) - Caitlin D'arcy
2015
Saints & Strangers (TV Mini Series)
as
Dorothy Bradford
- Episode #1.1 (2015) - Dorothy Bradford
2015
Star vs. the Forces of Evil (TV Series)
as
Pixie Empress
- Mewberty/Pixtopia (2015) - Pixie Empress (voice)
2015
Pitch Perfect 2
as
Aubrey
2015
Resident Advisors (TV Mini Series)
as
Constance
- Conflict Resolution (2015) - Constance
2015
Indiana Home Shopping (Short)
2013
Ground Floor (TV Series)
as
Heather
- The Proposal - Part Two (2015) - Heather
- The Proposal - Part One (2015) - Heather
- Woman on Top (2013) - Heather
2014
Damaged Goods (TV Movie)
as
Nicole
2014
The Oven (Short)
as
Sally Butler
2014
Key and Peele (TV Series)
as
Dr. Carol Roberts
- Sex Detective (2014) - Dr. Carol Roberts
2014
The League (TV Series)
as
Penny
- The Heavenly Fouler (2014) - Penny
2009
True Blood (TV Series)
as
Sarah Newlin
- Thank You (2014) - Sarah Newlin
- Love Is to Die (2014) - Sarah Newlin
- Almost Home (2014) - Sarah Newlin
- May Be the Last Time (2014) - Sarah Newlin
- Karma (2014) - Sarah Newlin
- Lost Cause (2014) - Sarah Newlin
- Death Is Not the End (2014) - Sarah Newlin (credit only)
- Fire in the Hole (2014) - Sarah Newlin
- Life Matters (2013) - Sarah Newlin
- Dead Meat (2013) - Sarah Newlin
- In the Evening (2013) - Sarah Newlin
- Don't You Feel Me (2013) - Sarah Newlin
- **** the Pain Away (2013) - Sarah Newlin
- At Last (2013) - Sarah Newlin
- You're No Good (2013) - Sarah Newlin
- I Will Rise Up (2009) - Sarah Newlin
- Timebomb (2009) - Sarah Newlin
- Release Me (2009) - Sarah Newlin
- Hard-Hearted Hannah (2009) - Sarah Newlin
- Never Let Me Go (2009) - Sarah Newlin
- Shake and Fingerpop (2009) - Sarah Newlin
- Scratches (2009) - Sarah Newlin
- Keep This Party Going (2009) - Sarah Newlin
- Nothing But the Blood (2009) - Sarah Newlin
2014
Goodbye to All That
as
Debbie Spangler
2013
Super Fun Night (TV Series)
as
Felicity Vanderstone
- Unaired CBS Multi-Camera Pilot (2013) - Felicity Vanderstone
2013
How I Met Your Mother (TV Series)
as
Cassie
- The Lighthouse (2013) - Cassie
- Knight Vision (2013) - Cassie
2013
CollegeHumor Originals (TV Series)
as
Dana
- FOMO Horror Movie Trailer (2013) - Dana
2013
Vegas (TV Series)
as
Violet Mills
- Scoundrels (2013) - Violet Mills
- Hollywood Ending (2013) - Violet Mills
- Little Fish (2013) - Violet Mills
- Two of a Kind (2013) - Violet Mills
2012
The Mindy Project (TV Series)
as
Gwen Grandy
- Mindy's Birthday (2013) - Gwen Grandy
- Hooking Up Is Hard (2013) - Gwen Grandy
- Bunk Bed (2013) - Gwen Grandy
- Mindy's Brother (2013) - Gwen Grandy
- Josh and Mindy's Christmas Party (2012) - Gwen Grandy (credit only)
- Two to One (2012) - Gwen Grandy
- Teen Patient (2012) - Gwen Grandy
- Thanksgiving (2012) - Gwen Grandy
- Danny Castellano Is My Gynecologist (2012) - Gwen Grandy
- Halloween (2012) - Gwen Grandy
- In the Club (2012) - Gwen Grandy
- Hiring and Firing (2012) - Gwen Grandy
- Pilot (2012) - Gwen Grandy
2013
Sequin Raze (Short)
as
Jessica
2012
Forgetting the Girl
as
Adrienne Gilcrest
2012
House of Lies (TV Series)
as
Rachel Norbert
- The Gods of Dangerous Financial Instruments (2012) - Rachel Norbert
2011
I Hate That I Love You (TV Movie)
as
Sarah
2011
Romantically Challenged (TV Series)
as
Erin
- Perry Dates His Assistant (2011) - Erin
2011
The Help
as
Jolene French
2011
Love Bites (TV Series)
as
Prudence (segment "There Goes My Hero")
- Stand and Deliver (2011) - Prudence (segment "There Goes My Hero")
2010
Train: Marry Me (Music Video)
as
Waitress
2010
PSA: An Important Message from Women EVERYWHERE (Short)
as
Woman
2010
Mad Men (TV Series)
as
Bethany Van Nuys
- The Summer Man (2010) - Bethany Van Nuys
- The Chrysanthemum and the Sword (2010) - Bethany Van Nuys
- Public Relations (2010) - Bethany Van Nuys
2010
Covert Affairs (TV Series)
as
Ashley Briggs
- Houses of the Holy (2010) - Ashley Briggs
2010
Numb3rs (TV Series)
as
Siouxsie Dark
- Devil Girl (2010) - Siouxsie Dark
2009
Glee (TV Series)
as
Candace Dystra
- Sectionals (2009) - Candace Dystra
2009
The Office (TV Series)
as
Penny Beesly
- Niagara: Part 2 (2009) - Penny Beesly
- Niagara: Part 1 (2009) - Penny Beesly
2009
8 Easy Steps (Short)
as
Laura
2008
Just Make Believe (Short)
as
Kristin
2008
Pretty Bird
as
Becca French
2008
Cashmere Mafia (TV Series)
as
Brooke Adaire
- Pilot (2008) - Brooke Adaire
2007
Reinventing the Wheelers (TV Movie)
as
Meg Wheeler
2007
And Then Came Love
as
Kikki
Producer
2023
From Black (executive producer)
Soundtrack
2019
Perfect Harmony (TV Series) (performer - 11 episodes)
- Regionals (2020) - (performer: "Spirit in the Sky", "Ave Maria", "Believe" - uncredited)
- Hymn-a-Thon (2020) - (performer: "All Things Bright and Beautiful", "A Mighty Fortress Is Our God", "If You're Happy and You Know It", "Good as Hell" - uncredited)
- Merry Jaxmas (2019) - (performer: "Carol of the Bells", "Joy to the World", "Santa Claus Is Comin' to Town" - uncredited)
- Thanks-taking (2019) - (performer: "It Is Well with My Soul" - uncredited)
- Rivalry Week (2019) - (performer: "Titanium" - uncredited)
- Halle-Boo-Yah (2019) - (performer: "O Little Town of Bethlehem", "Silent Night", "Do You Hear What I Hear?" - uncredited)
- It's Electric (2019) - (performer: "Electric Boogie" - uncredited)
- Hunting Season (2019) - (performer: "Ave Maria", "The Battle Hymn of the Republic" - uncredited)
- No Time for Losers (2019) - (performer: "We Are the Champions", "Nine to Five", "Here You Come Again" - uncredited)
- Fork Fest (2019) - (performer: "Glorious" - uncredited)
- Pilot (2019) - (performer: "Hallelujah Chorus", "Amazing Grace", "Eye of the Tiger" - uncredited)
2017
Pitch Perfect 3 (performer: "Toxic", "Cheap Thrills", "Cake by the Ocean", "Freedom '90", "Riff Off (Medley)" (uncredited))
2015
Pitch Perfect 2 (performer: "Back to Basics" - uncredited)
2012
Pitch Perfect (performer: "Party in the USA", "Bellas Regionals: (medley)" (uncredited), "Riff Off: (medley)" (uncredited), "Pool Mashup: (medley)" (uncredited), "Bellas Finals: (medley)" (uncredited))
Thanks
2015
I'll See You in My Dreams (very special thanks)
Self
2023
Is It Cake? (TV Series)
as
Self - Judge
- That 90's Cake (2023) - Self - Judge
2023
Dead Talk Live (TV Series)
as
Self - Guest
- Anna Camp & Thomas Marchese are our Special Guests (2023) - Self - Guest
2022
About Last Night (TV Series)
as
Self
- Anna Camp/Loni Love/Bobby Lee (2022) - Self
2021
Nickelodeon's Unfiltered (TV Series)
as
Self
- Fan the Flames! (2021) - Self
2021
Hollywood Unscripted (Podcast Series)
as
Self
- Anna Camp (Here Awhile) (2021) - Self
2021
Overserved with Lisa Vanderpump (TV Series)
as
Self
- Ladies Who Brunch: Anna Camp & Lala Kent (2021) - Self
2016
The Talk (TV Series)
as
Self / Self - Guest Co-Host
- Anna Camp/Michael Bolton (2020) - Self
- Katherine Schwarzenegger/Anna Camp (2019) - Self
- Anna Camp (2019) - Self
- Guest Co-Hostess Anna Camp/John Stamos (2018) - Self - Guest Co-Host
- Anna Camp/Cameron Mathison (2016) - Self
2020
Collider Ladies Night (TV Series)
as
Self - Guest
- Guest: Anna Camp (2020) - Self - Guest
2014
Live with Kelly and Mark (TV Series)
as
Self / Self - Guest
- Live's Summer Safety Week - Day 2 (2020) - Self
- Kate Beckinsale/Anna Camp (2019) - Self
- Trevor Noah/Anna Camp (2017) - Self
- Matt Dillon/Anna Camp/David Duchovny (2015) - Self
- Kate Walsh/Anna Camp (2014) - Self - Guest
2020
Floored (TV Series short)
as
Self - Guest Judge
- Hip Hop Ball Drop (2020) - Self - Guest Judge
2020
A Little Late with Lilly Singh (TV Series)
as
Self
- Adam Rippon/Anna Camp (2020) - Self
2019
The IMDb Show (TV Series)
as
Self - Guest
- Holiday Watchlist (2019) - Self - Guest
- Take 5 With Anna Camp (2019) - Self - Guest
2019
The Late Late Show with James Corden (TV Series)
as
Self
- Josh Gad/Anna Camp/Adam Lambert (2019) - Self
2017
Entertainment Tonight (TV Series)
as
Self
- Episode #39.61 (2019) - Self
- Episode #37.81 (2017) - Self
2019
The Kelly Clarkson Show (TV Series)
as
Self - Guest
- Bradley Whitford/Anna Camp/Wiz Khalifa (2019) - Self - Guest
2019
Double Dare (TV Series)
as
Self - Contestant
- Halloween Week Finals (2019) - Self - Contestant
- Halloween Week Game 2 (2019) - Self - Contestant
2017
Ok! TV (TV Series)
as
Self
- Episode #5.18 (2019) - Self
- Episode #3.80 (2017) - Self
2019
NBC Primetime Preview Show (TV Special)
as
Self
2016
The $100,000 Pyramid (TV Series)
as
Self - Celebrity Player
- Rosie O'Donnell vs. Leslie Jones and Anna Camp vs. Chris Parnell (2019) - Self - Celebrity Player
- Randall Park vs. Anna Camp and Terry Crews vs. Natasha Lyonne (2016) - Self - Celebrity Player
2019
To Tell the Truth (TV Series)
as
Self - Celebrity Panelist
- Anna Camp/Joel McHale/Ron Funches/Kristie Alley (2019) - Self - Celebrity Panelist
2019
Project Runway All Stars (TV Series)
as
Self - Guest Judge
- Pure Imagination (2019) - Self - Guest Judge
2018
Mickey's 90th Spectacular (TV Special)
as
Self
2018
Match Game (TV Series)
as
Self - Celebrity Panelist
- Jack McBrayer/Ellie Kemper/Anthony Anderson/Yvette Nicole Brown/James Van Der Beek/Anna Camp (2018) - Self - Celebrity Panelist
2012
Made in Hollywood (TV Series)
as
Self
- Pitch Perfect 3/The Post/All the Money in the World/Hostiles/Father Figures (2017) - Self
- Episode #8.2 (2012) - Self
2017
BuzzFeed Celeb (TV Series)
as
Self
- Anna Kendrick, Anna Camp, and Brittany Snow Find Out Which "Pitch Perfect" Character They Really Are (2017) - Self
2017
The Ellen DeGeneres Show (TV Series)
as
Self - Guest
- Anna Kendrick, Rebel Wilson, Anna Camp & Brittany Snow/Mario Lopez & Courtney Lopez/Sia (2017) - Self - Guest
2017
Pitch Perfect 3: Riff-Off (Music Video)
as
Self
2017
The Late Show with Stephen Colbert (TV Series)
as
Self
- Billy Eichner/Anna Camp/Weezer (2017) - Self
2016
Last Call with Carson Daly (TV Series)
as
Self
- Anna Camp/Banks & Steelz/Josh McDermitt (2016) - Self
2016
The Red Booth (TV Series)
as
Self - Guest
- Anna Camp Interview (2016) - Self - Guest
2016
Jimmy Kimmel Live! (TV Series)
as
Self
- Shia LaBeouf/Anna Camp/Green Day (2016) - Self
2016
Sidewalks Entertainment (TV Series)
as
Self - Guest
- Anna Camp (2016) - Self - Guest
2016
Style Code Live (TV Series)
as
Self
- Good Girls Revolt Cast Interview & One Knit Wonders (2016) - Self
2014
Today (TV Series)
as
Self / Self - Guest / Self - Pitch Perfect 2
- Episode dated 21 October 2016 (2016) - Self
- Episode dated 20 November 2015 (2015) - Self - Guest
- Episode dated 20 November 2014 (2014) - Self - Pitch Perfect 2
2015
Red Nose Day (TV Special)
as
Self
2015
The Meredith Vieira Show (TV Series)
as
Self
- "Pitch Perfect 2" Stars Brittany Snow, Hailee Steinfeld & Anna Camp/Health Headlines/"Shark Tank" Star Robert Herjavec/Vivica A. Fox (2015) - Self
- What's Hot Live! with Actress Garcelle Beauvais/"Pitch Perfect 2" Stars Brittany Snow, Hailee Steinfeld & Anna Camp/Darius Rucker (2015) - Self
2015
Larry King Now (TV Series)
as
Self - Guest
- Anna Camp and Brittany Snow (2015) - Self - Guest
2015
2015 MTV Movie Awards (TV Special)
as
Aubrey / Self - Presenter
2015
IHeartRadio Music Awards (TV Special)
as
Self
2014
Conan (TV Series)
as
Self - Guest
- Will Arnett/Anna Camp/Benjamin Booker (2014) - Self - Guest
2014
2014 Young Hollywood Awards (TV Special)
as
Self
2013
Teen Choice Awards 2013 (TV Special)
as
Self - Accepting Award
2013
2013 Young Hollywood Awards (TV Special)
as
Self
2013
The Late Late Show with Craig Ferguson (TV Series)
as
Self - Guest
- Episode dated 23 July 2013 (2013) - Self - Guest
2013
Big Morning Buzz Live (TV Series)
as
Self
- Sammi 'Sweetheart' Giancola/Ronnie Ortiz-Magro/MTV Movie Awards Special (2013) - Self
2013
2013 MTV Movie Awards (TV Special)
as
Self - Winner & Performer
Archive Footage
2020
Ok! TV (TV Series)
as
Self
- Episode #7.241 (2020) - Self
- Episode #7.233 (2020) - Self
- Episode #7.230 (2020) - Self
2016
Extra (TV Series)
as
Self
- Episode #24.30 (2017) - Self
- Episode #23.86 (2016) - Self
2010
True Blood: Webisodes (TV Series short)
as
Sarah Newlin
- Jason (2010) - Sarah Newlin
References
Anna Camp Wikipedia
(Text) CC BY-SA