She completed her graduation in Computer Engineering from Gujarat University. After a brief stint at Indian Space Research Organization (ISRO). Following her tenure at ISRO, Anjali completed her post-graduation, with distinction, in International Affairs from Columbia University, where she majored in International Finance and Business.

Anjali serves as an independent non executive director on the public boards of GlaxoSmithKline (GSK) Pharmaceuticals India, Bata India Limited, Tata Power and Voltas - a Tata Enterprise.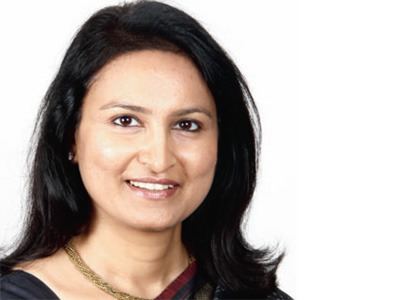 She has been a global Partner and MD with TPG Private Equity and a strategy consultant with McKinsey & Company in New York and Mumbai. She founded and led Spencer Stuart's India practice successfully growing it to a highly reputed pan-India platform. She was also a global partner and co-led their Asia Pacific Board & CEO practice as part of the Asia Pacific leadership team.
In addition, she is a member of industry forums such as the Bombay Chamber of Commerce & Industry & Confederation of Indian Industry. She is also on the Board of the non-profit organization, United Way of Mumbai. She is also on the Advisory Board of the Columbia University Global Centers, South Asia. Anjali has been invited to and is a part of the Asian Business Leaders Advisory Council (ABLAC). Previously, she chaired the board of FWWB (Friends of Women's World Banking). In addition, Anjali is a charter member of The Indus Entrepreneurs (TiE) and is a mentor to the IIT Mumbai-TiE Society for Innovation and Entrepreneurship (SINE) incubator. She also serves as a trustee on the board of the United Way of Mumbai and Enactus
Anjali is a frequent commentator on board governance, diversity and entrepreneurship. She has had several speaking opportunities including Digital Women Awards and Keynote at LinkedIn Connect Conference and has been a jury for The Economic Times 40 Under 40, Women Ahead and CEO Awards. Anjali is the Founder and Chair of Women on Corporate Boards (WCB) and is on the Managing Committee of Bombay Chamber and an active member of the YPO. She joins the jury of VCCircle Awards 2016. Anjali is also part of the faculty for ISB, Hyderabad's programme on 'Governance and Effectiveness' that addresses current and future board members. She was part of the jury for Digital Women Awards 2016 and is a mentor with CII Startup Mentorship Circle. Anjali was the host for Fortune India The Most Powerful Women 2017 Event in Mumbai in January 2017.
She is also the Co-founder and chair of the FICCI Center for Corporate Governance program for Women on Corporate Boards, on the Managing committee of the Bombay Chamber of Commerce and Industry (BCCI), and part of the CII National Committee for Women.
Anjali started her career as an engineer.
Anjali met her husband, Sandeep Singhal, during her tenure with McKinsey & Company in New York. Sandeep is today the co-founder of venture capital fund Nexus Venture Partners. The couple has two children and live in Mumbai.
Anjali has been named as one of the most powerful women in business in India by Business Today in 2013, Fortune India Magazine in 2012, India Today in 2011.