Covid-19
1991–present





Anita Lopez






United States of America




Rear Admiral (lower half)




Deputy Director of the NOAA Commissioned Officer Corps Deputy Director for Operations, NOAA Office of Marine and Aviation Operations NOAAS Oscar Elton Sette




Department of Commerce Silver Medal NOAA Administrator's Award NOAA Corps Commendation Medal (3) NOAA Corps Achievement Medal (6)




NOAA Commissioned Officer Corps
Anita L. Lopez is a rear admiral in the National Oceanic and Atmospheric Administration Commissioned Officer Corps. She currently serves as the deputy director of the NOAA Commissioned Officer Corps and deputy director for Operations of NOAA's Office of Marine and Aviation Operations. She previously served as the commanding officer of NOAA's Marine Operations Center–Atlantic in Norfolk, Virginia from June 2012 to January 2014.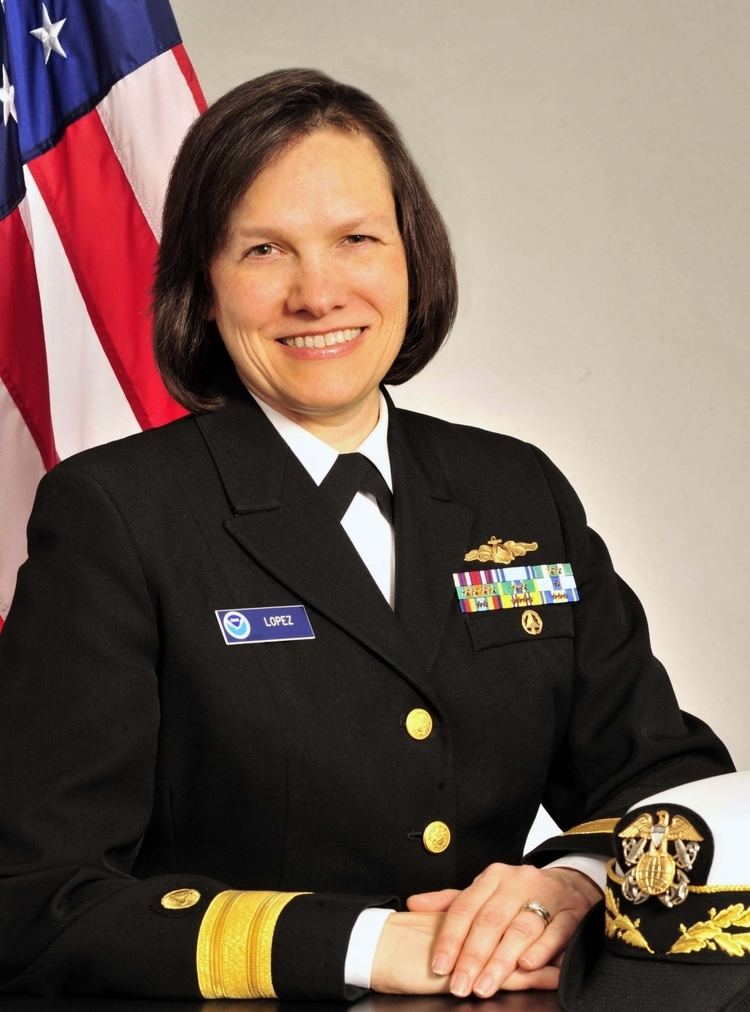 Lopez grew up in Pasadena, California. Her father's family is of Yaqui descent. As a youth, Lopez was a member of an Explorer Post at the Jet Propulsion Laboratory. She credits this involvement in developing her interest in engineering. Lopez earned a Bachelor of Science in electronic engineering technology in 1989 from DeVry University and a certification in project management in 1996 from the University of Washington. Lopez first took a job in the private sector as an installation engineer in the semiconductor manufacturing industry in Japan and Korea. In 1991, Lopez graduated from the 89th NOAA Basic Officer Training Class and gained appointment as an ensign in the NOAA Commissioned Officer Corps.
Lopez's NOAA career has been focused on fisheries management, oceanographic research, operational support, risk analysis, as well as program and project management. Lopez has served for more than nine years at sea, aboard eight NOAA ships. She has served full sea tours aboard NOAA Ships Discoverer, David Starr Jordan, Miller Freeman and as Commanding Officer of NOAAS Oscar Elton Sette. While commanding Oscar Elton Sette, Lopez was recognized for personal and professional excellence for, "proactive activities leading to the timely and potentially life saving decision to evacuate 17 federal employees, contractors, and volunteers from remote island camps in the Papahanaumokuakea National Monument in advance of Hurricane Neki."
Ashore, Lopez has held positions at NOAA headquarters, the Pacific Marine Environmental Laboratory, the National Marine Mammal Laboratory, the Marine Operations Center–Pacific, and as the Executive Director to NOAA's Deputy Under Secretary of Operations from February 2011 to May 2012. From June 2012 to January 2014, Lopez served as Commanding Officer, NOAA Marine Operations Center–Atlantic.
Sworn-in and promoted by Secretary of Commerce Penny Pritzker on 2 January 2014, Lopez currently serves as Deputy Director of the NOAA Commissioned Officer Corps and as Deputy Director for Operations of NOAA's Office of Marine and Aviation Operations (OMAO). In her current capacity, Lopez is responsible for the direct leadership and management of operations of the NOAA's fleet of ships and aircraft, as well as the management of NOAA's 321 commissioned officers and nearly 1,000 civilian personnel assigned to OMAO.
Lopez was awarded the following medals:
Anita L. Lopez Wikipedia