Covid-19
Activist, author




Bengali literature




1956–present




Anisuzzaman Anisuzzaman




Bangladeshi




Bengali, English









18 February 1937 (age 78) Calcutta, Bengal Presidency, British India (

1937-02-18

)


Bangla Academy Award Ekushey Padak Padma Bhushan Independence Day Award
Anisuzzaman (born 18 February 1937) is a Bangladeshi academic of Bengali literature.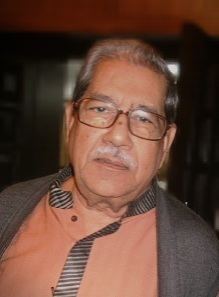 Anisuzzaman was born in Kolkata in 1937. He had a obtained his bachelor's in 1956, master's in 1957 and Ph.D. in 1962. He was a post-doctoral fellow at the University of Chicago during 1964–65 and a Commonwealth Academic Staff fellow at the University of London (1974–75).
Anisuzzaman served as a professor of Bengali at the University of Dhaka. From 1978 to 1983 he was associated with research projects of the United Nations University. He was a visiting fellow at the University of Paris (1994), North Carolina State University (1995) and University of Calcutta (2010), and a visiting professor at the Visva-Bharati (2008–09, 2011).
Anisuzzaman was a member of the Planning Commission to the Government of Bangladesh during the Bangladesh liberation war and a member of the National Education Commission set up by the government after liberation. He was responsible for the Bengali language part of the Constitution of Bangladesh adopted in 1972. He served as Chairman of the Trustee Board of the Nazrul Institute and is currently serving as the second-term President of the Bangla Academy since 2011.
Anisuzzaman took part in the Language Movement (1952), participated in Mass Uprising (1969), taken part in the War of Liberation (1971) and was the Secretary of Bangladesh Teachers' Association in 1971. He was involved in the anti-autocracy movement (1990).
Muslim Manos O Bangla Sahitya (1964)
Munir Chowdhury (1975)
Swaruper Sandhane (1976)
Purono Bangla Gadya (1984)
Aamar Ekattor (1997)
Muktijudho Ebong Tarpor (1998)
Aamar Chokh (1999)
Kaal Nirobodhi (2003)
Factory correspondence and other Bengali Documents in the India office Library and Records (1981)
Creativity, Identity and Reality (1991)
Cultural Pluralism (1993)
Identity, Religion and Recent history (1995)
In 2014, the Government of India conferred the Padma Bhushan, third highest civilian honor, on him; the first such award for any Bangladeshi.
Bangla Academy Award for research (1970)
Ekushey Padak, an award given by the State, for his contribution to education (1985)
Ananda Puraskar (Jointly), (1993)
Honorary D.Lit, Rabindra Bharati University, Calcutta (2005)
Sarojini Basu Medal, University of Calcutta (2008)
The Pandit Iswarchandra Vidyasagar Gold Plaque, Asiatic Society of Kolkata (2011)
Padma Bhushan, on contribution of literature and education (2014)
Independence Day Award for literature in 2015 by Govt of Bangladesh
Anisuzzaman Wikipedia