In 2003, Young and the other members of AC/DC were inducted into the Rock and Roll Hall of Fame.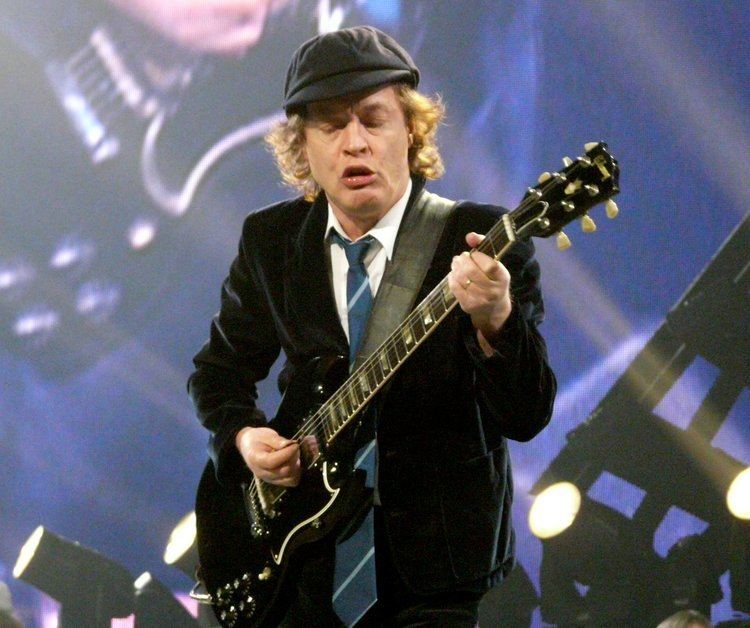 The youngest of eight children of William and Margaret Young, Angus was born in Glasgow, Scotland. In 1963 he emigrated from Scotland to Sydney, with his parents, older brothers Malcolm and George, and older sister Margaret. He dropped out of Ashfield Boys High School at age 15. His older brother, Alex, remained in Scotland and later formed the London-based group Grapefruit. His oldest brother Stephen was the father of his future AC/DC bandmate Stevie Young.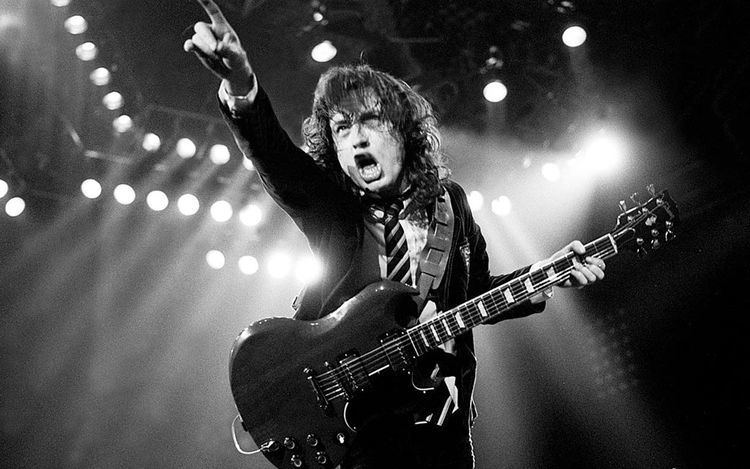 Young first started playing on a banjo, re-strung with six strings. He first started playing guitar on a cheap acoustic model purchased second-hand by his mother. His first Gibson SG was bought second-hand around 1970 from a music shop just down the street from his home:
I got out and got a Gibson SG that I played until it got wood rot because so much sweat and water got into it. The whole neck warped. I bought it second-hand; it was about a '67. It had a real thin neck, really slim, like a Custom neck. It was dark brown.
Prior to forming AC/DC, Young played in a local group called Kantuckee. Kantuckee's line-up included Bob McGlynn (vocals), Angus Young (guitar), Jon Stevens (bass) and Trevor James (drums). The band split and was later called Tantrum with the following line up: Mark Sneddon (vocals-guitar), Angus Young (guitar), Jon Stevens (bass) and Trevor James (drums). He was 18 when he and his older brother Malcolm formed AC/DC in 1973 with Angus on lead guitar, Malcolm on rhythm guitar, Colin Burgess on drums, Larry Van Kriedt on bass guitar and Dave Evans on vocals. "Can I Sit Next To You Girl," their first single, was later re-recorded with Bon Scott as their vocalist. They decided upon the name AC/DC after seeing the letters "AC/DC" on the back of their sister Margaret's sewing machine.
Young tried a number of stage costumes, such as Spider-Man, Zorro, a gorilla, and a parody of Superman, named Super-Ang, before settling on his signature schoolboy look at the suggestion of his sister. To match this image the press and public were told that Young was born in 1959, not 1955. The original uniform was created by his sister Margaret and when it fell apart from wear and tear, he used his uniform from Ashfield Boys High School in Sydney. "I don't like to play above or below people's heads. Basically, I just like to get up in front of a crowd and rip it up."
AC/DC released their debut album, High Voltage on 17 February 1975. Over the next 3 years AC/DC cemented themselves as a popular hard rock act, especially in Australia, with the follow-up albums, T.N.T., Dirty Deeds Done Dirt Cheap, Let There Be Rock and Powerage. Their 1979 studio album, Highway to Hell, became their best-selling at the time and launched them to new heights of fame. Shortly after this, however, lead singer Bon Scott died from alcohol poisoning, and questions were raised as to whether the band could continue without him.
Young and his other bandmates soon decided they should finish the work they had begun for their new album, so they recruited ex-Geordie singer, Brian Johnson to replace Bon Scott and just five months later, Back in Black was released as a tribute to Scott. It quickly became a huge success, far out-selling any of their previous albums, and going on to reach 22x multi-platinum in the US alone, and selling 50 million copies, the second highest-selling album worldwide, behind only Michael Jackson's Thriller. AC/DC's next album, For Those About to Rock We Salute You, cemented their position as the most popular hard rock act of the time. However, soon after this AC/DC's popularity began to decline, and with the mediocre success of their next 3 albums, Flick of the Switch, Fly on the Wall and Blow Up Your Video, AC/DC looked as though they had reached their peak early in the decade and by the end of it, were in decline.
However, their 1990 studio album, The Razors Edge, brought them back into the spotlight, reaching 5x multi-platinum in the US alone and selling between 10 and 12 million copies worldwide. Over the next 10 years AC/DC released two other studio albums, Ballbreaker and Stiff Upper Lip, which confirmed their renewed popularity and success. After a lengthy eight-year hiatus, AC/DC returned with a new studio album, Black Ice. Black Ice debuted at number 1 in 29 countries and was certified multi-platinum in 14 of those, becoming one of their most successful albums worldwide, and was followed by a hugely successful world tour. In 2010, AC/DC released an album of songs used for the Iron Man 2 soundtrack they had put together, this reached number 1 in many countries around the world, including the UK, and number 4 in the US. Malcolm Young confirmed in 2011 that AC/DC were in fact working on a 16th studio album.
In April 2014 Malcolm Young was forced to leave the band due to ill health, leaving Angus the last consistent member in the band. In May it was revealed that Stevie Young, Malcolm and Angus's nephew, would stand-in for his uncle to record AC/DC's latest record. In September Malcolm officially retired and Stevie was made AC/DC's official full-time rhythm guitarist. AC/DC released Rock or Bust in the fall of 2014. In March 2016 after already seen the departure of both long term guitarist Malcolm Young and drummer Phil Rudd, AC/DC was set back with yet another departure, long time lead singer Brian Johnson was forced to stop performing by doctors or face total hearing loss. Angus, determined to finish what the band started, recruited Guns N' Roses singer Axl Rose to stand-in for Brian for the remainder of the Rock or Bust World Tour. It is unknown what Angus has planned for the band after the tour however Axl Rose has expressed interest in staying on board for however long Angus needs him.
In 2003, AC/DC were inducted into the Rock and Roll hall of fame and the following year they were ranked number 72 on Rolling Stone magazine's list of the "100 greatest artists of all time." VH1 ranked them number 23 on their list of the "100 greatest artists of all time" and number 4 in their list of the "100 greatest artists of hard rock." They were also named the 7th "Greatest heavy metal band of all time" by MTV.
Young and his wife Ellen have homes in Australia, the UK and the Netherlands where Mrs. Young is from. Although a heavy smoker, Young is a teetotaler and has been all his life.
On 24 August 2006, Young received Kerrang! magazine's Legend Award from the editor, Paul Brannigan. Brannigan called AC/DC "one of the most important and influential rock bands in history".
On 16 May 2012, Young was named Best Australian Guitarist of All Time in a poll conducted by Australian Guitar Magazine.
Angus and brother Malcolm are both keen supporters of Rangers.
Young has used Gibson SGs in various forms (his original, and the basis for his current signature model, was a 1968 - '70 SG Standard) throughout his career. He also used a modified version of the SG called the Jaydee SG, which was made custom for Young by Jaydee guitars. At least 2 of his SGs (whether modified Gibson product or ground-up construction) circa 1977 and the Paris "Let There Be Rock" tapings featured on-board wireless going to his amplifiers, the circuitry installed in a cavity routed into the back of the body. The Jaydee SG featured signature lightning bolt inlays on the fretboard. Gibson made a custom SG for Young with lightning bolt inlays to replace the Jaydee SG. Young's '68 - '70 SG has T Top pick-ups. Another 1964 SG that he used on the recording of Ballbreaker, has patent # pick-ups. All of these are vintage-output Alnico II or V pick-ups with matched coils typically reading 7.5k ohm. He uses Ernie Ball Super Slinky guitar strings (.009-.042).
Young and Gibson Guitar Corporation have collaborated to make the Angus Young SG. It features a pick-up designed by Young himself (the Angus Young Signature Humbucker) in the bridge position, and a '57 Classic Humbucker in the neck. The neck has "lightning bolt" inlays.
Young mainly uses Marshall 1959 100 watt Super Lead Plexi heads and model 1960 AX and BX 4x12 cabinets with Celestion G12-65 speakers. Later amplifiers included Marshall JMP 2203 and most recently, Wizard Amplifiers. Early wireless systems, the Schaffer-Vega Diversity System that he would begin using in 1977, was also used as a compressor and a booster in his signal to "fatten up" his tone. Ever since adding it to his rig, it was used on several albums in the studio for chosen rhythm guitar tracks and all lead guitar tracks. It is still used in his live rig to this day. Contrary to popular belief, Angus and Malcolm have both stated in guitar enthusiast magazine interviews that very little pre-gain, if any, is used on the amps and the distortion comes from simply using a heavier right-hand attack on the strings.
Young has stated that he first began playing guitar when, "I was little, teeny. I would sort of dabble around five or six years old. That's when I started hearing Little Richard."
Young's energetic guitar style has influenced many young rock n roll guitarists. When Canadian band Anvil were asked what it was like to tour with AC/DC, they mentioned that Young has a big heart and he should bring AC/DC to Calgary.
In an interview with The Guitar Show, Young noted his influences include his brother Malcolm Young, Chuck Berry, Freddie King, and Muddy Waters, while playing licks relating to Jimi Hendrix, Pete Townshend, John Lee Hooker, and The Kinks' "You Really Got Me". Young has indicated that he was also influenced by Keith Richards, as well as Chuck Berry's performing style, including his banter with audiences and duck walk. When the band covered Chuck Berry songs in their early years, audiences would recognise the song, while noting their renditions were very different to the source material.
Young's playing style is influenced by straight blues playing in both the minor and major pentatonic twelve bar blues-type progressions. In AC/DC's earlier recordings, power chords can be heard in songs such as "T.N.T." and "It's a Long Way to the Top (If You Wanna Rock 'n' Roll)". He also utilises touches of Scottish folk in his playing, and pull-off arpeggios (pull-offs, played one-handed) are a popular trick, appearing in songs such as "Who Made Who", "Dirty Deeds Done Dirt Cheap", "Sin City", and "Let There Be Rock" (live). In 1976, the band recorded an instrumental arrangement of the Scottish traditional song "Loch Lomond", retitled "Fling Thing", which has appeared in their stage act over the years. The title refers to the Highland Fling. Young occasionally provides backing vocals along with Malcolm on songs such as "T.N.T." and "Dirty Deeds Done Dirt Cheap".
A common criticism of AC/DC is that their songs are excessively simple and formulaic. In reply, Young stated in an interview with the Atlanta Gazette in 1979:
"It's just rock and roll. A lot of times we get criticised for it. A lot of music papers come out with: 'When are they going to stop playing these three chords?' If you believe you shouldn't play just three chords it's pretty silly on their part. To us, the simpler a song is, the better, 'cause it's more in line with what the person on the street is."
Young is famous for his wild onstage antics: intense jumps and running back and forth across the stage. Once Young would clamber onto Bon Scott's or Brian Johnson's shoulders during concerts and they would make their way through the audience with smoke streaming from a satchel on his own back, while he played an extended improvised guitar solo, usually during the song "Rocker" with Scott or during "Let There Be Rock" with Johnson. He frequently does his own version of Chuck Berry's duck walk, as well as a "spasm", during which he throws himself to the ground, kicking, shaking, and spinning in circles, while playing the guitar. Young was advised by older brother George that if he ever tripped over his lead to keep playing and make it look like part of the act. According to AC/DC video director David Mallet, although Young performs many of his trademark feats sometimes from a series of platforms, risers, and ramps, he suffers from acute acrophobia. This was discovered when Mallet chose to have Young lowered from a second story balcony onto a stage floor by wires for the video for "Who Made Who".
High Voltage (1975, Australia only)
T.N.T. (1975, Australia only)
High Voltage (1976, International version)
Dirty Deeds Done Dirt Cheap (1976)
Let There Be Rock (1977)
Powerage (1978)
If You Want Blood You've Got It (1978)
Highway to Hell (1979)
Back in Black (1980)
For Those About to Rock We Salute You (1981)
Flick of the Switch (1983)
Fly on the Wall (1985)
Who Made Who (1986)
Blow Up Your Video (1988)
The Razors Edge (1990)
Ballbreaker (1995)
Stiff Upper Lip (2000)
Black Ice (2008)
Rock or Bust (2014)