Angerme (アンジュルム, Anjurumu), formerly S/mileage (スマイレージ, Sumairēji) is a Japanese idol girl group from Hello! Project, which originally consisted of four former Hello! Pro Egg (Hello! Project trainees) members that left Egg in 2010 and became full-time members of Hello! Project. In 2010, they won the Japan Record Award for Best New Artist. In 2011, five new girls were added to the group as part of the second generation, with two being former Egg members and three new girls, while also losing three members at the same time; three more members were added in 2014. With the Graduations of two members, and the additions of two more members in 2015 and 16, as of July 2016 the total members of the group stands at 9 members.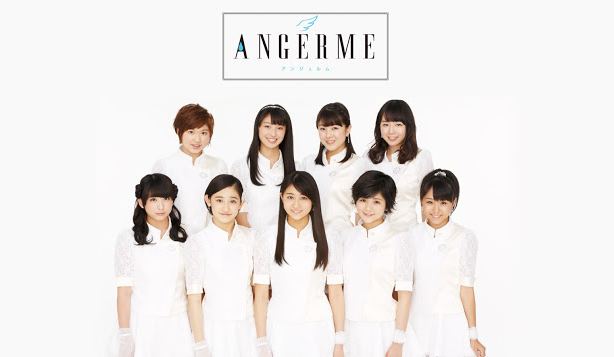 On April 4, Japanese music producer Tsunku announced on his blog that a new girl group consisting of Hello! Pro Egg members would be formed. He later revealed that the members would be Ayaka Wada, Yuuka Maeda, and Kanon Fukuda, all formerly of Shugo Chara Egg!, as well as fellow Egg Saki Ogawa, and announced that Ayaka would be the leader. A month later, on May 7, 2009, he revealed that the group would be called "S/mileage". The name is a portmanteau of the English words "smile", "mileage", and "age", and together the name means "the age of smiles".
S/mileage's first single, "Ama no Jaku", was released at the Hello! Pro Egg: Nakano Step! concert on June 7, 2009.
After releasing three singles, Tsunku announced that the group would become a full-time group in the spring of 2010 and their debut set for May 2010. A "Smile Campaign" (笑顔キャンペーン, "Egao Campaign") was embarked upon to collect 10,000 smiles from people, where fans were asked to send in photographs of themselves smiling, compiled into a big mosaic. The group made their official event debut in Nagoya on March 19, with their fourth single "Otona ni Narutte Muzukashii!!!", released March 14, their first release on the Up-Front Works label. It peaked at the #1 spot on the Oricon weekly indies chart. After the deadline on March 25, it was announced that the result of the campaign would be announced during the joint S/mileage and Erina Mano concert on April 3. It was then announced that the group would be leaving from Hello! Pro Eggs.
S/mileage appeared as the opening support act at fellow Hello! Project unit Cute's concert on March 20, 2010. On April 3, they performed a joint concert with Erina Mano, at which Tsunku announced that the girls would indeed make their major debut, and revealed the completed mosaic. Their first major single, "Yume Miru Fifteen" (A Dreaming Fifteen Year Old), was released on May 26, and debuted on Oricon at number 5. Their first tour, titled "Devil Smile Angel Smile," began on October 9, 2010. In late August, a post on their official website revealed that their first album had been set for a winter release. The album's name was later revealed to be Warugaki 1 (Evil Brats 1) and was released on December 8, 2010. On December 30, S/mileage received the Japan Record Award for Best New Artist, beating, among other nominees, Girls' Generation.
On May 29, 2011, S/mileage revealed at their first-anniversary event that they would be holding auditions for new members to add to the four-member line-up. At the same time, it was also announced that some of the members would depart. The new members were announced on August 14. From Hello! Pro Egg, Akari Takeuchi and Rina Katsuta were added, while three new girls Kana Nakanishi, Fuyuka Kosuga, and Meimi Tamura also joined.
On August 24, it was announced that on August 27, Saki Ogawa would be leaving S/mileage and, subsequently, from Hello! Project. In May 2011, she had asked to return to the life of a normal junior high school student. On September 9, one of S/mileage's newest additions, Fuyuka Kosuga, was diagnosed with anaemia, after missing a concert due to illness. Due to her anaemia, she left the group and resumed her work as a Hello! Project Egg after her recovery.
Starting September 18, a second Smile Campaign was held by the new members to determine their place as an official member in the group. On October 16 at S/mileage's "Tachiagirl" event, producer Tsunku announced all four sub-members had become full members. On October 25, a week after the sub members were changed to full, it was announced that Yuuka Maeda would leave S/mileage and, subsequently, from Hello! Project on December 31. This was due to her wanting to retire from show business and focus on university entrance exams, and she felt that it would be unfair to her supporters to only give the fans half of her concentration on stage.
At the start of 2012, the group consisted of six members - two being first-generation and four being second generation members. On February 1, they released "Choto Mate Kudasai!", their ninth single and first single without Yuuka Maeda. Their 10th single "Dot Bikini" followed on May 2, their first best of album on May 20, and their 11th single "Suki yo, Junjō Hankōki" on August 22. On August 30, S/mileage's 13th single and second album was announced. The single, titled "Samui ne", was released on November 28, and the album 2 Smile Sensation was released May 22, 2013.
On September 24, 2014, it was announced that a third generation for the group would be added from among the Hello Pro Kenshūsei, as well as a name change for the group to be decided on October 31. On October 4, Mizuki Murota, Maho Aikawa, and Rikako Sasaki were revealed as the new members, bringing the group to nine girls.
On December 17, 2014, it was announced that S/mileage would be renamed Angerme. Since this was effectively a new group with a revised membership and a release schedule under the new name, the group known as S/mileage effectively ceased to exist from that date.
On May 20, 2015, Kanon Fukuda announced that she would be leaving Angerme and Hello! Project in the fall to continue with her university studies.
On November 11, 2015, the group announced that their fourth generation member auditions had concluded with Moe Kamikokuryou revealed as the new member. With Kanon Fukuda leaving on November 29, 2015, the group remained at nine girls. On December 20, 2015, it was announced that Meimi Tamura would leave Angerme and Hello! Project in spring 2016.
On July 16, a surprise announcement was made - Momona Kasahara, previously from Hello Pro Kenshūsei, will join the group as the sole 5th generation member.
Kanon Fukuda (color: Hot Pink); graduated on November 29, 2015
Yuuka Maeda (color: Pink); graduated on December 31, 2011
Saki Ogawa (color: Yellow Green); graduated on August 27, 2011
Fuyuka Kosuga (

小数賀芙由香

) (color: Orange); left September 9, 2011
Meimi Tamura (

田村芽実

) (color: Purple); graduated on May 30, 2016
2010-06-18: "Yume Miru 15 Pax Japonica Groove Remix" (

夢見る 15歳 PAX JAPONICA GROOVE REMIX

)
2010-08-07: "Ganbaranakute mo Ee nen de!! (TopNude Remix Version 01)" (

○○がんばらなくてもええねんで!!(TopNude Remix Version 01)

)
2010-11-13: "Onaji Jikyū de Hataraku Tomodachi no Bijin Mama (Remix Type 1)" (

同じ時給で働く友達の美人ママ (Remix Type1)

)
2011-08-18: "Short Cut (Remix Ver.)" (

ショートカット(Remix Ver.)

)
2011-08-18: "Uchōten Love (Rocketman Mix)" (

有頂天LOVE(~rocketman mix~)

)
Ike! Danshi Kōkō Engekibu (

行け!男子高校演劇部

) (2011)
Kaidan Shin-mimi Bukuro Igyou(怪談新耳袋 異形,Tales of Terror from Tokyo and All Over Japan,Igyou)(2012)
The Japan Record Awards is a major music awards show held annually in Japan by the Japan Composer's Association.