Covid-19
Andy Warpigs







Andy Warpigs is a singer/songwriter from West Phoenix Arizona. He is known for his sarcastic folk punk style, running A&R for Hotrock Supajoint's 56th Street Records, his signature travel guitar, and for pulling the guitar out and playing it at any given moment. Warpigs starred as Dr. Frank-n-Furter in the stage production of the Rocky Horror Picture Show at the Firehouse ArtSpace in Phoenix, Arizona.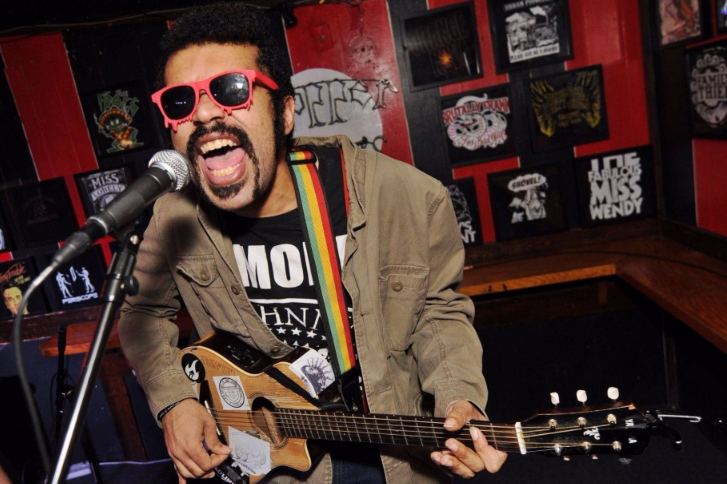 Warpigs began performing in 2013 at any location that would have him including "Lawn Gnome Publishing" and "Long Wong's Dining." Warpig's biggest show of 2013 came when he opened for Pat the Bunny of Tucson folk-punk outfit Ramshackle Glory at a benefit concert at the now closed Aside of Heart in downtown Phoenix. Warpigs gained a backing band by early 2014 including Jelly Roll Jenkin (Jorge Garcia) formerly of Los Fukn Ramirez, Jackson Bollox of Nerdzerker, and Justin White formerly of Andrew Jackson Jihad. Andy Warpigs is also the name of his backing band (which he explains by saying "It's the same crap that Alice Cooper has been pulling for decades.")
Warpigs released his debut album "Folk Punk Yourself" on February 11, 2014, on 56th street records. The album features the singles "Drown My Baby," "STFU," and "N bombs and C Bombs," the video for Drown my Baby was rated one of the "5 Must See Music Videos" by the Phoenix New Times, and has received over 3,583 views as of August 15, 2015. The Phoenix New Times declared Warpig's song "Love is a Stabbing Pain in the Dick" the "Best Love Song By a Phoenix Band" on February 14, 2014. The Phoenix New Times listed Warpigs as one of the "14 Local Bands/Artists You Need To Hear in 2015," along with Sincerely Collins, MC Optimal, and The Holy Coast.
Celebrating his friendly personality and positive demeanor, YabYum West declared Warpigs to be Phoenix Arizona's "Miss Congeniality" on January 1, 2015. On April 11, 2015 Warpigs performed at the 2nd Annual TrunkSpace Indie 500, headlined by Kimya Dawson. Between 29–30 May 2015 Warpigs starred as Frank N Furter in the Firehouse's live action Rocky Horror Show with Serene Dominic and joobs at the Firehouse ArtSpace in Phoenix, Arizona. at the Firehouse ArtSpace in Phoenix, Arizona. Warpigs is the head of A&R for Hotrock Supajoint's 56th Street Records and hosts Pink Slip Open Mic every Monday at Lawn Gnome Publishing.
Andy Warpigs Wikipedia