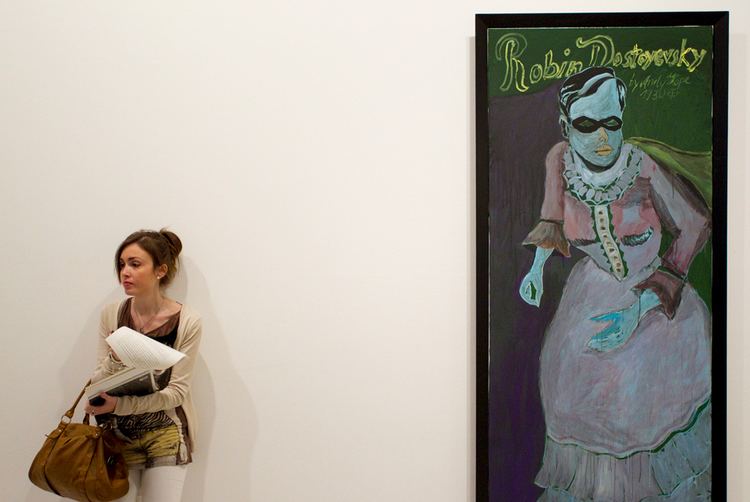 Since 1998, most of the artist's works have been signed "Andy Hope 1930" (although at that time the artist was still named Andreas Hofer).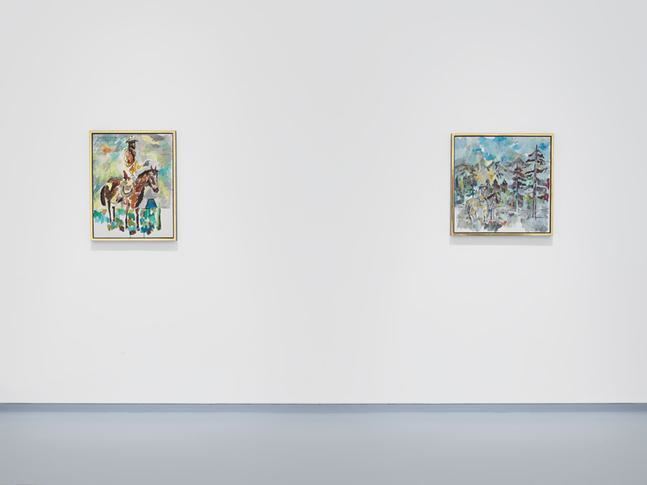 Hope's style borrows from Thriftstore painting, comic books and science fiction illustration, mixing these elements with artistic positions such as those of Kasimir Malevich, James Ensor, Marcel Duchamp and Paul Klee. He creates over-paintings, collages and cut-outs: using pencils, coloured pencils and felt-tip pens, oil, enamel, and acrylic, on such supports as cardboard, paper, canvas, recycled materials and hand-made tapestries. He also makes films and sculptures, and text too plays a major role in his works. His subject matter encompasses superheroes, dinosaurs, devils, spaceships and historical villains.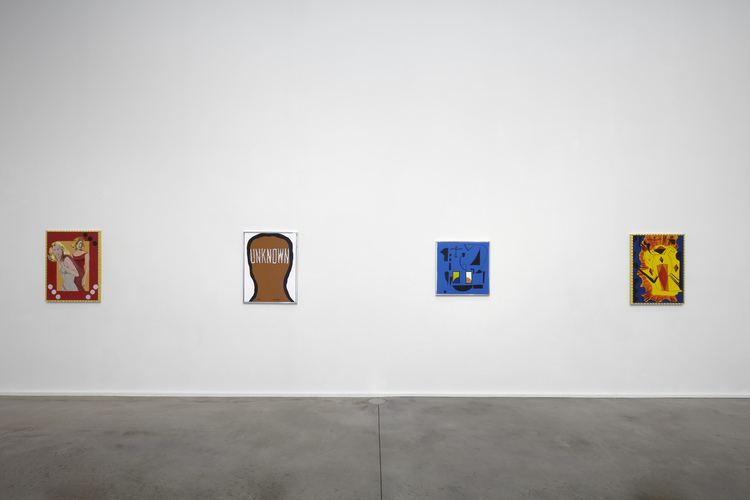 Hope frequently paints over the top of already painted canvases, sometimes allowing parts of the earlier picture to remain visible. Other works are cut into, removing the vital features such as eyes or whole faces.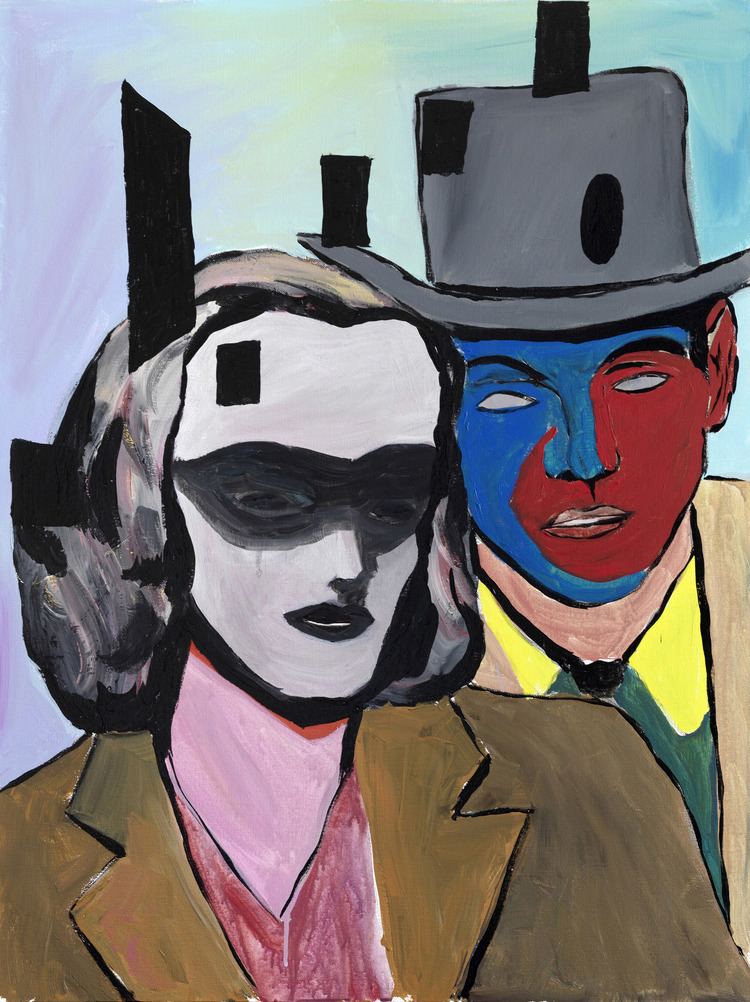 2016
Enjoy Thank You
, Gabriele Senn Galerie, Vienna, Austria
Black Fat Fury Road
, Galerie Guido W. Baudach, Berlin, Germany
2015
Andy Hope
, Autocenter, Berlin, Germany
UNappropriated Activities
, Hauser & Wirth, Zurich, Switzerland
Prequel – Equal,
Wiener Art Foundation, Vienna, Austria
2014
Echoes from an Unlimited Company
, Galerie Christine Mayer, Munich, Germany
Impressions d'Amérique
, Metro Pictures, New York NY
2013
WHY PAINT
(with David Batchelor), Gabriele Senn Galerie, Vienna, Austria
Andy Hope 1930 presents Earth 1 belongs to Earth 2
, Galerie Guido W. Baudach, Berlin, Germany
2012
Andy Hope 1930 When Dinosaurs Become Modernists
, Royal Botanic Garden Edinburgh, Scotland
Medley Tour London by Andy Hope 1930
, Hauser & Wirth, London, England
Medley Tour by Andy Hope 1930
, kestnergesellschaft, Hanover, Germany
2011
Robin Dostoyevsky by Andy Hope 1930
, Centro de Arte Contemporaneo, Málaga, Spain
0,10 and a half by Andy Hope 1930
, Galerie Guido W. Baudach, Berlin, Germany
2010
Andy Hope 1930 at the Freud
, The Freud Museum, London, England Charles Riva Collection, Brussels, Belgium
ON TIME
, Metro Pictures, New York, USA
2009
White Space Black
, Oldenburger Kunstverein, Oldenburg, Germany
Andy Hope 1930
, Goetz Collection, Munich, Germany
air tsu dni oui sélavy
, Hauser & Wirth London, England
Andy Hope 1930
, Sammlung Goetz, Munich, Germany
2008
Valleys of Neptune
, Galerie Christine Mayer, Munich, Germany
Phantom Gallery
, Hauser & Wirth Zürich and 7556 Sunset Blvd., Los Angeles, USA
City of Sokrates
, Galerie Guido W. Baudach, Berlin, Germany
2007
The Long Tomorrow
, MARTa Herford, Herford, Germany
Sweet Troubled Souls
, Silverbridge and Hauser & Wirth, private apartment Yola Noujam, Paris, France
Only Gods could survive
, Metro Pictures, New York, USA
2006
Trans Time
, Galerie Guido W. Baudach, Berlin, Germany
This Island Earth
, Hauser & Wirth London, England
2005
Welt ohne Ende
(World without End), Städtische Galerie im Lenbachhaus, Munich, Germany
Galassia che vai
, Galerie Bleich-Rossi, Graz, Austria
Neverworld Technik
, Kunstverein Ulm, Ulm, Germany (with André Butzer)
2004
Batman Gallery
, Galerie Christine Mayer, Munich, Germany
2002
Hinter den Hügeln
, Galerie Christine Mayer, Munich, Germany
1996
c/o Puschmann
, Ausstellungsraum Balenstrasse, Munich, Germany