Occupation(s)

Singer, Songwriter




Role

Singer-songwriter




Years active

1998–present




Record label

Minos EMI



Labels

Feelgood Records




Albums

Kai I Gi Gyrizei




Name

Andriana Babali




Genres

Indie pop, Pop music





Instruments

Vocals, Guitar, Percussion




Associated acts

Haris AlexiouGeorge DalarasXaxakes




Website




Awards

MAD Video Music Award for Best Entekhno Video




Similar People

Nikos Portokaloglou, Eleni Tsaligopoulou, Tania Tsanaklidou, Dimitra Galani, Kostas Leivadas
Andriana Babali - The Rose Tattoo
Andriana Babali (Greek: Ανδριάνα Μπάμπαλη) born in 1976 is a Greek singer and songwriter.
Contents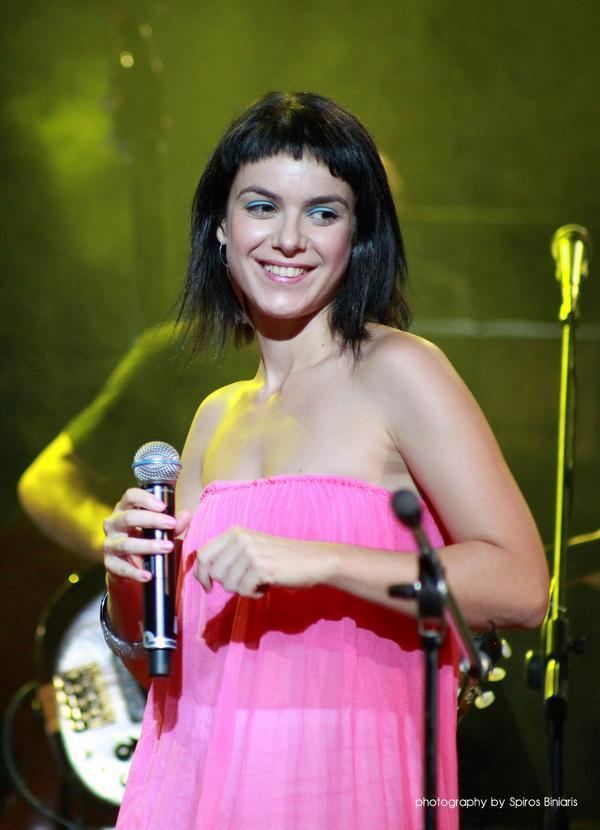 Andriana Babali "Moira mou egines"
Biography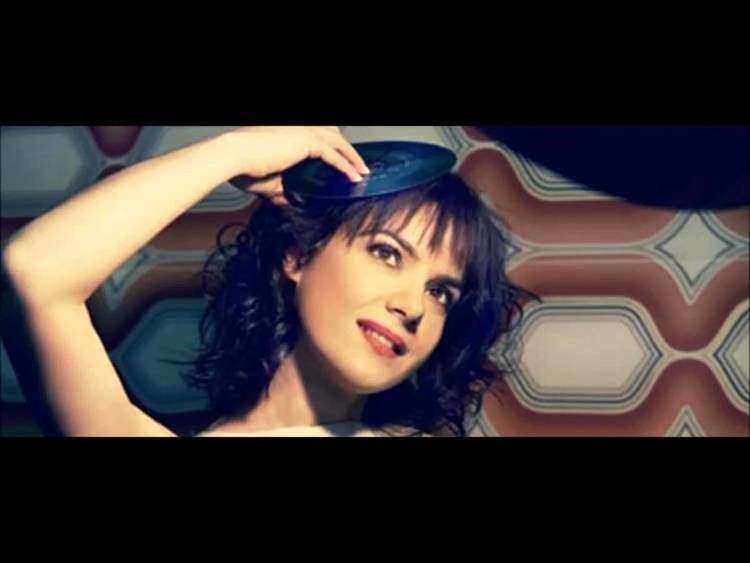 Born and raised in Athens Greece, Andriana studied economics and music. She began singing as a vocalist/percussionist with rock singer-songwriter Nikos Portokaloglou Band in 1998. This led to her first studio recording 'Den Ein' Arga' from the OST of 'Brazilero', which became a major radio hit, and also her first solo album 'Kai I Gi Gyrizei', following a contract with Universal Music. She sang 'Gine Kommatia (Nocturnal Reggae)' on Portokaloglou's album 'Dipsa' and it became a major hit in both Greece and France. France's Ethnic Radio 'RFI Musique' included Gine Kommatia to their Top 10 list for over 3 months.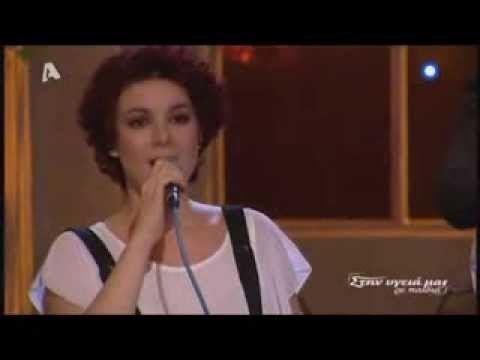 In 2004, Andriana was nominated for the 'Arion Awards' (Greece's most popular Music Awards) in the category for 'Best New Artist' and 'Best Female Pop Singer'. That same year, she appeared on Stefanos Korkolis's album 'Anemoptero' singing the title song, and on Kostas Livadas's 'Ti Hronia Ki Afti', singing 'Mia Mera Emine Akoma'.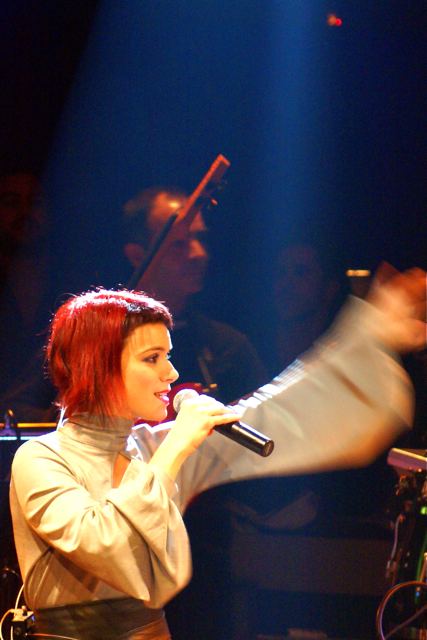 During the Winter of 2004-2005, she performed alongside George Dalaras. In May 2005 she released her second studio album 'Min Pis Pote', following a new contract with Minos EMI. This album was repackaged in February 2006 featuring a new song by Stefanos Korkolis (music) and Rebecca Roussi (lyrics) which was used in a popular TV advertisement.
In June 2007, she released her third studio album 'Des Kathara'. The title song's music video, an adaptation of Calogero's 'Face à la mer' with Greek lyrics by Nikos Moraitis, directed by Maria Skoka, won the Best Music Video Award for the Greek Video Music Awards 2008.
During the summer of 2008, she performed alongside Haris Alexiou and Babis Stokas, giving concerts throughout Greece, Cyprus, Turkey, and Israel.
In May 2009, she released her fourth album 'The Rose Tattoo', a selection of 1950s and 1960s Greek and international hits, arranged by composer Minos Matsas. This album was recorded in Los Angeles and Athens, Greece, using Skype.
In late 2010, Babali released her fifth studio album titled 'O Tzon Tzon Zi' (John-John is alive) which is entirely written and composed by lyricist Nikos Moraitis and virtuoso violist and composer Stamos Semsis.
Around that time, the successful Greek TV series The Island used 'Ise Esi O Anthropos Mou' (from her 2009 album: The Rose Tattoo) for the series theme song, which ranked #1 in iTunes (Gr) sales, whilst it's been rereleased, included in the OST. The winter of 2011, she collaborated in the studio and in live performances with Michalis Hatzigiannis giving concerts around Greece, Cyprus, North America, and Canada.
After a studio collaboration with George Dalaras on his album 'Ti Tha Pei Etsi Einai', Andriana toured with him throughout Greece and Cyprus.
At the same time, she composed music for the 'Dagipoli Dance Co' show 'HUMATERRA', and performed live in it, giving shows in the Athens Concert Hall, in Istanbul and Piccolo Teatro (Milan).
During the winter of 2015-2016 she collaborated on stage with Babis Stokas, and the summer of 2016 gave concerts performing with the great Greek Composer Mimis Plessas, while Winter 2016-2017 she co-starred in the musical theatre show "As Erhosoun Gia Ligo" along Giannis Bezos and Tania Tripi.
Actress
In 2010, Ari Bafalouka's (Director) film entitled 'Apnea', where Andriana co-starred with well known Greek actors such as Giorgos Karamihos, Youlika Skafida, Iro Moukiou and Akilas Karazisis, aired in the Montreal World Film Festival. The film received very positive reviews from critics and was selected for the Fipresci and Audience Award at the 51st Thessaloniki Film Festival, and the Audience Award 'Best Film' in SEE FEST - Los Angeles 2011. The film screened at several festivals worldwide, and premiered in Greek theatres in January 2011.
In early 2011, Andriana participated in a theatrical production for the first time, acting as well as singing, for Yorgos Nanouris's play 'Greece 11'.
Latest News
Having formed an "All Girl" quartet (Andriana Babali Quarderinas Quartet) she is currently touring.
Albums
Kai I Gi Gyrizei (2003)
Min Pis Pote (2005)
Des Kathara (2007)
The Rose Tattoo (2009)
O Tzon Tzon Zi (2010)
To Mazi Einai Dromos (2014)
EPs
Me Hriazete (EP) (2006)
Singles
Den Ein' Arga (2001)
Moira Mou Egines (2003)
Gyrna Piso (2003)
Gine Kommatia (Nychterino Renge) (2004)
Min Pis Pote (2005)
Mazi Theos (2006)
Des Kathara ((Face à la mer)) (2007)
Diakopes Sti Baniera (2010)
Periplanomeno (2010)
Koukla Spasmeni (2010)
Pente Vimata (2013)
Ta Dahtylidia (2013)
T' Akoustika [feat. Onirama] (2014)
Mesopelaga (2015)
Oute Gi' Asteio (duet with Rous) (2016)
Collaborations
Den Ein' Arga in Nikos Portokaloglou's Brazillero album (2001)
Thalassa Mou Skoteini, second voice in Nikos Portokaloglou's Brazillero album (2001)
Gine Kommatia (Nychterino Renge) in Nikos Portokaloglou's Dipsa album (2003)
Anemoptero in Stefanos Korkolis's Anemoptero album (2004)
Kyma in Palyrria's Palyrria album (2004)
Mia Mera Emine Akoma in Kostas Livadas's Ti Hronia Ki Afti album (2004)
Vale Mou Dyskola in Nikos Portokaloglou's Pame Alli Mia Fora (Live '01-'05) album (2005)
Mono Esy in Nikos Portokaloglou's Pame Alli Mia Fora (Live '01-'05) album (2005)
Ta Karavia Mou Kaio in Nikos Portokaloglou's Pame Alli Mia Fora (Live '01-'05) album (2005)
Gine Kommatia in Nikos Portokaloglou's Pame Alli Mia Fora (Live '01-'05) album (2005)
Panta Dikos Sou in Zak Stefanou's Omorfos Kosmos album (2005)
Den Fovame in RG's To Proto Htipima album (2006)
Ekina Pou Den Eho in Estudiadina Neas Ionias's Dakri Sto Giali album (2006)
Mou Les in Euro-Revisions, a National TV tribute to the early Eurovision Years (2006)
Mathima Solfege in Euro-Revisions, a National TV tribute to the early Eurovision Years (2006)
Den Xero Poso S' Agapo, O Lefteris, Ena Asteri Pefti-Pefti, Ta Therina Sinema, Aliti, Aspra, Kokkina, Kitrina, Ble in "Den Xero Poso S' Agapo" album, a live tribute to Vicky Moscholiou (2006)
Des Kathara (Face à la mer) Mad VMA Edition in Stereo Mike's XLI3H album (2007)
Serenata in Renos Charalambidis - Ilias Katelanos "Lounge Istories" album (2008)
Avokanto in Melpo Halkoutsaki-Alkisti Halikias album 'Tragoudakia Galaktos (2008)
T Asteri in Stella's Gadedi album Pantos itan nyhta La poupe (2008)
Me Ena Zepelin in Yorgos Kazantzis's album Issalos Grammi (2008)
Avgoustos in Onirama's album Horis Etia (2009)
Liberdade / Eleftheria in Citânia's (Portugal) Segredos do mar (2011)
Sunny Mae (feat. Adriana Babali) in Mattisse's Sunny Mae (feat. Adriana Babali) digital single (2011)
Vrochi Ton Asterion in Michalis Hatzigiannis's album Tharros I Alitheia (2011)
Stagones in Lazaros Samaras's EP Stagones (2012)
Kopse in George Dalaras's album Ti Tha Pei Etsi Einai (2012)
Na niotho kai as min katalavaino in Ola ta nai tou kosmou (Various Artists) (2012)
Agapi Ti Lene in Dimitris Korgialas's digital Single (2014)
Se Ena Synnefo in D.Karras "Anna Punk's Diary" album (2016)
Mia Agapi Mikri in "Ston Aera Tou Melodia" (Various Artists) album (2016)
To Vradi in "To Poiima Pou Egine Tragoudi" (Various Artists) live album (2016)
Paradeisos in Tareq's digital Single (2017)
M' Agapas? in Apollon Bollas's digital Single (Composed by Lena Platonos - Myrto Kontova 2017)
References
Andriana Babali Wikipedia
(Text) CC BY-SA