Andrey Belyaninov





Government official






Academy of National Economy
Andrey Yuryevich Belyaninov (in Russian: Андрей Юрьевич Бельянинов, born July 14, 1957 in Moscow, Soviet Union) is a Russian businessman and government official. He is a Head of the Federal Customs Service since 2006. Belyaninov graduated from Moscow Plekhanov Academy of National Economy and holds a Doctorate in Economics. .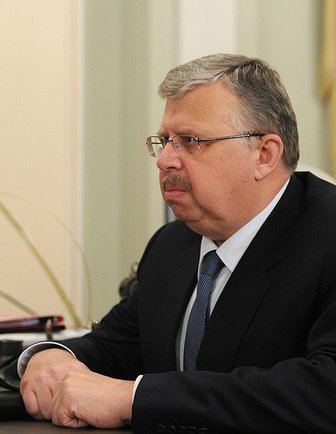 As a child, he starred in Eugene Karelov "Children of Don Quixote" Belyaninov graduated from the Moscow Plekhanov Academy of National Economy in 1978. After graduation he worked in the First Main Directorate of the KGB in East Germany. He was also a financial expert at the REA bank and chairman of Novikombank.
1978–1991 he worked for the KGB.
1992–1999 he worked as a banker in several Russian banks.
1999-2000 he was the Deputy Economy General Director of Federal State Unitary Enterprise Promexport.
2000–2004 he was the Director General of Rosoboronexport.
2004-2006 he was the Director of the Federal Defense Order Service.
Order of Friendship (Орден Дружбы)
Certificate of Merit from the Government of the Russian Federation (2 November 2009) - for achievements in implementing the state customs policy and years of hard work
Andrey Belyaninov Wikipedia