Andrew Mrotek (aka Andy "The Butcher" Mrotek) (born July 4, 1983) is the former drummer and backup vocalist for the rock band The Academy Is....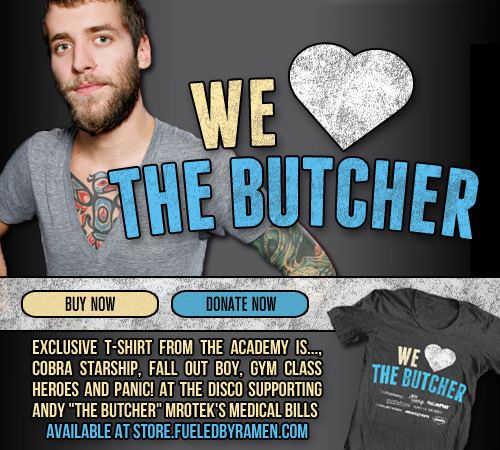 Born and raised on Milwaukee's south side, Andy attended Elm Elementary School and then Roosevelt Middle School. Mrotek graduated from Milwaukee High School of the Arts in 2001 while drumming for a band called Last Place Champs. The High School of the Arts split students in classes for their artistic talent, Andy's was visual art. A self-portrait of Andy still hangs outside his art classroom doors. During high school, "The Butcher", worked at a McDonald's in his neighborhood. "The Butcher" nickname comes from his next job as a butcher at his neighborhood supermarket Pick N' Save, which he worked after graduation. Ironically, he did become a vegetarian after this. Though, after he contracted mono he was forced to end his vegetarianism. He has a twin brother.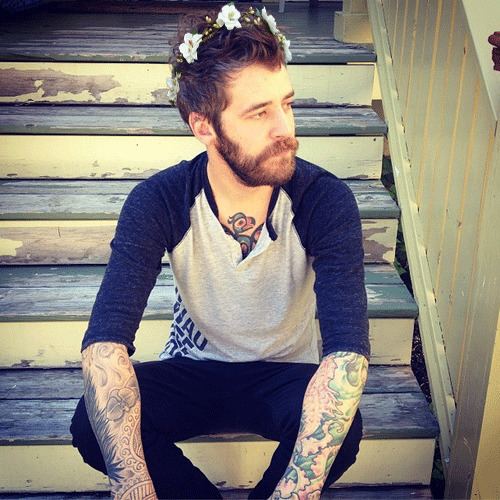 In 2004 Andy Mrotek replaced former The Academy Is... drummer DelPrincipe. After the band's debut album was released they toured with Fall Out Boy. Being a graphic artist, Mrotek designed, sketched and painted all of the posters for the Sleeping With Giants tour. He also designed his own drum kit for the tour.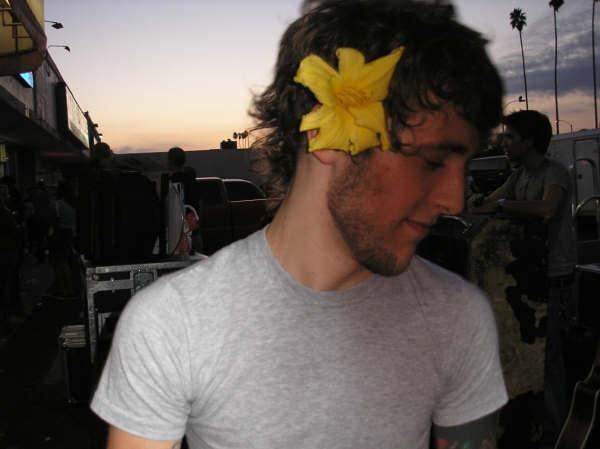 Andy has a full sleeve tattoo featuring images such as an elephant, a tree, and a picture of nils on his left arm; he sports a Native American art influenced chest piece of a bird, and his back down to the upper thigh is entirely covered by a tattoo of a koi fish. Both the top of his left and right feet feature tattoos of an owl. He is currently living in New York.
Mrotek has a walk-on role in Cobra Starship's music video for "Good Girls Go Bad". He also stars in former bandmate William Beckett's music video for "Dear Life".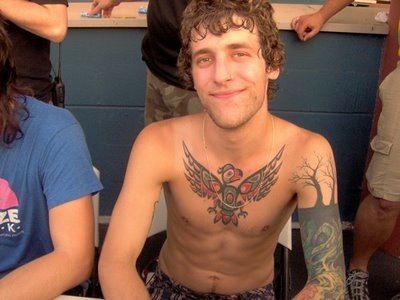 Andy has also started a solo project (The Animal Upstairs) He started this in the summer of 2009 when he went to Jersey tracking some drumming he had been working on. His songs are memories and dreams he has. He has recently completed and released the final version of his debut album Is Anybody Upstairs? on his bandcamp.
He currently drums with Milwaukee four-piece Whips. They released their first album, 'Year One,' in July, 2013. The group also features members of prominent Milwaukee bands Call Me Lightning, Red Knife Lottery, Fever Marlene, and Hot Coffin.
Andrew plays SJC Drums, Sabian cymbals, Pro-Mark Drum Sticks, and DW hardware.