U.S. Attorney General Jeff Sessions stated that McCabe was one of several candidates under consideration for Director. President Trump ultimately chose Christopher A. Wray, the former Assistant Attorney General for the Justice Department's Criminal Division, to succeed Comey. Once Wray was sworn in, McCabe returned to the position of Deputy Director.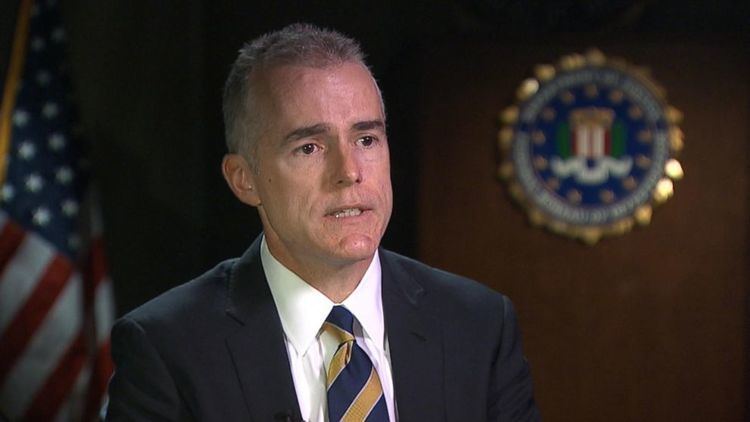 McCabe graduated from The Bolles School in Jacksonville, Florida, in 1986. McCabe graduated from Duke University in 1990 and obtained a J.D. degree from Washington University in St. Louis in 1993. During law school he interned in the criminal division of the United States Department of Justice. Because of a hiring freeze, McCabe spent three years in a private law practice before joining the FBI in 1996.
McCabe began his FBI career in the New York Field Office. While there, he was on the SWAT team. In 2003, he began work as a supervisory special agent at the Eurasian Organized Crime Task Force. Later, McCabe held management positions in the FBI Counterterrorism Division, the FBI National Security Branch and the FBI's Washington Field Office. In 2009, he served as the first director of the High-Value Detainee Interrogation Group, a program to research interrogation techniques that was created after the Department of Defense Directive 2310 ban of waterboarding and other interrogation techniques. McCabe was part of the investigation of the 2013 Boston Marathon bombing. McCabe secured the arrest of Ahmed Abu Khattala for suspected involvement in the 2012 Benghazi attack.
FBI Director James Comey appointed McCabe as Deputy Director of the FBI on January 29, 2016, and he assumed those duties on February 1, 2016.
The Inspector General of the Department of Justice and the U.S. Senate Judiciary Committee are investigating McCabe for concerns that he should have recused himself from the investigation of Hillary Clinton's use of a private email server because of a potential conflict of interest caused by donations to his wife's Virginia State Senate campaign.
On May 9, 2017, McCabe became acting Director of the FBI after President Trump dismissed James Comey as Director of the FBI. In the absence of a Senate-confirmed Director, the Deputy Director automatically becomes acting Director. Statute allows the president to choose an interim FBI director (acting Director) outside of the standard order of succession. That process began on May 10, 2017, as Attorney General Jeff Sessions and Deputy Attorney General Rod Rosenstein interviewed four candidates to serve as interim FBI director. Sessions said that McCabe was "also under consideration."
In March 2015, Andrew McCabe's wife Jill McCabe announced her campaign for a Virginia State Senate seat. Her campaign received donations amounting to more than $675,000 from former Democratic National Committee chairman Terry McAuliffe's political organization and from the Democratic Party of Virginia. In July 2015, the FBI initiated its investigation into Hillary Clinton's use of a private email server. At that time, Andrew McCabe was running the FBI's Washington, D.C., field office, which provided personnel and resources to the Clinton email probe. Because of this, Republicans have criticized McCabe for not recusing himself from investigations regarding the Hillary Clinton email controversy.
In 2016, the FBI released a statement about her candidacy, saying that Andrew McCabe "played no role, attended no events, and did not participate in fundraising or support of any kind. Months after the completion of her campaign, then-Associate Deputy Director McCabe was promoted to Deputy, where, in that position, he assumed for the first time, an oversight role in the investigation into Secretary Clinton's emails." Trump referred to this controversy during his campaign at rallies held in Florida, where he said, "The man who was in charge of the investigation of Hillary Clinton accepted essentially from Hillary Clinton $675,000 that went to his wife." Some have attempted to refute any conflict of interest about McCabe on the basis that Jill McCabe's campaign finished several months before he became Deputy Director of the FBI and was brought in to oversee the Clinton email investigation.
Michael E. Horowitz, Inspector General of the United States Department of Justice, announced on January 12, 2017 that he would be reviewing the allegations that Andrew McCabe should have recused himself, among other concerns about the handling of the Clinton email controversy.
In February 2017, McCabe was criticized alongside FBI Director James Comey in 2017 for speaking with White House Chief of Staff Reince Priebus about an ongoing investigation of Russian interference in the 2016 United States elections.
McCabe is married to Dr. Jill McCabe, a pediatrician. They have two children. Andrew McCabe is a triathlete who bikes 35 miles to his office from his home in Virginia.