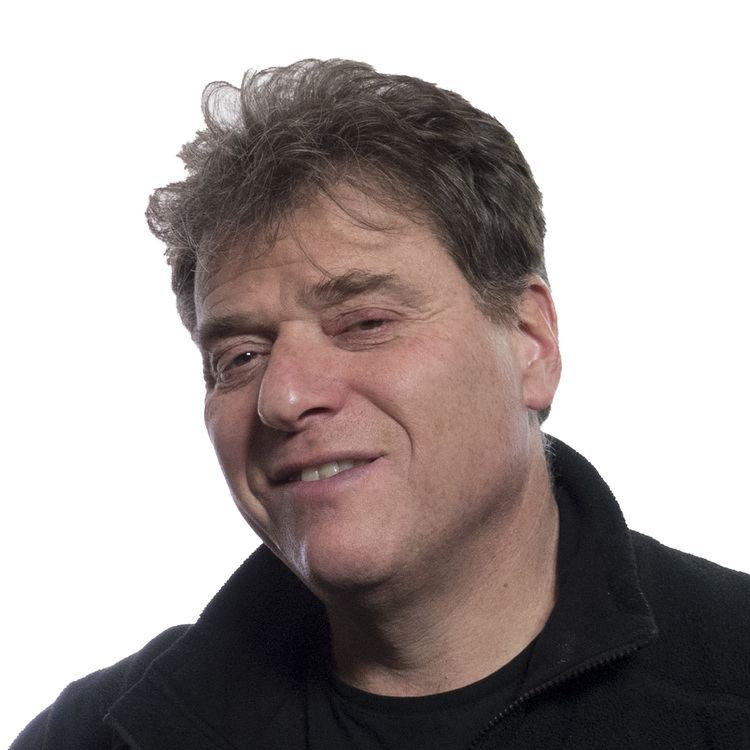 Keen was born in Hampstead, North London, to a Jewish family. He attended the University of London, studying History under Hugh Seton-Watson, a British historian and political scientist. Keen earned a bachelor's degree in history and then studied at the University of Sarajevo in Yugoslavia. Having been influenced by Josef Škvorecký, Danilo Kiš, Jaroslav Hašek and especially the writings of Franz Kafka; Keen relocated to America, where he earned a master's degree in political science from the University of California, Berkeley, studying under Ken Jowitt. After Berkeley, Keen taught modern history and politics at Tufts University, Northeastern University and the University of Massachusetts Amherst. He currently lives in Berkeley, California with his family.
Keen returned to Silicon Valley in 1995 and founded Audiocafe.com, which received funding from Intel and SAP. The firm folded in April 2000 and after the demise of Audiocafe.com, Keen worked at various technology companies including Pulse 3D, SLO Media, Santa Cruz Networks, Jazziz Digital and Pure Depth, where he was director of global strategic sales. Keen stated in October, 2007, that he is working on his new book, tentatively titled, Star Wars 2.0.
In 2005, Keen wrote that Web 2.0 is a "grand utopian movement" similar to "communist society" as described by Karl Marx. He states:
It worships the creative amateur: the self-taught filmmaker, the dorm-room musician, the unpublished writer. It suggests that everyone--even the most poorly educated and inarticulate amongst us--can and should use digital media to express and realize themselves. Web 2.0 "empowers" our creativity, it "democratizes" media, it "levels the playing field" between experts and amateurs. The enemy of Web 2.0 is "elitist" traditional media.
On 5 June 2007, Keen released his first book The Cult of the Amateur, published by Doubleday Currency, and gave a talk at Google the same day. The book is critical of free, user-generated content websites such as Wikipedia, YouTube, Digg, Reddit and many others. He prominently featured in the 2008 Dutch documentary The Truth According to Wikipedia and was also featured in the 2010 American documentary Truth in Numbers?.
Keen stresses the importance of media literacy and claims that user generated blogs, wikis and other "democratized" media, cannot match the resources of mainstream media outlets. Pointing to examples like being able to gather teams together, travel to dangerous locations (sometimes spending years in the region) and having skilled and experienced editors oversee the process, Keen forecasts that if the current Web 2.0 mentality—where content is either given away or stolen—continues, in 25 years there will not exist a professional music business, newspaper industry or publishing business and challenges his audience to question whether we value these or not.
Keen discusses often-overlooked problems with participatory technology. He describes the Internet in amoral terms, saying it is a mirror of our culture. "We see irreverence, and vitality, and excitement. We see a youthfulness. But we also see, I think, many of the worst developments in modern cultural life, and, in particular, I think we see what I call digital narcissism, this embrace of the self. It's Time magazine's person of the year for last year was you." Keen is also heavily critical of anonymity on the Internet, believing that it makes us behave worse, not better. He says: "The Web's cherished anonymity can be a weapon as well as a shield." Showing that misbehavior using anonymity has been so widely adopted, new definitions such as "trolls" and "sock puppets" have emerged.
In the book Digital Vertigo, Keen argues that the "hypervisibility" promoted by social networks like Facebook and Twitter traps us into sacrificing vitally important parts of the human experience, like privacy and solitude. He compares the experience of participating in modern social networks with Jeremy Bentham's Panopticon, concluding that: "The future should be anything but social."
He is not without his critics. Tim O'Reilly has said: "he was just pure and simple looking for an angle, to create some controversy to sell a book, I don't think there's any substance whatever to his rants."