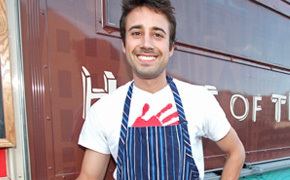 Gruel was born and raised in Bridgewater, New Jersey. He has said that his affinity towards cooking started at an early age, when he would fake sick to stay home from school and watch cooking shows on public-access television. While attending Bates College in Lewiston, Maine, he worked in lobster restaurants in the area. He received his culinary degree from Johnson & Wales University's College of Culinary Arts.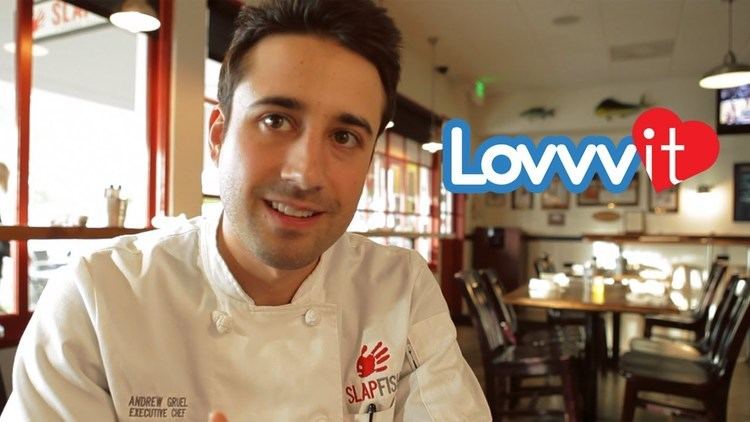 Gruel began his career working in fine dining restaurants, hotels and diners in New Jersey, as a cook at the Ritz Carlton in Boston and at Jack's of New London in New London, New Hampshire. He left the East Coast in 2009 to work as director of Seafood for the Future, a nonprofit program at the Aquarium of the Pacific in Long Beach, California, which educates chefs, restaurants and consumers about sustainable, healthy seafood.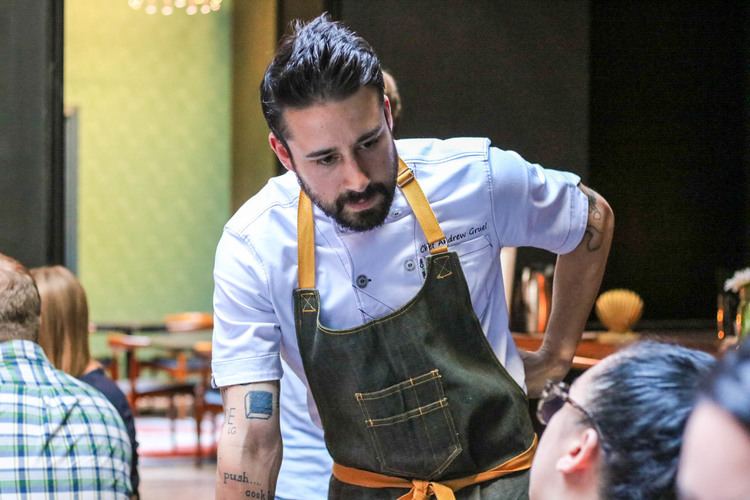 Through his interactions with fisherman and chefs at the aquarium program, Gruel realized the need for high-quality, chef-driven sustainable seafood in Southern California. In May 2011, he founded Slapfish as a few food trucks in the Los Angeles and Orange County area, serving boat-to-plate modern seafood shack food. In April 2012, Gruel converted the food truck concept into a brick-and-mortar Slapfish restaurant in Huntington Beach, serving fast-casual sustainable seafood. A Laguna Beach location was opened in 2014. In total, there are seven Slapfish locations in Southern California, two company-owned and five franchised, including one in Newport Beach and another at Los Angeles International Airport.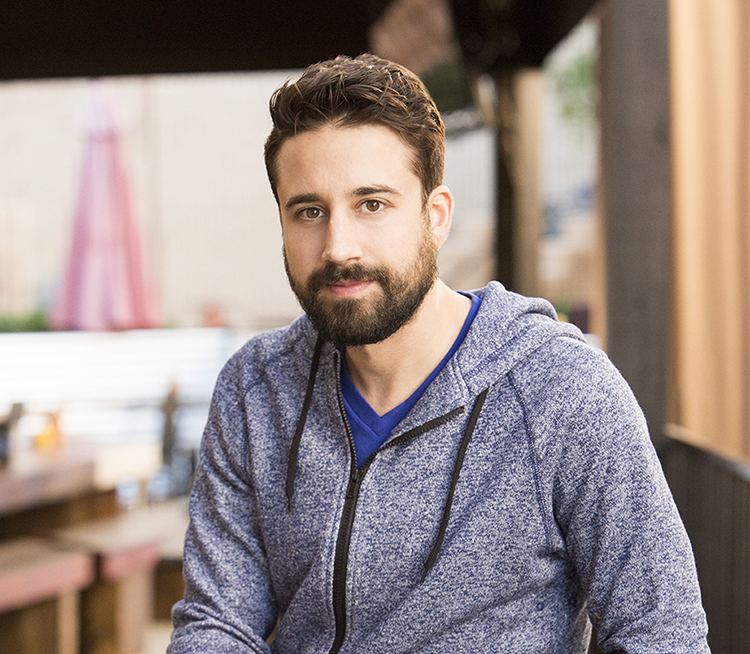 In 2013, Slapfish signed a deal to build 75 franchises in the Middle East over the next 10 years. In July 2014, Slapfish set up its first Middle East outlet at the Ibn Battuta Mall in Dubai, United Arab Emirates. Gruel has hosted sustainable seafood pop-ups in New York and Chicago, and plans on opening Slapfish locations in New York by the end of 2016.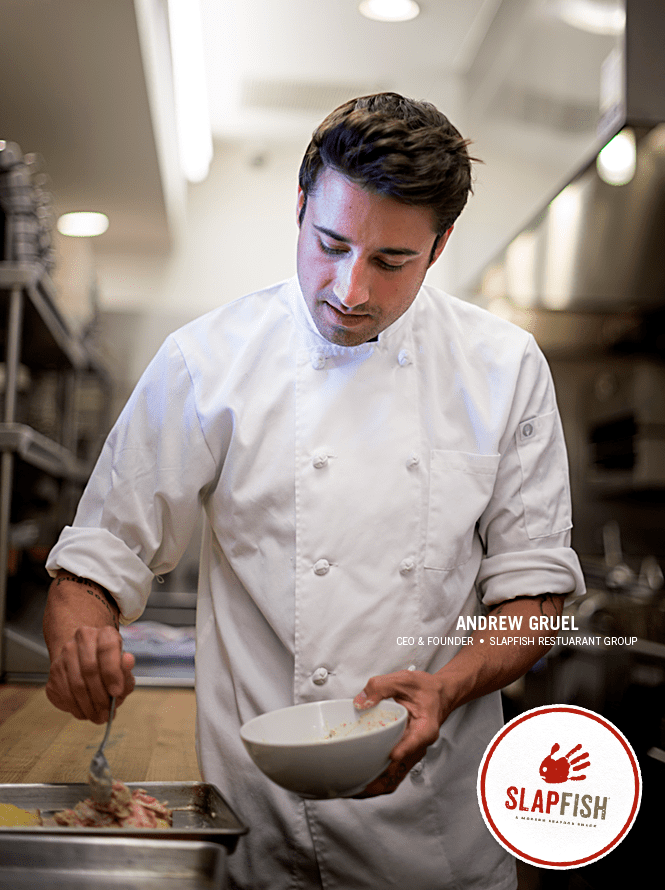 Slapfish has been awarded three out of four stars by the Green Restaurant Association, one of only a few restaurants in Orange County to have earned the distinction. Slapfish was named to CBS Los Angeles' 2016 list of the 15 best restaurants in Orange County.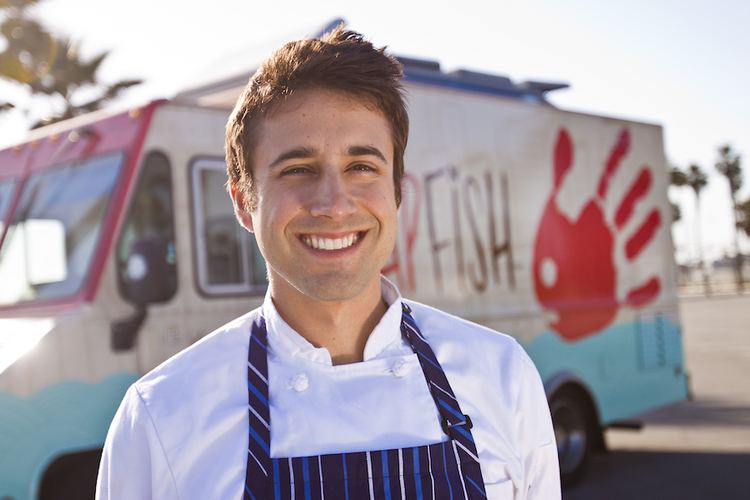 Gruel's first television appearance was on the BBC show The Endless Feast in 2007. He served as a judge on the Food Channel's Food Truck Face Off in 2014, and has also appeared on Eat St. on the Cooking Channel, Today on NBC, and On the Rocks on the Food Network. In 2015, Gruel starred as a host on season 1 of the reality television show Say It To My Face! The show's premise revolves around the significance of online reviews in the restaurant industry, and how to manage negative feedback. It premiered May 9, 2015 on the FYI network.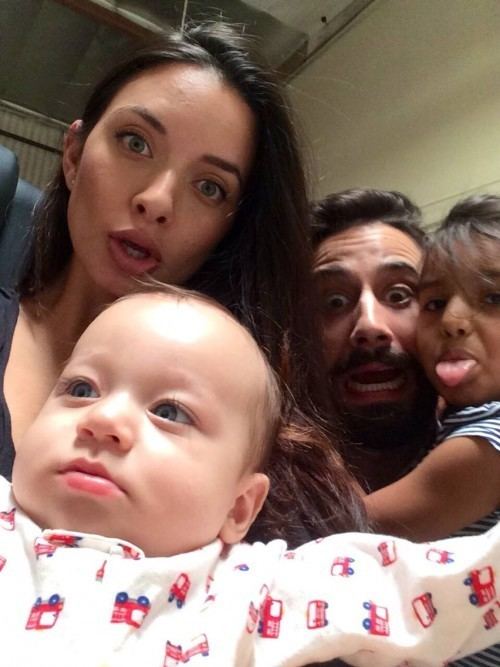 Gruel hosted a culinary radio show called Cooking with Gruel in 2015. He has been a guest host on the weekly The SoCal Restaurant Show on KLAA, which launched in 2012.
OC Register Metro 40 under 40, 2014
Nation's Restaurant News MenuMasters 2016 Trendsetter Award: Slapfish
Fast Casual Top 25 Executives, 2016
Fast Casual Top 75 Brands, #3: Slapfish, 2016
Gruel is married with two children.