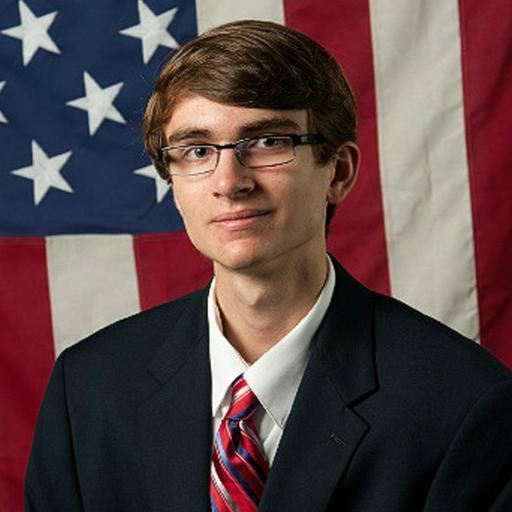 Andrew Demeter was born in Cleveland, Ohio, where he currently lives with his family. He attends high school and is now in his Junior year.
When he was in sixth grade, Demeter started experimenting with his father's video camera by interviewing relatives during family gatherings. He later created technology and video game reviews and then, at 14, turned to political activism. Demeter has continued to hone his skills by posting videos about politics and current events on the "TeenTake" YouTube channel.
In the future, Demeter plans to further develop his reporting and videomaking endeavors by traveling the world to "cover hot-button political issues with on-scene commentary."
In tenth grade, Demeter was informed by his computer teacher — Vicki Eby — of StudentCam, an annual video competition that invites middle- and high-school students to produce short documentaries on an issue of national importance. While at first Demeter juggled with ideas related to the 2012 National Defense Authorization Act or the implications of surveillance with military drones used in warfare, he eventually chose to document issues concerning genetically modified organisms, a topic that "transcends all sociopolitical boundaries."
Assisted by one of his classmates, Andrew Wright, Demeter produced We The People, Genetically Modified?, a 7-minute documentary that explores several facets of the GMO controversy, such as testing, labeling, and impacts on both the environment and human health.
Demeter's documentary features C-SPAN programming (per contest requirements) and interviews with farmers, consumers, biologists, public health officials, and even investigative reporter Ben Swann. In April 2014, the video was chosen as one of five "First Prize" winners in the StudentCam competition. "That documentary was so clever," said C-SPAN's founder Brian Lamb.
Demeter was awarded a $3,000 cash prize for We The People, Genetically Modified?, which he joked he would invest in the biotech giant Monsanto.
Later that month, Demeter visited Washington D.C. to participate in a roundtable discussion about his winning entry with Greta Brawner and the other top four winners. He also met with U.S. Senator Rob Portman.
Demeter, on the same trip, toured the U.S. Capitol and landed a meeting with Minority Leader of the U.S. House of Representatives Nancy Pelosi.
During the appointment with Pelosi, Demeter questioned her support of the NSA's "illegal and ubiquitous data collection." Pelosi replied, "I don't think we should not fund the National Security Agency. They do many, many things." Demeter recorded the confrontation with his mobile phone, and uploaded it to YouTube. The video quickly went viral, with approximately 750,000 views since it was posted on June 2, 2014. Furthermore, the video attracted immediate media attention from outlets such as Fox News, Drudge Report, Russia Today, TheBlaze, and Washington Times.
On August 4, 2014, Demeter launched on the crowdfunding site Indiegogo a project dubbed "POLITICAST," which "aim[ed] to become the first news and political broadcasting network run entirely by teenagers." Demeter targeted the youth demographic because, in his view, teens are politically apathetic. Despite being the literal future of the world, the youth lack an interest in politics — he postulated — not only because they are disenfranchised, but also due to the intimidating and intentionally confusing "bureaucratic lexicon" of both policymakers and media pundits. Adopting the phrase "simplification [of information] without dilution [of content]," Demeter sought to combat the political apathy of his generation by harnessing the historically unprecedented reach and influence of the Internet, in hopes of rendering critical information more easily digestible, while also immersing the world's youth in both politics and journalism.
POLITICAST was ultimately unsuccessful at meeting its funding goal of $50,000, raising only slightly over 4%. When asked prior to the project's deadline about its viability, Demeter responded, "At the end of the day, this is all reliant on the free market. If [POLITICAST] doesn't get funded, the market doesn't want it. If it does get funded, that means the youth [have] valuable opinions and people want to hear them." Likewise, Demeter's brainchild was both glorified as an "ambitious dream" and also vilified as worthless.
A self-described libertarian, Demeter attributes the Internet and other technology as key elements in achieving more freedom and autonomy from government.
"The advent of Internet, social media in particular, has provided for humanity the ability to decentralize the traditional government narrative. No longer can government control media with such ease[;] Americans are becoming the new, alternative media. The potential power of information is literally in the hands and at the fingertips of millions of Americans."
Demeter credits Ron Paul, Glenn Beck, Adam Kokesh, and Jesse Ventura as his main ideological influences.