February 4




Andrew Corsini





1440




Florence






Roman Catholic Church (Carmelite Order and Archdiocese of Florence)




April 22, 1629, Rome, Papal States, by Pope Urban VIII




holding a cross, with a wolf and lamb at his feet, and floating above a battlefield on a cloud or a white palfrey; a Carmelite friar wearing a mitre and cope




Invoked against riots and civil disorder




January 6, 1374, Fiesole, Italy




Pope Clement XII, Pope Leo X, Pope Leo XI
Andrew Corsini, O.Carm. (1302 – January 6, 1374), was an Italian Carmelite friar and bishop of Fiesole, who is honored as a saint within the Catholic Church.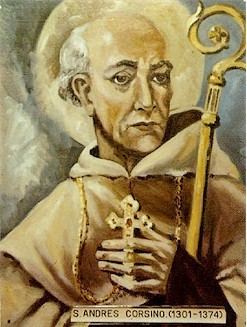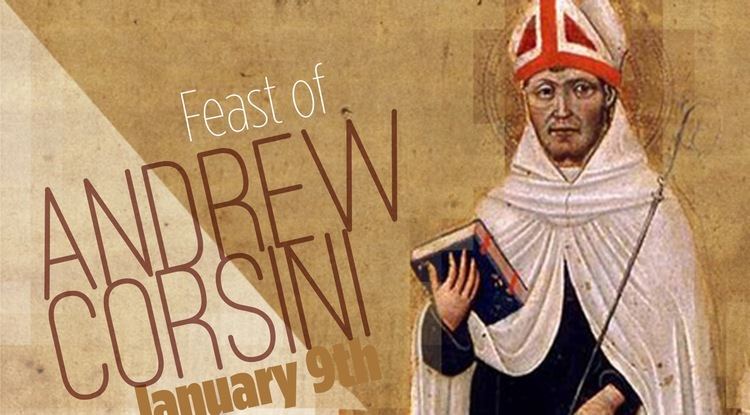 Corsini was born in Florence on November 30, 1302, a member of the illustrious Corsini family. Wild and dissolute in youth, he became a Carmelite friar in his native city, began a life of great mortification. He studied at Paris and Avignon.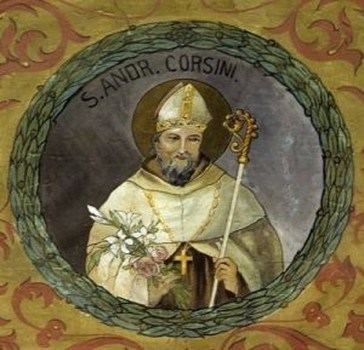 On his return, Corsini became the "Apostle of Florence". He was regarded as a prophet and a wonderworker. In 1348 as the Black Plague was prevalent in area, he was appointed Provincial of Tuscany by the General Chapter meeting in Metz. The following year he was named Bishop of Fiesole. The inscription on his tomb says that "he was snatched from Carmel to the church and the miter of Fiesole". This likely gave rise to the story that he fled but was discovered by a child at the Charterhouse at Enna, and later accepted the nomination as bishop, as the result of a vision.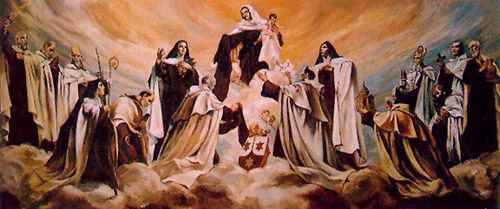 Corsini redoubled his austerities as a bishop, was lavish in his care of the poor, and was sought for everywhere as a peacemaker, notably at Bologna, whither he was sent as papal legate to heal the breach between the nobility and the people.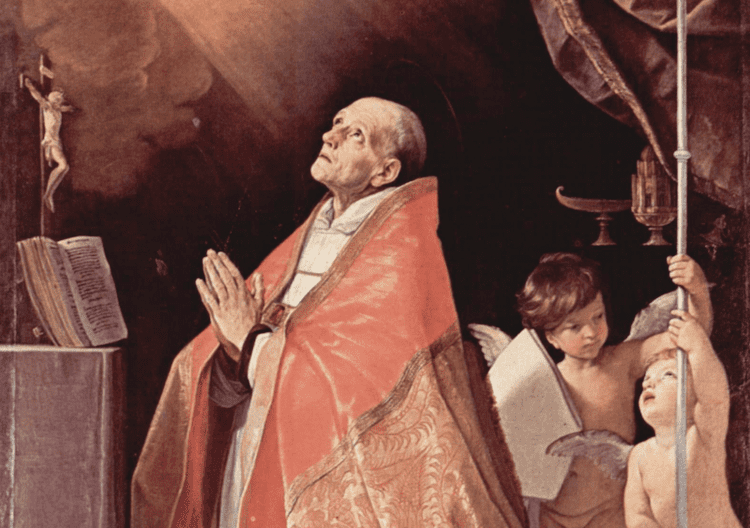 Reportedly, in 1373, while Corsini was celebrating the Midnight Mass of Christmas Eve, the Blessed Virgin appeared to him and told him he would leave this world on the feast of the Epiphany. It came to pass as the vision had told him, and he died on that day. After twelve years in the episcopacy, Corsini died in his native Florence on 6 January 1374, at the age of 71.
Miracles were so multiplied at his death that Pope Eugene IV permitted a public devotion to him immediately. It was only in 1629 that Pope Urban VIII formally confirmed this. In 1675, after his canonization, the members of the Corsini family had the Corsini Chapel built in the Carmelite Church of Our Lady of Mount Carmel in Florence to provide his remains a more suitable resting place.
In the early 18th century, Pope Clement XII, born Lorenzo Corsini, erected in the Roman Basilica of St. John Lateran a magnificent chapel dedicated to his 14th-century kinsman.
His feast is kept on February 4 in the Carmelite Order and in the cities of Florence and Fiesole.
Andrew Corsini Wikipedia