Father Andreas Hönisch SJM (3 October 1930 – 25 January 2008) was the founder and Superior General of Servi Jesu et Mariae, and co-founder of the Katholische Pfadfinderschaft Europas.
Biography
Hönisch was born in Habelschwerdt, Silesia, now in Poland. He attended a Jesuit grammar school and entered the Society of Jesus in 1952. From 1958 to 1960, as a scholastic, he was in Japan under the then-provincial Pedro Arrupe, SJ. He returned to Germany for health reasons, and in 1963 he was ordained a priest by the bishop of Berlin, Archbishop Alfred Bengsch. He finished his tertianship in Paray-le-Monial, and was first appointed chaplain at a Berlin grammar school, then parochial vicar of a parish in Gießen, Hesse.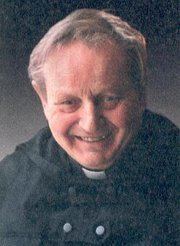 While at this post, in 1976, Hönisch co-founded the Catholic Scouts of Europe (KPE). He was incardinated as diocesan priest into the diocese of Augsburg, Bavaria. With the consent of the bishop of Augsburg, Monsignor Josef Stimpfle, he founded the new order of the Servi Jesu et Mariae (SJM, Servants of Jesus and Mary) in 1988. The first members of the order came from the Catholic Scouts of Europe founded by Hönisch. The SJM were recognized as a Congregation of Papal Right in 1994. The congregation runs a boarding school in northern Germany and is engaged in the Pastoral care of the Katholische Pfadfinderschaft Europas.
Hönisch died on 25 January 2008 in Blindenmarkt, Lower Austria.
References
Andreas Hönisch Wikipedia
(Text) CC BY-SA