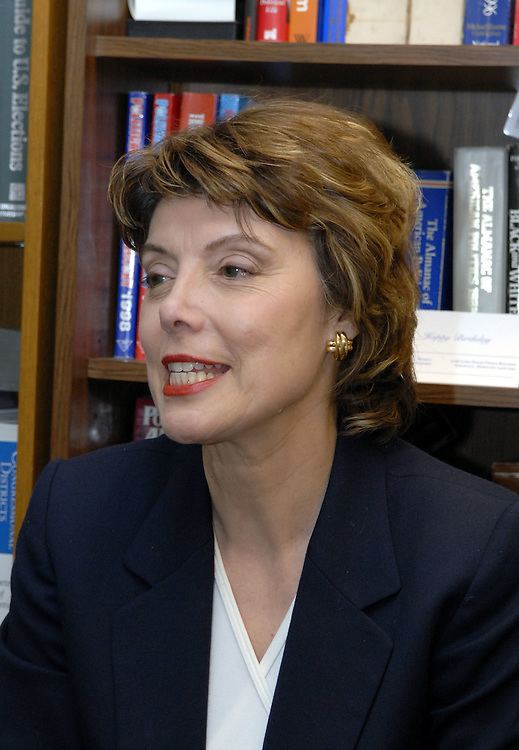 Zinga was born and raised in Macomb, Illinois and is a graduate of Macomb High School. She has a bachelor's degree in education from Western Illinois University and a master's degree in communications from University of Illinois at Urbana–Champaign.
Zinga has been a radio and television reporter and anchorwoman for all three television stations in the Quad Cities-- WQAD-TV, KWQC-TV (while it was still WOC-TV) and WHBF-TV. She also worked for three years at CNN, CNN Headline News and The Airport Channel (a CNN network provided exclusively to airports). While at CNN, Zinga was the first anchor to report the breaking story of the Centennial Olympic Park bombing on July 27, 1996. For this she earned a national Emmy. On her way up in the TV News business, Andrea worked at WAFB-TV Channel 9, the CBS affiliate in Baton Rouge, Louisiana, as well as KBMT in Beaumont, Texas.
Zinga ran for Congress in the 17th District in 2004 against 11-term incumbent Democrat Lane Evans. Playing on the similarity between her maiden name and Evans' first name, her campaign slogan was "It's time to change Lanes."
Zinga stirred controversy by using Evans' health as a campaign issue, stating that he suffered seriously enough from Parkinson's Disease to put his efficacy as a congressman in question. These statements did not sit well with the local media and many voters in the district, who felt this amounted to "kicking a man when he is down." She ended up taking 39% of the vote (111,615 votes), due largely to the district's Democratic lean, Evans's strong name recognition and Zinga's largely underfunded candidacy.
Zinga won a highly contested primary on March 21, 2006, defeating Jim Mowen and Brian Gilliland. She garnered 42 percent of the vote, winning by 325 votes. Zinga was going to be facing Evans again in 2006. However, Evans announced his retirement and withdrawal from the race after the March primary, because of the increasingly debilitating effects of Parkinson's Disease. After a vote by Democratic precinct committeemen from the 17th congressional district, Evans' district director, Phil Hare, was picked to be the Democratic candidate to face Zinga in November. Hare defeated Zinga by 14 points.
Zinga opposes gun control and strongly supports the American effort in Iraq in the context of the larger war on terrorism. She is pro-life but supports exceptions to protect the life of the mother and in the cases of rape and incest if reported within 72 hours. Zinga believes the warrantless wiretapping dispute should be settled in the courts.
Zinga has expressed support for racial profiling and felt that Middle Eastern men should get secondary security screenings as they board airplanes. Zinga said of terrorists, "They're like cockroaches. They're everywhere, and we can stamp and stamp in a million places and we're still going to be dealing with them."
Zinga had been endorsed by the Peoria Journal Star for the 17th Congressional District and the Quincy Herald-Whig.
2004 17th District congressional race
Lane Evans (D) 61% - 172,320 votes
Andrea Zinga (R) 39% - 111,680 votes
2006 17th District Republican congressional primary
Andrea Zinga 42.1% - 13,287 votes
Jim Mowen 41.2% - 12,962 votes
Brian Gilliland 16.7% - 5,241 votes
2006 17th District congressional race
Phil Hare (D) 57.21% - 114,638 votes
Andrea Zinga (R) 42.79% - 85,734 votes