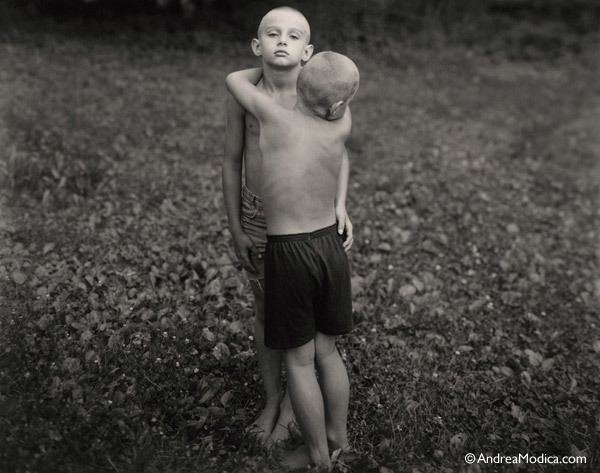 Andrea Modica earned her BFA in Visual Arts and Art History from State University of New York College (SUNY) at Purchase, Purchase, NY in 1982, and earned her MFA in Photography from Yale University in 1985. Her work has been exhibited nationally and internationally and is in many collections, such as The Museum of Modern Art, the Metropolitan Museum of Art, the Whitney Museum of American Art, the George Eastman House in Rochester, NY, the National Museum of American Art in Washington, D.C., and the San Francisco Museum of Modern Art.
Modica has received numerous grants including a Guggenheim Arts Fellowship in 1994 and a Fulbright-Hays Research Grant in 1990. Modica has been published in Newsweek, Harper's, The New York Times Magazine, and other magazines, and she is the author of many monographs, including "Treadwell" (Chronicle Books, 1996) and "Barbara" (Nazraeli Press, 2002). Modica taught photography at the State University of New York – Oneonta for thirteen years, and has also taught at Princeton University, Parsons School of Design, the State University of New York College at Purchase. She is currently a professor of photography at Drexel University.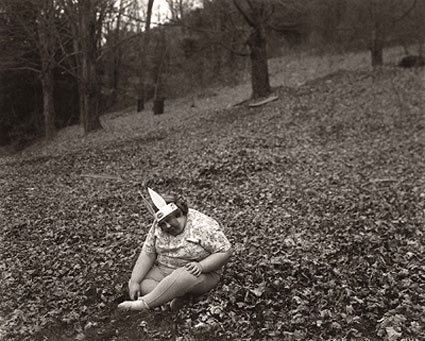 Modica's most known work is Treadwell. From 1986 to 2001, she staged and photographed a young girl named Barbara and her family in upstate New York with an 8x10 view camera, following the family from farmhouse to farmhouse in the town of Treadwell. Chronicle Books published the work in book form in 1996. She continued to photograph Barbara until her death in 2001 from childhood diabetes. The work from the later period of Barbara's life was published by Nazraeli Press in 2002.
Treadwell, Chronicle Books, San Francisco, CA. Introduction by Maria Morris Hambourg. Essay by Annie Proulx. 1996
Barbara, Nazraeli Press, Portland, OR. Forward by Andrea Modica. 2002
As We Wait is collection of previously unpublished portraits, still lifes, landscapes, and horses curated by Larry Fink.
As We Wait, L'Artiere, Bentivoglio, Italy. Introduction by Larry Fink. 2015
L'amico del cuore, Nazraeli Press, Portland, OR. 2014
Even before starting the series "Best Friends," Modica had been photographing students at a high school in Connecticut, and she noticed that a friend was often present in the background of the photoshoots. She started photographing friends together in other high schools in Philadelphia and Modena, Italy.
For nine years, Modica documented the Baker Family in Fountain, Colorado. The family runs a small slaughterhouse. She photographs the inner workings of the farm and the intimate family moments.
Fountain, Stinehour Editions, Lunenburg, VT. Afterword by Andrea Modica. 2008
This project combines first-person narratives by 37 Native American people with black and white photographic portraits of each person by Modica. Real Indians, Melcher Media, New York, NY. Introduction by Sherman Alexie. 2003
Human Being, Nazraeli Press, Portland, OR. Forward by Andrea Modica. Anthropological Descriptions by J. Michael Hoffman. 2001
Modica visited the New York Yankees' spring-training camp in Florida for a project on young ballplayers in 1993. She photographed the young athletes' anxieties, focusing on the minor league players who were hoping to go up.
Minor League, Smithsonian Institution Press, Washington DC. 1993
"Minor League" Photographers at Work Series. Smithsonian. (1993) (ISBN 156098290X)
"Treadwell". Chronicle Books. (1996) (ISBN 0811811182)
"Human Being". Nazraeli Press. (2001) (ISBN 1590050061)
"Andrea Modica: At The Edge Of Fiction". Light Work. (2001) (ISBN 093544520X)
"Barbara". Nazraeli Press. (2002) (ISBN 1590050878)
"Real Indians". Melcher Media. (2003) (ISBN 0971793514)
"L'Amico del Cuore". Nazraeli Press. (2014) (ISBN 978-1-59005-405-5)
"As We Wait". Grafiche dell'Artiere. (2015) (ISBN 978-8887569537)