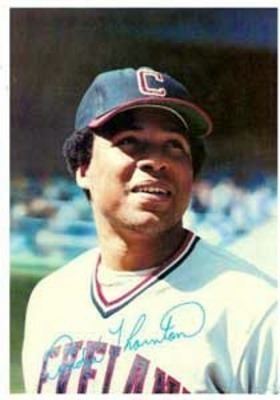 In 1967, a week before his 18th birthday, the Philadelphia Phillies signed Thornton as an amateur free agent. In 1972, the Phillies traded Thornton the Atlanta Braves, who traded him to the Chicago Cubs the following year.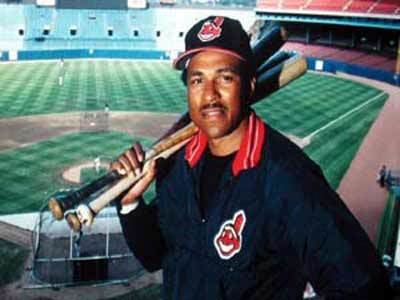 Thornton, playing first base, made his major-league debut with the Cubs on July 28, 1973 and played for the Cubs until May 1976. He was named to the 1974 All-Rookie Team as a first baseman by Baseball Digest. Thornton had one of his best seasons in 1975; although his 18 home runs were only the seventh-best season total of his career, he hit .293 with a .428 on-base percentage and a slugging percentage of .516. It was the first of six seasons in which Thornton walked more than he struck out.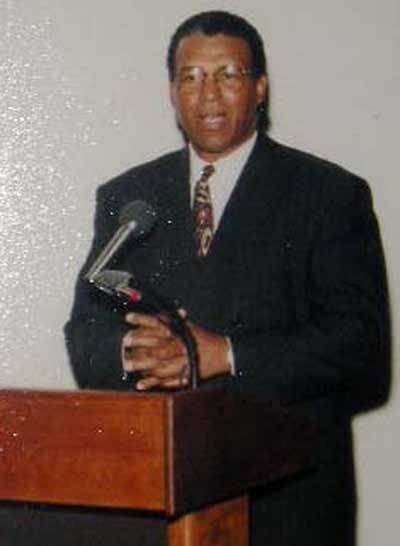 After a relatively disappointing 1976 season, in which he battled injuries, Thorton split time between the Cubs and the Montreal Expos. After a short stay in Montreal, the Expos traded Thornton to the Cleveland Indians for pitcher Jackie Brown. The trade would prove to be one of the most lopsided deals of the 1970s; Brown would only pitch one more year in the majors.
Thornton sustained high levels of production through much of his Cleveland career. After hitting 28 home runs in his debut season in Cleveland, Thornton hit a career-high 33 home runs in 1978 (a total he would match in 1984). In 1979, he was honored with the Roberto Clemente Award, given to the player who best exemplifies the game of baseball, sportsmanship, community involvement, and team contribution. In 1982, Thornton hit 32 home runs and batted in 116 runs, a career high. He also had 109 walks. From 1981 to 1984, he played primarily as a designated hitter; he won a Silver Slugger Award as a designated hitter in 1984. Thornton played exclusively as a designated hitter from 1985 to 1987.
He missed all of 1980 with a severe knee injury that required two surgeries. In 1987, he started 12 of the first 20 games, but injuries and a decision to essentially bench him kept him out of all but 24 games for the rest of the season, including only seven starts. He retired after the season.
Thornton spent most of his career as one of the few marquee players on a dreadful team; he only played on a winning team twice (not counting the strike year of 1981) in his 11 years in Cleveland. He later said that while the Indians had some very good players, management simply couldn't keep them in Cleveland for any period of time.
He is a two-time American League All-Star. He finished his career with 244 doubles, 253 home runs, a batting average of .254, an on-base percentage of .360, and a slugging percentage of .452. For three seasons, he was in the top 5 in home runs in his league, and he was in his league's top 5 in walks four times. Thornton finished his career with more bases on balls (876) than strikeouts (851).
In 1977, Thornton and his son Andy (André Jr.) were injured in an automobile accident that took the life of his wife Gertrude and three-year-old daughter Theresa Gertrude. In 1983 he wrote the book Triumph Born of Tragedy, which is an account of the accident and his Christian faith.
In 1979, Thornton married Gail Jones, a gifted singer and former member of The Jones Sisters Trio gospel group. In addition to André Jr., the couple have two other sons, Jonathan and Dean. Today, Thornton is a successful businessman. He is president and CEO of ASW Global, a supply chain management company.
The Roberto Clemente Award, given annually to a Major League Baseball player who demonstrates sportsmanship and community involvement, was presented to Thornton in 1979.
Thornton continues to be involved in the Cleveland community. He sits on the Board of the Cleveland Council on World Affairs, The Cleveland Zoological Society, and the Cuyahoga Community College Fund. He is a member of Leadership Cleveland. He is also involved with The First Tee of Cleveland Program, a golf program which is geared to provide youth with educational programs and facilities that promote character development. Finally, he is a member of the Board of Trustees of Nyack College.
In August 2007, he was inducted into the Cleveland Indians Hall of Fame along with Jim Bagby, Sr., Mike Garcia, and Charles Nagy. Thornton is also a member of the minor league Reading Phillies Hall of Fame. The Indians also named Thornton as a member of their "Top 100 Greatest Indians."
Andre Thornton Park, on the north side of Phoenixville, Pennsylvania, opened in August 2010.