Andre Salmon




Andre Salmon, Saint Andre




Poet




Prix Goncourt






March 12, 1969, Sanary-sur-Mer, France
Andre Salmon (4 October 1881, Paris – 12 March 1969, Sanary-sur-Mer) was a French poet, art critic and writer. He was one of the early defenders of Cubism, with Guillaume Apollinaire and Maurice Raynal.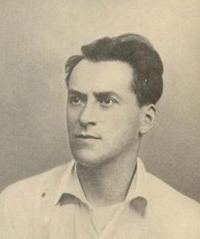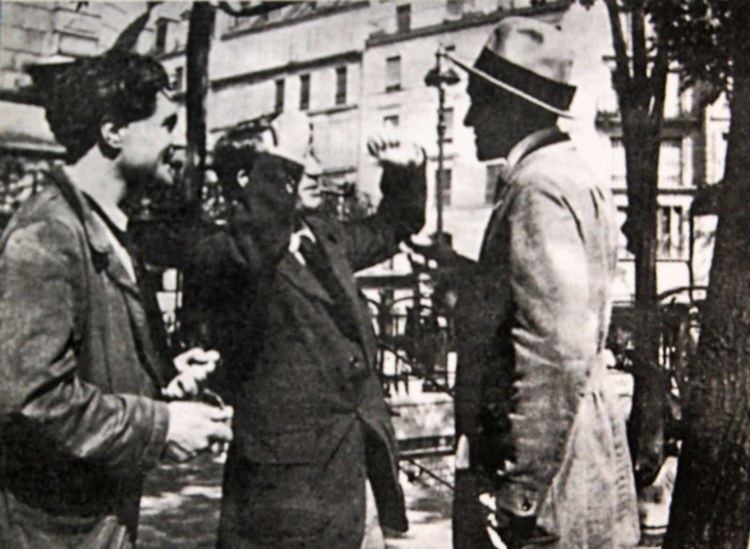 Andre Salmon was born in Paris. During 1897-1902 he stayed in Saint Petersburg, first with his parents and then as an assistant in the chancellory of the French consulate.
In 1902 he returned to France for military service but due to weak physical condition was dismissed after a few months. In the first decade of the 20th century he mixed with literary circles of Paris' Latin Quarter. Then he met a young, then unknown poet Guillaume Apollinaire and with a group of young artists they formed an artistic group. In 1904 he moved into the Bateau-Lavoir and lived there with Picasso, Max Jacob and Apollinaire.
In 1964 he was awarded the Grand Prix for poetry by the French Academy.
Poemes, Vers et prose, 1905
Feeries, Vers et prose, 1907
Le Calumet, Falque, 1910
Prikaz, Paris, Editions de La Sirene, 1919
C'est une belle fille! Chronique du vingtieme siecle, Albin Michel, 1920
Le Livre et la Bouteille, Camille Bloch editeur, 1920
L'Age de l'Humanite, Paris, Gallimard, 1921
Ventes d'Amour, Paris, A la Belle Edition, chez Francois Bernouard, 1922
Peindre, Paris, Editions de la Sirene, 1921
Creances 1905-1910 (Les Cles ardentes. Feeries. Le Calumet). Paris, Gallimard, 1926
Metamorphoses de la harpe et de la harpiste, Editions des Cahiers Libres, 1926
Venus dans la balance, Editions des Quatre Chemins, 1926
Tout l'or du monde, Paris, Aux editions du Sagittaire, chez Simon Kra, coll. Les Cahiers nouveaux, n. 36, 1927
Carreaux 1918-1921 (Prikaz. Peindre. L'Age de l'Humanite. Le Livre et la Bouteille), Paris, Gallimard, 1928
Saints de glace, Paris, Gallimard, 1930
Troubles en Chine, Rene Debresse editeur, 1935
Saint Andre, Paris, Gallimard, 1936
Odeur de poesie, Marseille, Robert Laffont, 1944
Les Etoiles dans l'encrier, Paris, Gallimard, 1952
Vocalises, Paris, Pierre Seghers, 1957
Creances, 1905-1910, followed by Carreaux 1918-1921, Paris, Gallimard, 1968
Carreaux et autres poemes, preface by Serge Fauchereau, Paris, Poesie/Gallimard, 1986
Tendres canailles, Paris, Librairie Ollendorff, 1913, and Paris, Gallimard, 1921
Monstres choisis, Paris, Gallimard, 1918
Mœurs de la Famille Poivre, Geneva, Editions Kundig, 1919
Le Manuscrit trouve dans un chapeau, Societe litteraire de France, 1919, and Paris, Stock, 1924
La Negresse du Sacre-Cœur, Paris, Gallimard, 1920, 2009
Bob et Bobette en menage, Paris, Albin Michel, 1920
C'est une belle fille, Paris, Albin Michel, 1920
L'Entrepreneur d'illuminations, Paris, Gallimard, 1921
L'Amant des Amazones, Editions de la Banderole, 1921
Archives du Club des Onze, Nouvelle Revue Critique, 1924
Une orgie a Saint-Petersbourg, Paris, Aux editions du Sagittaire, chez Simon Kra, La Revue europeenne, n. 13, 1925
Comme un homme, Eugene Figuiere Editeurs
Noces exemplaires de Mie Saucee, Henri Paul Jonquieres
Le Monocle a deux coups, Paris, Jean-Jacques Pauvert, 1968
La Jeune Peinture francaise (including Histoire anecdotique du cubisme), Paris, Albert Messein, 1912, Collection des Trente
Histoires de Boches, with drawings by Guy Dollian. Paris, Societe litteraire de France, 1917
La Jeune Sculpture francaise, Paris, Albert Messein, 1919, Collection des Trente
L'Art vivant, Paris, Georges Cres, 1920
Propos d'atelier, Paris, Georges Cres, 1922
La Revelation de Georges Seurat, Brussels, Editions Selection, 1921
Cezanne, Paris, Stock, 1923
Andre Derain, Paris, Gallimard, 1924
Modigliani, Les Quatre chemins, 1926
Kisling, Editions des Chroniques du Jour, 1927
Henri Rousseau, dit le Douanier, Paris, Georges Cres, 1927
Emile Othon Friesz, Editions des Chroniques du Jour, 1927
Chagall, Editions des Chroniques du Jour, 1928
L'Art russe moderne, Editions Laville, 1928
Leopold-Levy, Editions du Triangle
Ortiz de Zarate, Editions du Triangle
Picasso, Editions du Triangle
L'erotisme dans l'art contemporain, Editions Calavas, 1931
Le Drapeau noir, 1927
Leopold Gottlieb, 1927
Voyages au pays des voyantes, Paris, Editions des Portiques
Le Vagabond de Montparnasse: vie et mort du peintre A. Modigliani, 1939
L'Air de la Butte. Souvenirs sans fin, Paris, Les Editions de la Nouvelle France, 1945
Paris tel qu'on l'aime, preface de Jean Cocteau, collectif, 1949
Souvenirs sans fin, 3 volumes:
Premiere epoque (1903-1908), Paris, Gallimard, 1955
Deuxieme epoque (1908-1920), Paris, Gallimard, 1956
Troisieme epoque (1920-1940), Paris, Gallimard, 1961
Le Fauvisme, Paris, Editions Aimery Somogy-Grund, 1956
La Vie passionnee de Modigliani, 1957
La Terreur noire, Paris, Jean-Jacques Pauvert, 1959. L'Echappee, 2008
Claude Venard, 1962
Henri Rousseau, 1962
Baboulene, 1964
Modigliani le roman de Montparnasse, 1968
A propos de Marc Chagall, 2003
Natchalo (with Rene Saunier), mise en scene Henri Burguet, 7 April 1922, Theatre des Arts
Deux hommes, une femme (with R. Saunier)
Sang d'Espagne (with R. Saunier)
Andre Salmon Wikipedia