Covid-19
Sculptor





Andre-Joseph Allar





August 22, 1845

Toulon, Var, Provence-Alpes-Cote d\'Azur, France




April 11, 1926 Toulon, Var, Provence-Alpes-Cote d\'Azur, France




Gaudensi Allar (brother)
André-Joseph Allar (1845–1926) was a French sculptor.
André-Joseph Allar was born in Toulon on August 22, 1845.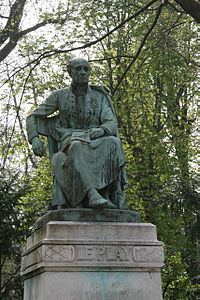 He became a successor sculptor. He won the Prix de Rome in 1869 for sculpture, and became a member of the Académie des Beaux-Arts on 20 May 1905. He was also an officer of the Légion d'honneur.
He died in Toulon on April 11, 1926. A street in Marseille has been named in his honor.
Hécube découvrant le cadavre de Polydore, musée des Beaux-Arts à Marseille
La mort d'Alceste, inspired by his wife's death, Lisieux
Enfant des Abruzzes, musée d'Orsay
Thétis portant les armes d'Achille
Buste de Montricher, gallery of the palais Longchamp in Marseille
Sainte Madeleine on the facade of the Cathedral de la Major in Marseille
Monument de la Fédération on the place de la République in Toulon.
Fontaine de la place Estrangin, Marseille
Fontaine de la place Castellane, Marseille, in collaboration with Jules Cantini
Portrait de son frère Gaudensi, museum of Toulon
Statues de Jean Bullant et de Jean Goujon, on the front of the Mairie de Paris
Statue de Frédéric Le Play, Jardin du Luxembourg, Paris
Monument du Centenaire, Nice
André-Joseph Allar Wikipedia