8.6

/

10

1

Votes

Alchetron

8.6

Rate This





Craig Viveiros




26 December 2015




28 December 2015






Sarah Phelps




Stuart Earl




2015




Agatha Christie






MysteryDramaThrillerPsychological horror




And Then There Were Noneby Agatha Christie




Douglas BoothCharles DanceMaeve DermodyBurn GormanAnna Maxwell MartinSam NeillMiranda RichardsonToby StephensNoah TaylorAidan Turner




Craig Viveiros, Basi Akpabio, Rebecca Keane




Story by Agatha Christie, Adaptation movies, Mysteries
And Then There Were None is a 2015 British-American mystery drama thriller television serial that was first broadcast on BBC One from 26 to 28 December 2015. The three-part programme was adapted by Sarah Phelps and directed by Craig Viveiros and is based on Agatha Christie's novel of the same name. The serial aired in the United States on Lifetime from 13 to 14 March 2016.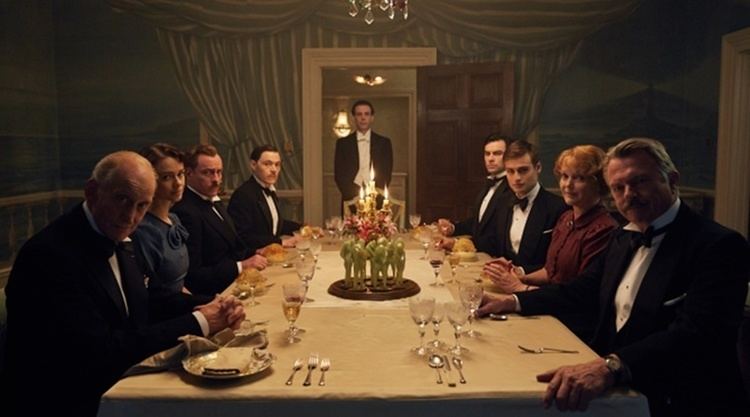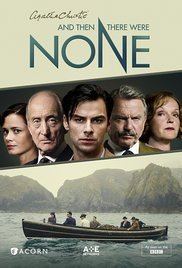 On a hot day in late August 1939, eight people, all strangers to each other, are invited to a small, isolated island off the coast of Devon, England, by a "Mr and Mrs Owen". The guests settle in at a mansion tended by two newly hired servants, Thomas and Ethel Rogers, but their hosts are absent. When the guests sit down to dinner, they notice the centrepiece, ten figurines of soldiers arranged in a circle. Afterward, Thomas Rogers puts on a gramophone record, from which a voice accuses everyone present of murder. Shortly after this, one of the party dies from poisoning, and then more and more people are murdered, all in methods synonymous with a nursery rhyme the island is named after, and the murderer removes a figurine from the dining table each time someone is killed. The remaining people decide to work together. They must discover who the murderer is before they run out of time and nobody remains.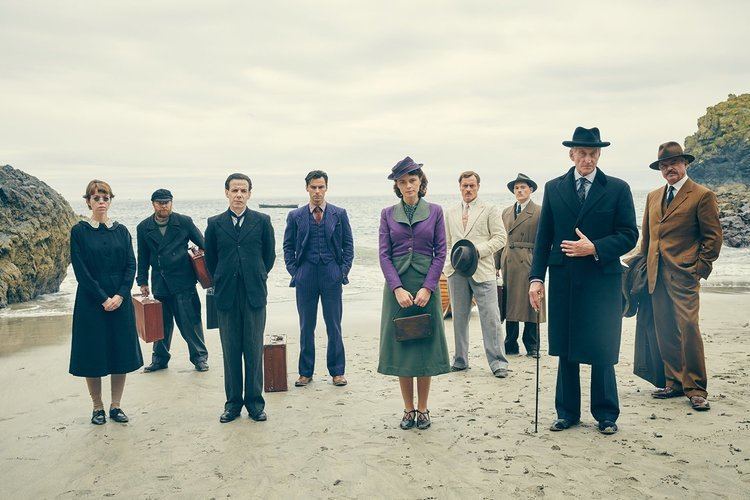 Douglas Booth as Anthony Marston: Accused of killing two children, John and Lucy Coombes, by reckless driving, which he acknowledges.
Charles Dance as Justice Lawrence Wargrave: Accused of murdering an innocent man by sentencing him to hang.
Maeve Dermody as Vera Claythorne: Accused of murdering Cyril Hamilton, a boy in her care, having encouraged the child to swim out further in the hope that he would drown so her lover, the boy's uncle, would become heir to the family estate.
Burn Gorman as Detective Sergeant William Blore: Accused of murdering a homosexual in a police cell.
Noah Taylor and Anna Maxwell Martin as Thomas and Ethel Rogers: Accused of murdering a previous employer.
Sam Neill as General John MacArthur: Accused of murdering a fellow officer having an affair with his wife.
Miranda Richardson as Emily Brent: Accused of being responsible for the suicide of her maid by abandoning her when she became pregnant.
Aidan Turner as Philip Lombard: Accused for killing 21 men in Eastern Africa for diamonds.
Toby Stephens as Doctor Edward Armstrong: Accused of killing a patient during surgery while drunk.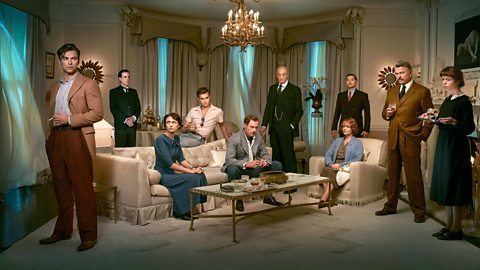 Harley Gallacher as Cyril Ogilvie Hamilton
Paul Chahidi as Isaac Morris
Charlie Russell as Audrey
Richard Hansell as Recording Artist (voice on gramophone)
Christopher Hatherall as Fred Narracott
Ben Deery as Henry Richmond
Margot Edwards as Miss Brady
Rob Heaps as Hugo
Celia Henebury as Leslie MacArthur (voice only)
Tom Clegg as Landor
Daisy Waterstone as Beatrice
Catherine Bailey as Olivia Ogilvie Hamilton
Joseph Prowen as Edward Seton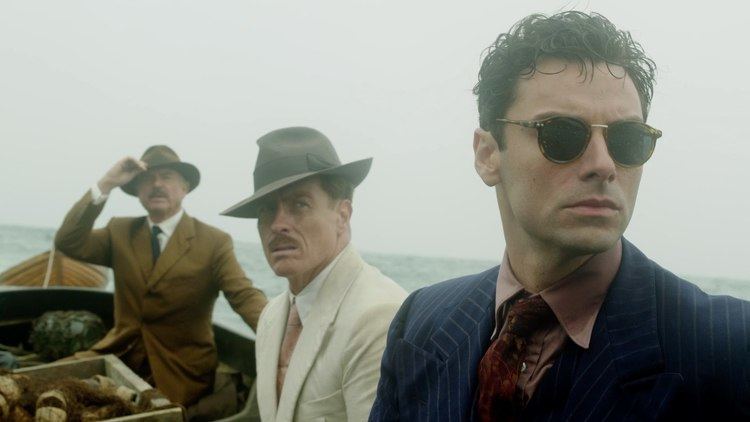 In the book, the entire group are ferried by Fred Narracott together, except for Dr. Armstrong, who arrives later and is ferried separately. Here, Emily Brent and Anthony Marston are ferried early. Also Marston was not depicted as a cocaine addict in the book.
Edward Seton, the man Justice Wargrave is accused of having hanged for crimes he did not commit (but was in fact guilty), was, in the original novel, executed for the murder of his landlady to get her money, but here is said by Wargrave to have killed multiple people, believing he was doing the world a favour by getting rid of them.
In the book, Detective Sergeant William Blore is accused of having committed perjury, with the result that a man was wrongly sent to jail for life, where he died. In this series, Blore is accused of beating a homosexual man to death. In the book, he is killed by a clock in the shape of a bear being dropped on his head, whereas in this production he is killed by being stabbed and draped with a bear rug.
In the book, Emily Brent is killed with Dr Armstrong's hypodermic needle, and a bee put into the room to fulfill the rhyme. Here, after being given a sedative in her coffee, she is stabbed in the throat with one of her own knitting needles, embossed with her initials "EB", which, facing downward, sounds phonetically like "bee". Another variation is that in the original version, Brent's maid Beatrice Taylor had killed herself by drowning, not by throwing herself in front of a speeding train.
In the book, the Rogers are suspected of having withheld vital medication from their elderly employer, Miss Brady, so as to kill her, whereas in the series they suffocate her with a pillow. Mrs Rogers receives a fatal overdose of chloral hydrate in her brandy in the drawing room in the chaos after the gramophone recording, whereas here it is implied that she was administered the overdose in her bedroom. Mr Rogers is killed with an axe to the head in the book, but here his midriff is eviscerated by the axe.
In the book, General MacArthur has his wife's army officer lover, Henry Richmond, killed by sending him out on a particularly deadly mission, where his death was almost assured. However, in this production General MacArthur shoots Richmond in the back. MacArthur is killed with a telescope here, whereas in the original novel he was bludgeoned by an unidentified weapon, suspected to be a life preserver.
In the book, Philip Lombard is responsible for the deaths of 21 men in East Africa by abandoning them in the desert and taking the food and supplies with him, which he does not deny. In this series, he kills the men to get diamonds.
The bacchanal that takes place in the third episode does not happen in the book.
In the book, there is no explicit romance between Vera and Lombard and they never become physically intimate with one another.
In the book, Vera hangs herself in a post-hypnotic trance after shooting Lombard dead, and never discovers the true identity of "U.N. Owen", and the reader only finds out in the postscript that Owen was Wargrave. In this production, Wargrave walks into the room while Vera is about to hang herself, explains his actions and motivations, and informs her that he intends to shoot himself and create an unsolvable mystery. She tries to bargain with him but he suddenly yanks the chair from under her feet, causing her seemingly self-inflicted death.
Wargrave's death is very different from the novel. In the book, he sets up his death in his bedroom to reflect how he was last found, by shooting himself in the forehead, with a cord tied to the revolver and door knob, allowing the gun to be pulled away after firing. Here, after killing Vera, he goes to the dining room, where he sets up two place settings, presumably for himself and "U.N. Owen". He fires the bullet just under his chin, and the revolver's recoil propels the gun away, landing at the empty place setting.
In the novel, after the deaths and the arrival of help from the mainland, two policemen sit to discuss the case and ultimately are unable to solve the mystery. Later, a note from the murderer in a bottle is caught in a fishing trawler's net and the mystery is solved. Neither occurs in this version.
And Then There Were None was commissioned by Ben Stephenson and Charlotte Moore for the BBC to mark the 125th anniversary of Agatha Christie's birth. The adaptation was produced by Mammoth Screen in partnership with Agatha Christie Productions.
Writer Sarah Phelps told the BBC that she was shocked by the starkness and brutality of the novel. Comparing the novel to Christie's other work, she stated, "Within the Marple and Poirot stories somebody is there to unravel the mystery, and that gives you a sense of safety and security, of predicting what is going to happen next... In this book that doesn't happen – no one is going to come to save you, absolutely nobody is coming to help or rescue or interpret".
Maeve Dermody was cast two days before the read through of the script and was in Burma (Myanmar) at the time. She flew to the UK to begin work with a dialect coach and read the book in the first two weeks of filming.
Filming began in July 2015. Cornwall was used for many of the harbour and beach scenes, including Holywell Bay, Kynance Cove, and Mullion Cove. Harefield House in Hillingdon, outside London, served as the location for the island mansion. Production designer Sophie Beccher decorated the house in the style of 1930s designers like Syrie Maugham and Elsie de Wolfe. Railway scenes were filmed at the South Devon Railway between Totnes and Buckfastleigh.
And Then There Were None received critical acclaim and was a ratings success for the BBC, with the first episode netting over 6 million viewers and becoming the second most watched programme on Boxing Day. Each of the two subsequent episodes netted over 5 million viewers.
Despite criticism ahead of the programme's launch from the Daily Mail that the production deviated from Agatha Christie's source material, And Then There Were None received critical acclaim. Ben Dowell of the Radio Times gave a positive review. Jasper Reese for The Daily Telegraph gave the first episode 4 out of 5 stars, calling it a "pitch-black psychological thriller as teasing murder mystery" and "spiffingly watchable".
Reviewing the first episode, UK daily newspaper The Guardian's Sam Wollaston noted, "[...] it also manages to be loyal, not just in plot but in spirit as well. I think the queen of crime would approve. I certainly do. Mass murder rarely gets as fun as this." Reviewing the final episode for The Daily Telegraph, Tim Martin gave it 4 out of 5 stars, calling it a "class act", and praising the adaptation for highlighting the darkness of Christie's novel, which he claimed no previous adaptation had attempted.
And Then There Were None (miniseries) Wikipedia