Anarchy Reigns, released in Japan as Max Anarchy (Japanese: マックス アナーキー, Hepburn: Makkusu Anākī), is a PlayStation 3 and Xbox 360 open world, beat 'em up video game developed by PlatinumGames, published by Sega, produced by Atsushi Inaba and directed by Masaki Yamanaka. It is a spiritual sequel to the Wii video game MadWorld, and was released on July 5, 2012 in Japan, but the planned simultaneous release in North America, Europe and Australia is said "to be confirmed" by Sega on May 25. On June 18, Sega confirmed via Twitter that the game would be released in North America and Europe in March 2013, but on October 19, 2012, Sega announced that it released in North America on January 8, in Australia on January 10 and in Europe on January 11, 2013.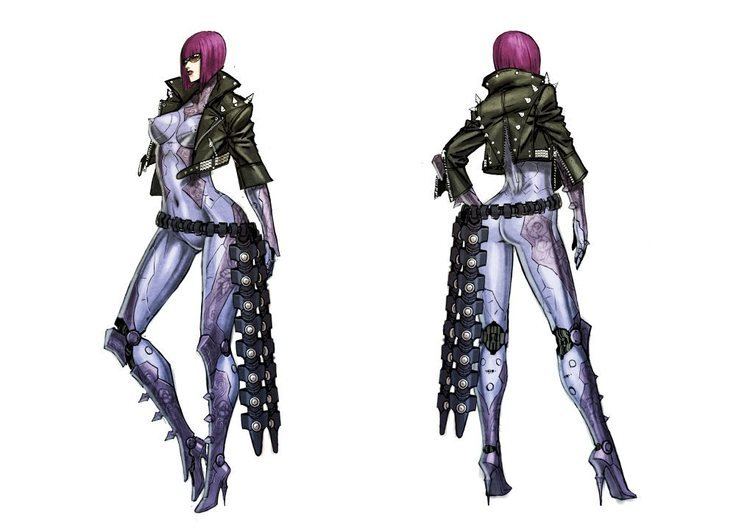 The player can control one of various types of fighters using extravagant moves to defeat their opponents. Multiplayer modes are Tag Team, Battle Royale, Death Match, Capture the Flag and Survival. The single player campaign consists of two interwoven plots, Black Side and White Side. Once all of them are completed, the player can go on the Red. Though there are two Red sides depending on which side players can originally chose, the only difference between them are the characters you play as.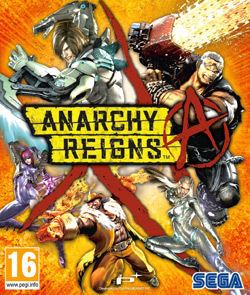 The game features seventeen playable characters, plus one additional DLC character. Returning from MadWorld is protagonist Jack Cayman, an agent of the Chaser Guild, who is tasked with finding fugitive Maximillian Caxton at the request of Max's daughter. Competing with Jack to find and capture Max first is Max's former team, the Strike One unit, made up of villainous leader Nikolai Dmitri Bulygin, female agent Sasha Ivanoff and Jack's rival Leonhardt "Leo" Victorion.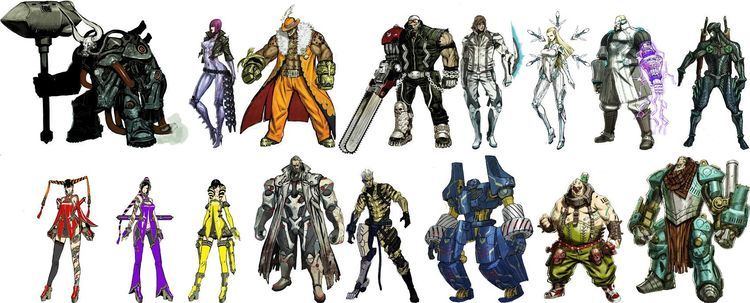 Along with Jack, several other MadWorld characters appear, including former final boss the Blacker Baron and his assistant Mathilda, cyborg bull Big Bull Crocker, and Crimson Dragons clan member Rin Rin, now aided by her sisters Fei Rin and Ai Rin. Amala, Jack's partner and radio contact from MadWorld, also returns in a non-playable role. Other playable characters include cyborg bounty-hunting partners Durga and Garuda, cybernetic ninja Zero, junk seller Edgar Oinkie, mutant hunter Douglas Williamsburg, mass-produced combat mech the Gargoyle and Maximillian Caxton himself. Additionally, the titular hero of PlatinumGames' Bayonetta appears as a playable character via downloadable content.
The game includes separate story campaigns for two characters: the "Black Side" campaign featuring returning MadWorld protagonist Jack Cayman and the "White Side" campaign featuring new character Leonhardt "Leo" Victorion. The two characters' stories occur in parallel with one another, intersecting at various points before converging in a final "Red Side" campaign.
The story takes place in a post-apocalyptic future in the fictional city of Altambra. Following sightings of former Bureau of Public Safety agent Maximillian Caxton, who was arrested for the murder of his wife three months prior before staging a jailbreak, the BPS's Strike One Unit, Max's former team is dispatched to Altambra to track him down and kill him, with agent Leonhardt Victorion splitting off from the group to search on his own. Leo remains unconvinced that his former mentor could have turned into a violent killer, despite Max's wife Ondine being found dead three months prior with wounds matching Max's Cybrid Arts, and is determined to bring him back alive. At the same time, Chaser Guild member Jack Cayman is also searching for Max at the behest of Jeannie Caxton, his daughter, while a series of robot drones pursues him trying to kill him. Following an encounter with fellow bounty hunters the Blacker Baron and Mathilda, Jack is reminded of the incident in which his adoptive daughter, Stela was killed by friendly fire during a rescue mission. It is while visiting her grave that Jack is first contacted by Jeannie, who reveals that Max was the officer that shot Stela, after which he fell into self-destructive habits such as drugs and alcohol before ultimately disappearing, and that the BPS plans to kill Max. Desperate, she asks for Jack to find him, which he begrudgingly accepts. Meanwhile, Leo begins following a trail of cyborg corpses with wounds identical to those of Max's wife. Evidence suggest that Max's cyborg body is damaged and Strike One determines he will head to Port Valenda to scavenge for parts.
Upon arriving in Port Valenda, Leo runs into Jack, who fights him to try and draw Max out. The plan works, with Max briefly appearing before quickly leaving again, and Jack and Leo give chase. They track him to Hong Long, where they split up. Leo runs into Max, who suffers with varying degrees of memory loss and attacks Leo, not recognizing him, but fellow agent Sasha Ivanoff and team leader Nikolai Bulygin arrive to help. After fighting Max, Nikolai prepares to execute him, but Leo intervenes, demanding a fair trial for Max. While Nikolai and Leo argue, Max runs off, and Strike One begins tracking him. Later, Jack briefly teams up with the Baron as the two find and fight Max, whose mental state is rapidly deteriorating due to the influence of his addictions. Jack nearly kills Max in revenge, but is barely stopped by the Baron at which point Max escapes. The group follow him to Bari Shur, where they encounter Sasha. The Baron and Mathilda distract her while Jack continues looking for Max. At the same time, Leo and Nikolai continue to argue over whether Max should be returned dead or alive, culminating in a battle between the two. Leo defeats Nikolai, and he and a sympathetic Sasha resume the search on their own. Jack finally catches up to Max, who reveals that he was not actually the one who killed Stela, though he still expresses remorse. Jack defeats him in battle just as Leo arrives.
Leo continues to insist that Max be taken home to get a fair trial, but Jack would rather see Max dead. The two fight one another until the Baron, Mathilda and Sasha stop them. Another squadron of drones appears, revealing Nikolai as the one behind them. Nikolai, implied to be the real murderer of Max's wife, orders the drones to kill the other fighters and nearly executes Leo before he is saved by Jack. The two team up to defeat Nikolai, with Jack delivering the final blow using his chainsaw to slice him in half. The group take Max home to Jeannie and prepare to have Nikolai put on trial for his abuse of power.
Anarchy Reigns received mixed reviews. Aggregating review websites GameRankings and Metacritic gave the PlayStation 3 version 71.95% based on 20 reviews and 71/100 based on 35 reviews and the Xbox 360 version 71.75% based on 28 reviews and 73/100 based on 38 reviews.
Lucas Sullivan from GamesRadar gave the game a 6/10, praising the simplicity in gameplay and combat system, but criticizing the short, predictable and dull single-player campaign, as well as the confusing multiplayer. He also stated that he encountered occasional lag problems.
Richard Mitchell from Joystiq also gave the game a 6/10, praising its good vocal performances, well-designed characters, well-performed story, but criticizing the limited combat, irritating matchmaking problem and lack of competitiveness in the multiplayer modes.
Mark Walton from GameSpot gave the game a 7/10, praising its satisfying combat, but criticizing the story, repetitive single-player missions, lack of fluidity in combat, disappointing visuals, repeated textures and environment, as well as generic character design as he described most characters as "muscular video game guys, or overtly sexualised females".
Chris Carter from Destructoid gave the game a 8.5/10. He praised the soundtrack as well as the huge variety of playable-characters, allowing players to play in every playstyle possible. However, he criticized the lack of split-screen capabilities. He also stated that the combat would be nuanced, and a bit complicated for starters, but brawler fans should find everything they're looking for with Anarchy Reigns.
Mitch Dyer from IGN gave the game a 5.9/10 only, praising the concept of the multiplayer, but criticizing the frustrating mission design which leads to repetition, disappointing and weak story, inconsistent tone, empty world, as well as numerous of technical issues, such as framerate problems and fuzzy visuals.
Rich Stanton from Eurogamer gave the game a 9/10, praising the satisfying gameplay and the multiplayer, but criticizing the camera and the fighting styles that despite being various share the same visual foundations.
Hardcore Gamer gave the game a 4.5 for the PS3 praising the games presentation and soundtrack stating "Hip hop inspired tracks play between missions in the open-world where you beat up random baddies to increase an overall score value used to unlock the next story or free mission."