Anand Ramlogan SC (born 1972) was Attorney General of Trinidad and Tobago from 28 May 2010 to 2 February 2015.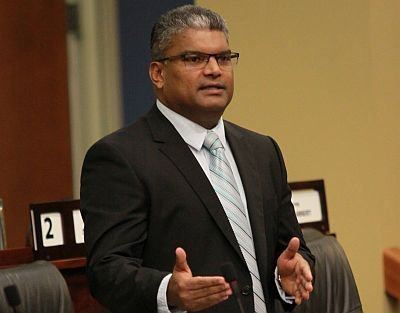 Ramlogan is also a constitutional and human rights lawyer, having been called to the bar of Trinidad and Tobago in 1996 and the bar of England and Wales in 1994 and was appointed Senior Counsel on 30 December 2011.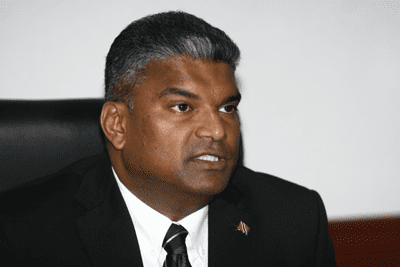 He is a member of the Honourable Society of the Middle Temple (U.K.), the holder of an L.L.B. degree and a Master's in Corporate and Commercial Law.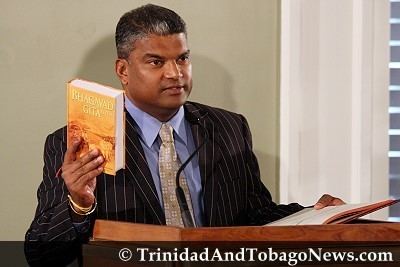 As Attorney General, he was also the titular head of the bar.
He received his primary education at the Reform Presbyterian School and secondary schooling at ASJA Boys' College and Pleasantville Senior Comprehensive, in San Fernando. On completing secondary school, he entered the University of the West Indies, Cave Hill campus, Barbados, to read for his Bachelor of Laws degree.
Ramlogan was awarded several post-graduate scholarships and read for his LLM (in corporate and commercial law) at the Centre for Commercial Law Studies, Queen Mary & Westfield College, University of London (now known as the Queen Mary, University of London. Whilst at the Queen Mary & Westfield, he simultaneously pursued a post-graduate diploma in Law at the University of Westminster, courtesy the British Chevening Scholarship and the British Foreign Office Scholarship programme.
Anand Ramlogan was called to the Bar of England and Wales in 1994 and the Bar of the Republic of Trinidad and Tobago in 1996. Upon qualifying as an attorney at law, he entered private practice, first, under the tutelage of Lynette Maharaj, SC. After several years he joined the law firm of Sir Fenton Ramsahoye, former Attorney General of Guyana. He eventually established his own chambers—Freedom Law Chambers—on Harris Street, San Fernando.
In 2007 Anand Ramlogan contested the 2007 General Elections on a Congress of the People ticket as a candidate for the constituency of Tabaquite, losing to Ramesh Maharaj of the United National Congress.
On 17 January 2013, Attorney General Anand Ramlogan initiated legal action against former Miss Universe, Wendy Fitzwilliam.
On 26 May 2010, two days after the success of the People's Partnership in the 2010 General Election, Anand Ramlogan was appointed a Senator and Attorney General by Kamla Persad-Bissessar. Under Section 75 (2) of the constitution, the Attorney General must be appointed forthwith after the prime minister in order for the Cabinet to be properly established.
On 2 February 2015, Ramlogan was asked to resign by Prime Minister Kamla Persad-Bissessar due to allegations that he attempted to bribe a witness in a defamation case between himself and opposition leader Keith Rowley by offering the witness a job in return for refusing to file a witness statement in support of Rowley's case. He subsequently returned to private practice.