(Alby) Anand Kurian (13 September 1958, Calcutta, India), is a marketing communications theorist and writer; he has been featured among thirty marketers from around the world. He has conceived and developed the twin marketing management concepts of Reality Plus and Neo People, other allied concepts and the Universal Integrators marketing model.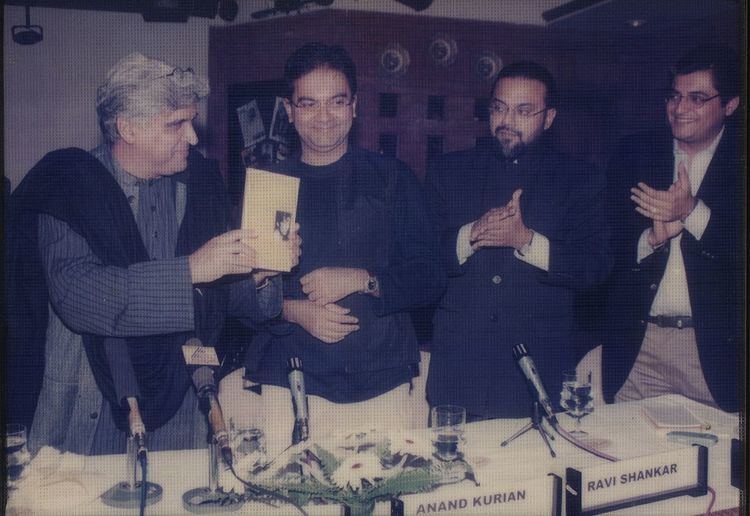 His first book, The Peddler of Soaps, a political novel against religious fundamentalism, was on the India Today best-seller list. For his next book, a work of non-fiction, professionals such as Narayana Murthy, Javed Akhtar and IIM professors are interpreting his management concepts, in their own areas of specialisation.
He was educated at Bombay Scottish School, St. Xavier's College, Elphinstone College and Government Law College, Mumbai. He was first in his division at the University of Cambridge Indian School Certificate examination, graduated with honours from Mumbai University, and was awarded scholarships throughout an unorthodox academic career.
He qualified as a lawyer; he topped Moot Courts in Mumbai University, in Maharashtra State and in India.
His thesis for his PhD in Management was recommended by two former deans of IIM Ahmedabad, and featured contributions from the co-authors of Philip Kotler's classic on marketing.
He trained in advertising in New York and founded Emphasis; the company has conceived and executed advertising work for multinational majors such as Procter & Gamble, Nestlé, Colgate-Palmolive, PepsiCo and Unilever, and for products such as Lay's, Ariel, Lifebuoy and Coca Cola.
The rise of communalism in India occurred at this time; Anand Kurian wrote The Peddler of Soaps, a political novel set against this period. The book seemed prescient; it was written before the Gujarat riots erupted.
The book found support among intellectuals, celebrities, newspaper editors and national award winning actors; among them were Vir Sanghvi, Shabana Azmi, Shobhaa De and Tabu.
Sanghvi described The Peddler of Soaps as 'Deceptively simple, a contemporary, modern-day fable'; Azmi called it 'The right book for these wrong times'.
In its review, India Today said, "It explores the tantalisingly complex issue of why multicultural societies lapse into violence and communal rioting." The Hindu described it as "Beguilingly simple..." Critical reviewers and readers dubbed it as pseudo-secular.
His use of the small letter 'i' for the personal pronoun 'I' (in certain chapters of the book), has now been adopted in the editorial page of The Times of India.
The book was on the India Today best-seller list and it topped the best-seller charts of The Times of India, The Financial Express and The Indian Express. It was to be made into a film by Mansoor Khan but the project was still-born.
He has conceived and developed marketing management concepts such as: 'Reality Plus' 'Neo People' 'Simulated Obsolescence' and 'The Afghanistan Syndrome'.
He has developed 'The Universal Integrators model', a marketing management enabler that helps overcome barriers as products and services cross boundaries.
'The Transference Response', applies a concept from psychoanalysis to marketing communications.
'The Laggard's Lock', (co-written with Nitin Borwankar) describes how our mindsets do not always keep pace with new technologies and how we tend to use new tools in a less than optimal way.
He coined the term 'Co-omperation' in a paper that appeared in the AIMA Journal, developing the concept to describe relationships where competition and co-operation co-exist. He described co-omperation as being the most natural of all human transactions.
He has developed the 'Triple F Model'. Applying it to Apple under Steve Jobs, he opines that Job's contributions in the area of pure 'Function' are less significant, but that his contributions in the areas of 'Functionality' and 'Form' are substantial.
In 'The Mirror Maxim', he shows how frailties, ordinariness, imperfections and handicaps can become strengths and the competition repositioned as plastic and out of touch with the common person.
He has lectured on these concepts at the Indian Institutes of Management (IIMs), at CEO conclaves, to industry bodies, at IIM conferences, to faculty and students of universities abroad to members of the Indian Administrative Services (IAS) and at international conferences.
These lectures have subsequently been published in professional advertising and marketing publications.
He lectures at the Indian Institutes of Management (IIMs), the Film and Television Institute of India (FTII) and the National Institute of Design (NID). His message against communalism is summarised in the dictum 'A world without borders... people without labels.'
"The Indian way", a keynote Convocation Address at the Mudra Institute of Communications, Ahmedabad (MICA) is an analysis of the strengths and weaknesses of the Indian way of life.
In "Racing on the fast track" Anand Kurian takes a critical look at the caste system.
He has founded India's first campus channel; the Chairman of Cadbury's described it as "an example of the power of an innovative idea." Along with two former Deans of the Indian Institute of Management, Ahmedabad, he has designed a subject 'The New Culture of Business', for management students. He has introduced courses on 'The Business of Cinema' to management education in India.
He is working on his second book, a work of non-fiction. Professionals from diverse fields – such as Narayana Murthy, R. Balki, Sagarika Ghose, Ashis Nandy, Abraham Koshy (of IIM, Ahmedabad), Javed Akhtar and R Gopalakrishnan – are interpreting his concepts, in their areas of specialisation, for the book.
He is part of an international brand consultancy; he has been cited for multi-media innovations, and has served on juries for professional awards. He has been profiled in 'Marketing people' (Barnes & Noble), a book about thirty marketers from around the world.
But his feature film has been long delayed; critics have described him as unorthodox and unconventional.
However, a former Dean of IIM, Ahmedabad Dr Parikh says, "He draws from cultural anthropology as well as from McKinsey and Kishore Biyani. He straddles both left and right brain territory to create a new, more dynamic picture."
Says another erstwhile Dean of IIM, Ahmedabad,Dr Shingi, "He is a Renaissance man; he helps us see, beyond narrow specializations, the complete picture."